Ireland full-back Hugo Keenan says there's an onus on the new-look team to right the wrongs of the 2019 Rugby World Cup loss to Japan and spoke of his excitement of playing a senior XVs international match in front of a crowd for the first time.
Keenan, a former sevens star, made his Ireland XVs debut in last October's re-scheduled Six Nations game against Italy, rapidly graduating to the status of automatic first choice in the intervening eight months.
Originally deployed on the wing, he made the problematic full-back spot his own during the 2021 Six Nations, emerging as one of Ireland's most consistent performers over the course of the campaign.
"It has all just happened very quickly, hasn't it?" Keenan acknowledged to RTÉ Sport ahead of this week's meeting with Japan.
"I suppose I got a bit of luck at the start of the season. A few injuries led to me getting in over that end of Six Nations-Autumn Nations (Cup) block.
"It's been such a busy period, you don't have time to reflect on it that much. It's really just been big game after big game after big game.
"You can't really rest on your laurels and get comfortable because it's all about performing in the next match and keeping your hand in the team. Luckily I've been able to stay injury-free.
"I've really enjoyed the year, it's been an unbelievable experience, there's been some highs and some lows. Hopefully, in a couple of weeks' time, we'll have two more wins in the bag and I can reflect on it a bit more at that stage."
Saturday's game will see the return of fans - albeit a limited number - to the Aviva Stadium for the first time since Ireland's 24-12 win over Wales in the Six Nations on 8 February 2020.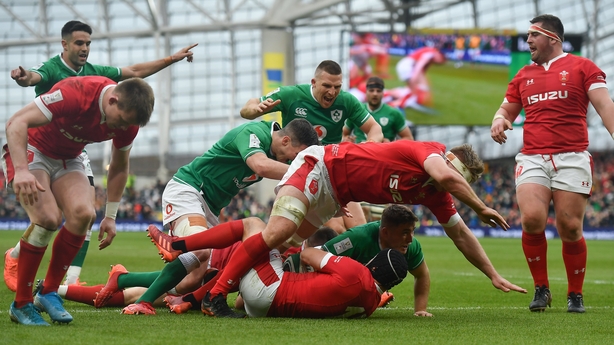 For Keenan, whose aforementioned international breakthrough occurred in the midst of the pandemic, Saturday will mark the first time he has played for Ireland in front of fans and is particularly excited at his family being in attendance when he pulls on the green shirt.
"For the first time (in a long time) we're going to have fans in the stadium. They've been waiting at home watching all the games. Especially, for my family, they've never seen me playing in a green shirt. They're really looking forward to it and so am I.
"They're all rugby mad. It's not even just my close family. It's my extended family. My two grannies are big into the rugby now, they probably never would have watched a game before that.
"There hasn't been too much to do over the last 18 months so sport is a great distraction. Hopefully, Saturday will be extra special. To see them in the crowd will be a really special feeling. It's something I've always dreamed of."
Japan land in Dublin after a reasonable showing against the British and Irish Lions in Murrayfield, Jamie Joseph's outfit going down 28-10, albeit in a game which will best remembered for the injury to the Lions' illustrious captain.
The Brave Blossoms turned the heads of the rugby world with their displays in their home World Cup under two years ago, winning admiration for their free-flowing style.
"They're a serious side, they got one over us in the World Cup and they put on a good performance last week against the Lions," says Keenan.
"They've got a mix of everything. Obviously, Matsushima is rapid, we all know him from Clermont and the World Cup, they've Fifita who's a bit more of a ball carrier and a big presence. And Yamanaka as well who's a ball player. They've got a good mix, they've got a wide variety of threats and challenges. They like to play that wide to wide game.
"How can you not appreciate Matsushima? He's got that X-factor. You always look at these players when you're scouting them, even taking bits of their game to add to yours. We'll have our hands full."
Their arrival obviously sparks memories of one of Irish rugby's most humbling afternoons, the 19-12 loss in Shizuoka which sent Ireland's World Cup campaign into crisis mode and set the team on the road for a disastrous collision with New Zealand in the quarter-final.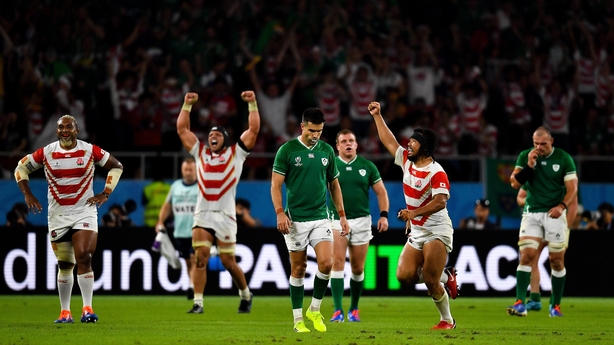 Keenan wasn't yet in the frame for the Irish XVs at the time. What does he remember of that morning?
"I can't remember exactly, I watched the majority of it at home. It was the middle of our season as well. It was such a tight game, a few small bounces didn't go our way and that was the difference of it. I think Japan proved in that whole tournament, not just in that game, that they're a serious side. They even put it up to South Africa in that play-off match, they beat Scotland as well."
While the relevance of the 2019 game is perhaps minimal given the drastically different nature of the Irish line-up this weekend, both through squad turnover but also the Lions tour, Keenan nonetheless says there is a degree of responsibility in avenging the loss. He stresses, however, that they won't be getting too hung up on it.
"It's been touched on. There's a lot of different players involved at the moment. But we do have a responsibility as a collective to bounce back and right the wrongs of that game. But it's a new group in, a new coaching staff, well, slightly altered anyway.
"We have touched on it a small bit but we're not going to get over-worked on it, we've got a lot of other motivations and things to be worrying about."
Follow Ireland v Japan via our live blog on RTÉ.ie/sport and the RTÉ News app or watch live on RTÉ2 and the RTÉ Player.