The Heineken Champions Cup final was marred with greasy weather, uncharacteristic handling errors and a yellow turned red card for Levani Botia, which ultimately put the final out of reach of La Rochelle despite their best efforts to achieve the unexpected.
After all the build-up and expectation, finals are often reduced to a physical stalemate between two of Europe's biggest and best teams. There was a five-minute period in the first half where both teams were able to string some phases together in between error-riddled possessions and the result was two enormous packs battering each other on the gain line.
It wasn't often that either of the two teams actually went forward for longer than a couple of phases without spilling the ball or making a mistake.
La Rochelle rely on Botia to bring the physical confrontation in their midfield. He was racing against time to be fit and reportedly only trained for 20 minutes leading up to the final against Toulouse.
Unfortunately, he played as if that was the case too. He had multiple handling errors in tackle contests with both Antoine Dupont and Romain Ntamack, hardly the most powerful guys on the pitch, despite punching above their weight.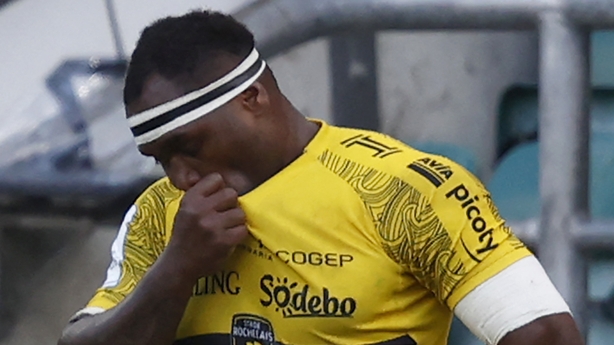 Not only did Botia squander an opportunity from a five-metre scrum, he gave away a penalty in the next possession for needlessly not releasing his hands in the tackle before going for a poach, which gave Toulouse an easy out when all the pressure was on the dominant, European powerhouse.
Botia later had his yellow card for cynical play rescinded and was shown a red card instead for a poorly executed, monstrous hit on Maxime Medard. The high tackle was the end of Botia's final after just 27 minutes of play.
Although La Rochelle continued to dominate through their pack and lead going into half-time, the energy was taken out of them, and it began to show as the clock ticked on and Toulouse became more dominant.
In a 15 v 15 match up, La Rochelle had every chance of creating history by winning the European competition before they ever became French champions, which would have been an amazing achievement - and a decent pub quiz question.
Whether Botia's poor performance was a result of his lack of preparation or not is unknown, but it must have contributed. You can't help but feel sorry for a player in that position considering the strides that the club has made in recent seasons under Jono Gibbes and Ronan O'Gara. You don't ever like to see the result being swayed by an individual error or moment of madness but in reality, that's what finals so often come down to.
Botia's team-mates stood up for him and did their best to not let him negatively define the outcome of the game, but they just came up short. Tawera Kerr-Barlow had an unbelievable performance in both attack and defence. He stopped an almost certain try down the short side where Toulouse were starting to get some change. He bluffed the second man in a 3 v 2 and pushed out to the third attacker, just about making the tackle and forcing a knock-on.
Kerr-Barlow was the one controlling the game from a La Rochelle point of view, when Ihaia West had an average game at out-half. He also snuck in for the try that brought La Rochelle into the game and forced a nervy ending for Toulouse.
Geoffrey Doumayrou had to take on the job of both centres and seemed to be everywhere, even doing the unimaginable - catching up with Cheslin Kolbe to bundle his feet into touch before the South African star could put the game to bed with a try in the corner.
He had a kick downfield in the second half that bounced into touch as well from a turnover which earned La Rochelle territory when they were making a last push to win the game.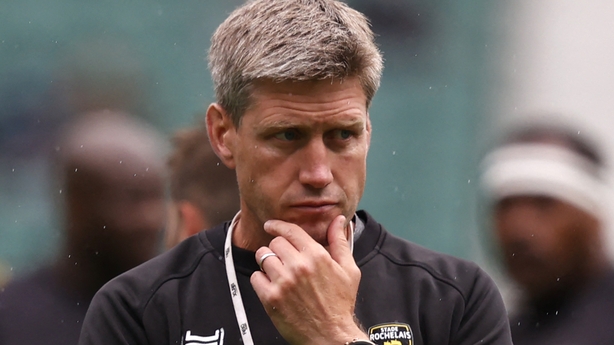 The standout moments came from Kerr-Barlow, Doumayrou and Dillyn Leyds with another try-saving tackle after a short-side attack and kick from Medard almost resulted in a score for Toulouse. Raymond Rhule had a couple of defensive decisions to make as well, and he hit in to stop Toulouse from taking the space on the wing when the midfield had to be plugged by Doumayrou and Rhule.
It took Toulouse a long time to break down that La Rochelle defensive line. They came in for a bit of criticism for not looking up as a backline and challenging the La Rochelle defence when they had a numerical advantage.
Perhaps Rhule had spooked Ntamack a bit with his decision-making in the first half, or maybe the conditions dictated that Toulouse wanted to play the game in La Rochelle's half before they really went to their attacking game. In the first half they made repeated handling errors and couldn't get their game to flow.
Eventually, in the 60th minute Ntamack threw the ball over the top to negate Rhule's hard close at the end of the defensive line and that was it. Toulouse unlocked the O'Gara-led defensive shape en route to winning their fifth European Cup to make them the most successful team in the competition.
Both sides came close to scoring before this, La Rochelle just after half-time which would have stretched their lead and put their pack in a position to close it out. Unfortunately, Pierre Bourgarit couldn't stretch far enough and knocked the ball on over the line. It was selfish from the hooker and if he had recycled the ball, you feel that La Rochelle were destined to score.
Similarly, Toulouse had a try held up over the line which wasn't conclusive enough for the referee to award it despite the probability of the ball being grounded. These moments don't exactly cancel each other out because of their timing in the game.
Le voyage européen se termine par une défaite décevante le dernier jour. Fier de ce groupe spécial de joueurs. Merci aux merveilleux supporters de La Rochelle en particulier ces quelques centaines qui ont attendu sous la pluie à 1h30 du matin pour nous accueillir à la maison.????

— Ronan O Gara (@RonanOGara10) May 23, 2021
If La Rochelle had gone more than a converted try ahead, Toulouse would have found it hard to come back. After not being awarded their try, Toulouse scored shortly after and followed it up with a penalty to get out of reach of the late La Rochelle comeback.
The fairytale that a lot of Irish rugby fans wanted wasn't to be. ROG couldn't get La Rochelle over the line, but we saw a lot in him on Saturday that we wouldn't have seen as a player. I've seen ROG the player get stuck into team-mates for not training at the required standard. It's not a comfortable sight, but that's what brought out the best in the guys around him.
On Saturday, in the heat of battle, the empathetic and compassionate coach put his arm around his distraught inside centre before he made his way to the dressing room for half-time. ROG, the coach, doesn't just talk about being a different person than the player he was. He is a different person. Coaching is different and he embodies the transition of a successful player into a successful coach.
Unfortunately, the final didn't bring him the success he wanted. However, much like his playing days, I'm sure there was a lot of learning in his first loss in a Champions Cup final with plenty of success ahead.