It was another weekend of interprovincial action in the season-extending Rainbow Cup and while the results mean nothing, the lack of pressure could see teams develop new approaches for next season.
Munster and Leinster were the winners with higher scorelines than we would have predicted for derby matches, which may indicate the intention of the teams in a meaningless enough competition.
Connacht started really positively and rattled Leinster to go 16-0 up. Conor Fitzgerald dictated the early exchanges of the game and really brought a speed and intensity to the Connacht attack.
However, that's where it finished for Connacht. Leinster got their act together and had the bonus point secured with four visits into the Connacht 22.
Hugo Keenan sparked the comeback, and the dominant Leinster pack did most of the damage for the rest of the day, with a maul that Connacht struggled to come to terms with.
Munster were full of life in attack as well, toeing the line between expansive and outright loose with their offloading game, but it felt like this was exactly what they needed after another disappointing season when it really mattered.
There was an obvious expansion in their game with more wide passes, more offloads and a general free-flowing nature to their attack.
Of course, it helps when you have players like Shane Daly that revel in the almost 7's-like approach that some of their attack took on board, yet the whole backline seemed to enjoy a home game where they were encouraged to go and express themselves.
Rory Scannell was very unfortunate not to be awarded player of the match with a highly influential game in midfield, facing off with the man mountain Stuart McCloskey. His calculated left footed nudge for Andrew Conway to finish off the scoring was the icing on the cake of a fine performance from Scannell. But there are huge question marks over the Ulster intentions going to Thomond Park.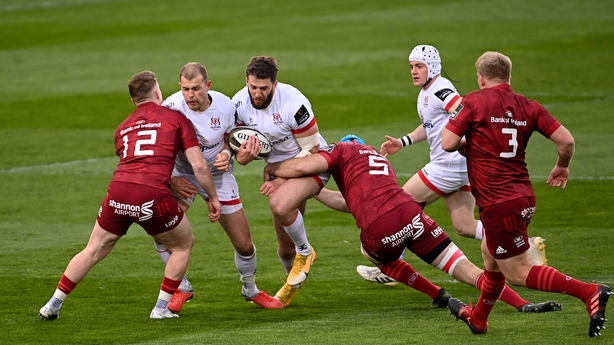 Ulster were probably that bit weaker on paper with a few bodies missing in their back row and half backs, but in saying that, Munster left their World Cup-winning midfielder and his physically imposing centre partner out of the game, while Joey Carbery was given a rest as well. Both teams rested some players so it's not enough to say that Ulster were down a few.
In both games, discipline dictated a lot of the exchanges. Leinster continued a very uncharacteristic streak of falling foul to the referee's whistle in the early exchanges. It gave Connacht a really strong foothold in the game, paired with scrappy breakdown work and a lack of direction, Caolan Blade was gifted an intercepted bounce pass and Leinster were staring down the barrel of a 16-point deficit in the west of Ireland.
Leinster compounded errors yet again, something that we wouldn't have seen in the 2019/2020 seasons. Ross Byrne kicked the restart out on the full after the Blade try on eight minutes, they conceded a free-kick in the resulting scrum and when Blade kicked for territory, James Tracey overthrew the lineout on his own 22-metre line, which resulted in a Peter Dooley seatbelt tackle and an easy three points for Conor Fitzgerald.
Recently, I found myself writing about how Leinster uncharacteristically compounded one penalty with another which is something we weren't used to seeing. This time they walked themselves deep into their own half and gave away three points without Connacht having to do a whole lot. Their discipline has become very average and not the elite standard that we expect from them.
The turning of the game came from their own good attacking play and was backed by a strong maul display from their pack. It was something that Connacht couldn't deal with and Connacht's own discipline dictated the next moments of the game. The discipline issue swung the game for both teams.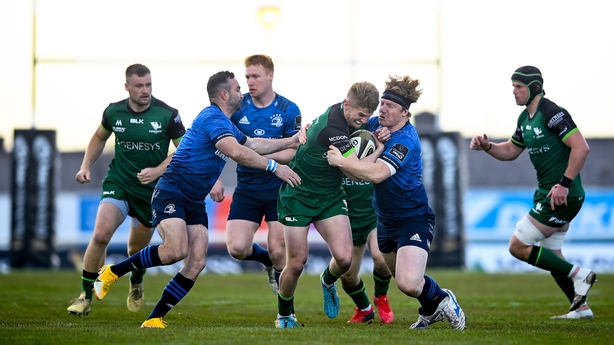 We saw similar moments in the Munster and Ulster match.
Will Addison was sent off for a tucked shoulder hit on Shane Daly's head as he was falling from another tackle just before half-time. This was the first red card for Irish provinces with the new laws being trialled in the Rainbow Cup, which meant that Ulster could replace Addison with James Hume at around the 60-minute mark.
Ulster had a few other discipline issues around the ruck with Marty Moore penalised after a captain's challenge and Jordi Murphy was caught for a neck roll in the ruck too.
Discipline and penalty count can be the winning and losing of the game. Penalties hand the territorial battle to the opposition and can often leave them off the hook in their own half resulting in easy exits and the relieving of pressure. In attack, penalties come from a lack of accuracy, lack of support or silly errors from the attacking team but in defence penalties can be a result of a build-up of pressure.
It's like a chicken and egg situation. Is the opposition attack in control because your team is giving away simple penalties and handing them some dominance in the game? Or is the attack dictating the pace of the game and putting the defence under so much pressure that they are late to set their defence, rushing their decisions and often just trying to stop the rot?
As the stakes get higher in competitions, penalty counts seem to be a lot more under control. Maybe that's because there's more on the line and management and players have to rein it in to have any chance of winning. Or teams that have the best discipline make it further into the playoffs and finals because discipline dictates so much in the game.
Easy access into the opposition half, easy three points to keep the scoreboard ticking over, numerical advantages on the pitch and easy exits are too much of an advantage for any team and it's too difficult to turn it around if your discipline is off.
When you're playing in games where the opposition gives away needless penalties it feels too easy. It kills the intensity, and you get a chance to take a break instead of being squeezed by the pressure of their game.
From a coaching point of view, you can feel the reduced pressure on the pitch because you get some breathing space too. Poor discipline is a gift, but you want to coach the team to play at an intensity where you earn your penalties through a build-up of pressure. You don't want to rely on the other team's silly decisions and errors too often, that's not a strategy.
Conor Fitzgerald dictated that pace with Caolan Blade in the early part of the game, but they couldn't keep it up.
Munster also dictated the pace by holding onto possession and not resorting to the kicking game when it wasn't needed. Pace and tempo forces decisions and get rewarded with opposition errors and penalty concessions.
After a season of tense fixtures, the Rainbow Cup is the avenue that our provinces need to develop their game in the hope of challenging a bit harder next year.