Dorothy Wall is one of those sportspeople who played everything growing up. In a breakthrough spring, she's been able to tie together all the strings to her bow.
After a long wait for competitive action, Ireland suddenly found themselves under the magnifying glass as their delayed Six Nations campaign played out on its own, away - for the first time - from the men's tournament.
Wall has been knocking on the door for the past year but the flanker really announced herself over the course of Ireland's three games, scoring tries in the wins against Wales and Italy.
Within her family the sporting influences are everywhere. Wall's mother Sophia rode horses, dad Anthony excelled at hurling and Gaelic football for Tipperary while also playing rugby for Clonmel and Fethard, while all three of Wall's brothers are rugby mad.
One of the most important mentors she had though was her uncle Hugh O'Connor. Nerves can consume and affect the most elite athletes; learning how to control them is crucial to delivering at a high level on a consistent basis. That's where Hugh came in.
"It's all positive to grow the sport. It was definitely a new experience for me but I think we all took it in our stride and used it to our advantage."
"My uncle was an international triathlete," said Wall at the launch of Canterbury and the IRFU's Give it a Try programme
"I used to do triathlon underage where you'd ride a cross-country course, swim and run, and you'd shoot a rifle. You're shooting a rifle at this target. My uncle is probably the calmest person I know. He's so unfazed by everything.
"He used to take me above to the barn. For shooting you have to be so calm. If you're breathing goes or you're tense or you're holding the gun really tightly, it doesn't work. You have to be completely relaxed and completely focused on what you're doing.
"I've had a lot of conversations with him around performance and stuff. I don't really get that nervous. He's been a huge part of that. He'd be like, 'what's the point? It's wasted energy, you're directing your energy in the wrong sense'. That's easy to say but I spent a lot of hours with him in the barn shooting targets... he was very good for me in terms of the psyche around it."
That's been especially important in a period where the spotlight was shone on Ireland quite intensely.
"Being in a standalone window there was a huge amount of attention on us," added Wall.
"It's all positive to grow the sport. It was definitely a new experience for me but I think we all took it in our stride and used it to our advantage. If [the attention] wasn't great you'd ignore it, and if it was good then yeah, that's great, but I'm not going to take it to heart too much. It's great for the women's game in general.
"In terms of the weather it's been absolutely class! It's been sunny, it;s been dry ball, it's been wonderful. More people have been talking about it. With the pandemic there's not much going on so more people have been watching it, more girls and boys have been watching.
"Maybe in the new season, when Covid clears up and the clubs open and the Give It A Try campaign is up and running it has more kids because they were watching us play. Hopefully there'll be a huge influx of youngsters when it opens."
Dorothy Wall's try has Ireland ahead against Italy but they are down to 14 - Sene Naoupu sent to the sin bin. Live on @RTE2 @RTEplayer @RTERadio1Extra #IREvITA #RTERugby https://t.co/Wr0O0vYccq pic.twitter.com/1FFSVDNc2f

— RTÉ Rugby (@RTErugby) April 24, 2021
Wall only came to rugby as a 16-year-old despite being surrounded by the game all her life. Her dad coached, her brothers all played, but Wall had dedicated the first half of her teenage to basketball until Polly Murphy - a tireless volunteer with Fethard RFC - reached out.
That was ten years after Wall's father had first brought her to a rugby training session, which she refused to take part in.
"I probably was just shy but it was also all boys," she says now while reflecting on the significance of the Give it a Try Programme, which focuses on encouraging girls aged eight to 14 to learn how to play the game in a safe and fun environment.
"There's a lot more girls playing now. That mix of girls and boys is good. People are proactively trying to get girls into the game, even shy little girls.
"I think the set-up they have now is very good. I've been down to a few of the Give It A Try sessions in Fethard and it's fun. They're enjoying themselves. They're playing little games that don't seem that complicated but within those games and drills they're learning the core skills.
"They're only ten, 12, 14, whatever ages they are, and it's so important. Of the current Ireland team not a lot of the players got that. They played other sports but for these girls to be having fun with their friends, for it to be inclusive and for it to be developing their skills at such a young age is going to be so important for the growth of the game."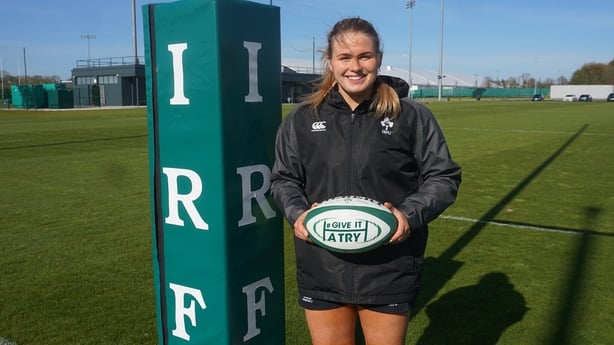 Ireland go into another lull now with their next competitive match not arriving until the World Cup qualifiers in September. Club games - which do not have elite status under the Government's Covid plan - likely won't return until August.
Radiology student Wall has plenty on her plate outside of the game however. She'll get her head back in the books now ahead of exams on 4 May, the day of her 21st birthday, as she continues her studies at UCD.
She lives with fellow Sevens internationals Emily Lane and Megan Burns while advice from the wider clan is never in short supply.
"The support's been huge. I get so many WhatsApps from them... articles et cetera. I have an uncle in America who played rugby for CCR [Cistercian College Roscrea] and different clubs.
"He moved to America and all his sons play Lacrosse and football and stuff. They never got to play rugby so he'd always say he's living vicariously through me. We'd have a lot of conversations from across the water. I've a huge American family who are all watching and learning what a sin-bin is when they watch!
"My family are a huge part of it. They are my number one backers."
Dorothy Wall was speaking at the launch of Canterbury and the IRFU's Give It A Try programme for girls aged eight to 14 to learn how to play rugby in a safe and fun environment.