Leinster scrum coach Robin McBryde believes Johnny Sexton's absence from this weekend's Heineken Champions Cup semi-final against La Rochelle will be doubly frustrating for the Ireland captain as it comes in the lead-up to the British & Irish Lions squad selection.
Sexton has been ruled out of Sunday's game as he follows the Graduated Return to Play protocols after being withdrawn after undergoing a Head Injury Assessment (HIA) during Leinster's quarter-final victory away to Exeter Chiefs over a fortnight ago.
"It's the type of game that you want to be involved in towards the end of the season. This is where you've worked all season to get to and so to lose out on the opportunity to play is very disappointing. It's obviously a Lions year as well," said McBryde, who is part of the Lions coaching staff for this summer's tour.
"Everybody wants to push their case as strongly as possible. Unfortunately for Johnny, he's not able to do that but that's the nature of the game.
"Everybody who plays rugby takes that risk, they realise it that injuries do happen and there's never an ideal time. Unfortunately, it's come at the wrong time for Johnny."
But while Sexton is missing key weeks of the season, McBryde believes past accomplishments will keep the player high in consideration for Lions inclusion.
"The one thing that Johnny's got going for him is his track record, not only (with Leinster) but nationally with Ireland and obviously he's been there and done that with the British Lions as well," he said.
"So everybody knows what Johnny offers and he's showed it time and time again really. That last game against England in the Six Nations was a great example of him at his best really.
"There's a fair bit of time to go again ahead of that first (tour) game and I said, people know him as well. He's worked with the coaches on Lions tours in the past so their knowledge of him and what he can bring, that's going to play in his favour."
McBryde was selected on the 2001 tour as a player although the Welshman's involvement was curtailed due to injury.
But the time he did get to spend in that squad 20 years ago meant he did get to train alongside La Rochelle head coach Ronan O'Gara.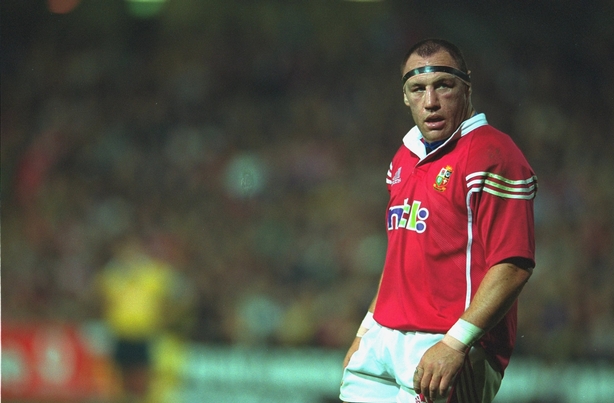 "It wasn't the best time for me personally but I remember Ronan and Brian O'Driscoll were very close with each other all the time, as well as Rob Henderson," he told RTÉ Sport.
"He made an impression on me as a player during that tour obviously. But since then he's spread his wings and he had the benefit of going down to the Crusaders and working there, getting new experiences and working with different coaches.
"As a player, he would have had that as well. He's definitely gone out there and tested himself and put himself in uncomfortable positions I suppose where there's a responsibility and a level of standard of coaching that is required and he's benefited from all those experiences.
"So it's brilliant and from an Irish perspective I know the number of Munster supporters who will be shouting for La Rochelle so it will make it a little bit more interesting for those supporters as well."
Addressing Saturday's defeat to Munster in their Rainbow Cup opener, McBryde said Johann van Graan's side deserved victory.
"It was a difficult situation for some of the players to be in. We had a number of late changes during the week - I'm not making excuses," he said.
"But the level of performance, we didn't quite get to where we wanted to be and in fairness to Munster, they took their opportunities. But it wasn't comfortable viewing looking back.
"Some of those contact points during the game that we lost where we came off second best, sometimes they're not down to coaching, sometimes it's down to individual pride, individual preparation. Just that willingness to go that extra bit and do the unseen graft."
Follow La Rochelle v Leinster (Sunday, 3pm) and Leicester v Ulster (Friday, 8pm) via our live blogs on RTE.ie and the RTÉ News app or listen live on RTÉ Radio 1's Sunday Sport and RTÉ Radio 1 Extra.