In 2013, Ireland won the Grand Slam and it really felt like women's rugby had arrived.
They were a talented team, their matches were shown on TV and they were a group of players who were determined not only to leave the jersey in a better place but to leave the sport in a better place too.
Women's sport in general was on the rise and it seemed like the perfect storm.
Fast forward almost a decade and they are still fighting a battle for change. A spotlight is shining brightly on the inadequacies of the structures in the women's game and the reluctance of the IRFU to offer the necessary support. It's a familiar tale for women's rugby.
Ireland's most capped female rugby player Lynne Cantwell was playing back then and speaking to We Become Heroes she recalls just how difficult it was to achieve the success they did.
She said: "I think if I knew then what I knew now, the size of the gear we were wearing, where we had to stay before a training-session, some of the logistic routes we had to travel, were off the charts.
"The famous overnight train 12-hour train - we arrived in to Pau at 7am having been on a train over-night, having travelled to Paris the night before. It's just bonkers to think we had to do that.
"Even before that we would have travelled to European competitions in France through Brussels to get trains down. It's funny at the time, you are just a kid but you reflect back now and you think 'Woah that was just true inequality you know'."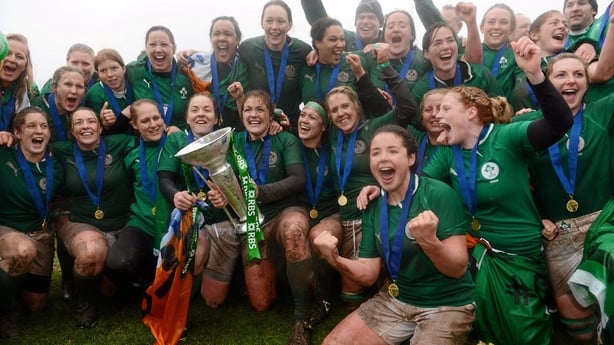 After winning that Grand Slam Ireland went on to the 2014 World Cup and beat New Zealand.
It was a huge moment as they became the first Irish senior team to beat the All Blacks, a feat that garnered a huge amount of attention in Ireland and further afield.
However, despite achieving something extraordinary, they never looked for validation from the IRFU, their union, because they knew it wouldn't be on offer, and this is something that hurt Cantwell.
"It was just unfair and unjust but when I look to what that it has taught me as a person and what that has taught the girls and what that will lead on to, I feel really strongly, and I believe whole-heartedly that Irish women's rugby will be successful in the future.
"It has definitely had a huge effect on me and my growth and what I've learned as a person, so having experienced what we experienced, we will gain more from it. No it's not fair and no it shouldn't be the way it is.
"You should just look to athletes and players and teams and want them to succeed and not put stuff in their way, take stuff out of their way.
"I think it's a reality for women's sport, you know, it's not in the future that's just in the era we are living in. I definitely want to right some of the wrongs in the time that I'm around."
We Become Heroes is a podcast hosted by RTÉ Sport journalist Marie Crowe, featuring some of Ireland's biggest sports stars.
You can watch the interview with Lynne Cantwell above and listen on Apple Podcast, Soundcloud, Spotify or wherever you get your podcasts.