After more doubt and uncertainty surrounding competitions last week, some version of the Rainbow Cup went ahead at the weekend.
We're still none the wiser about what it stands for, how it's going to play out and if the teams are going to be getting excited about it, yet the opening round wasn't short of drama and talking points.
It was a funny situation for the Irish provinces.
Two of them are still involved in European competitions this weekend and clearly approached the Guinness Pro14 Rainbow Cup accordingly, either resting their front-line players or curtailing their game time.
The other two only have this cup to play for and would have been tagged as the underdogs in their respective fixtures, at least until the teams were named.
Even at that, going to Dublin once again this season was going to be a lose-lose situation for Munster.
As great as it is for them to get the monkey off their back by beating their rivals, and doing so on the road, it's very hard to interpret what that stands for.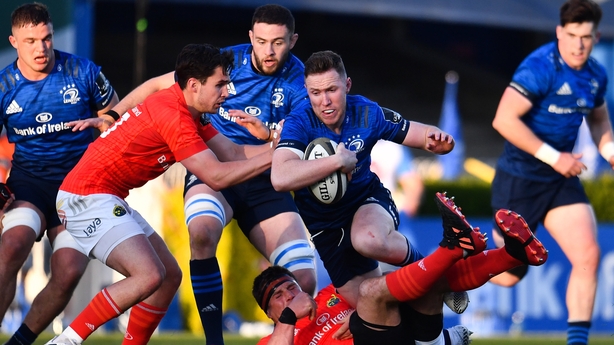 Leinster picked a team that was good enough to win that game, littered with potential Lions in Garry Ringrose, James Ryan and Andrew Porter, and backed up by a bunch of internationals.
Harry Byrne was getting his opportunity at out-half, which would be seen as a weakness in other provinces if their third choice out-half was starting, but a lot of people were asking for him to be parachuted into the Six Nations team.
You couldn't say they were overly vulnerable.
Munster's team was packed with indication that they wanted only one outcome and their backs were against the wall more so than ever considering Leinster's involvement in Europe and the quality of player that they left out of the side.
This was always going to be an opportunity for them.
You'd be brave to bet against Leinster, who had won their last six games against Munster, no matter what team they put out but when Byrne had to leave the field early in the game, it felt like Munster had to take their chance.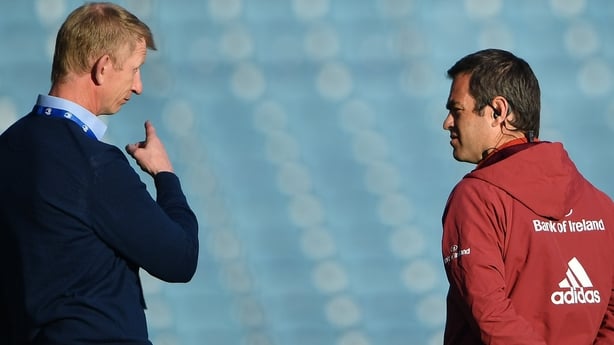 Leo Cullen's side were down to their fourth-choice half-backs. Despite the quality in other areas, you can't compete at the highest level when you give the opposition the advantage in a controlling pairing like that.
Damian de Allende played his best game in a Munster jersey. He's had positive games for Munster so far but never for the duration of the 80 minutes.
He had a scintillating 40 minutes against Toulouse but nothing more.
You can only play against the opposition that's selected so it's not to take away from his man of the match performance, but it wasn't against Robbie Henshaw, who caused him all sorts of trouble in the Pro14 final.
Rory O'Loughlin is a quality player and commands his position for Leinster for large periods of the year but it's not the same as playing against the best that Leinster have to offer.
Personally, I'm not sure how much I'd count this win in terms of the turning of the tide.
It's great to get the win and Munster did what they set out to do but it won't be until the next meeting where we'll see whether change is happening.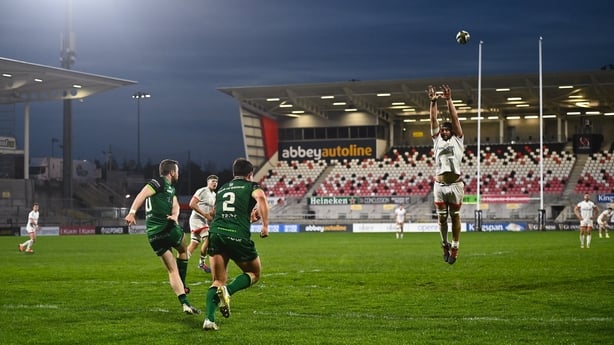 Likewise, Connacht took a massive scalp in Ulster and it was the nature in which they found the winning score that was so impressive.
The visitors came out of the blocks and dominated the opening 10 minutes but subsequently lost their way with an error-strewn middle period of the match.
Much like Munster, both winning teams will have serious question marks over the quality of their performance for the duration of the full game.
They were really good and effective at various times but both games were riddled with mistakes in the most important areas and moments of the game.
Ulster didn't play well enough to defend their record against Connacht in the Kingspan stadium, but you have to question the last minute of play.
They were three points up with possession in Connacht's 22 with less than a minute on the clock, at home, and they lost the game.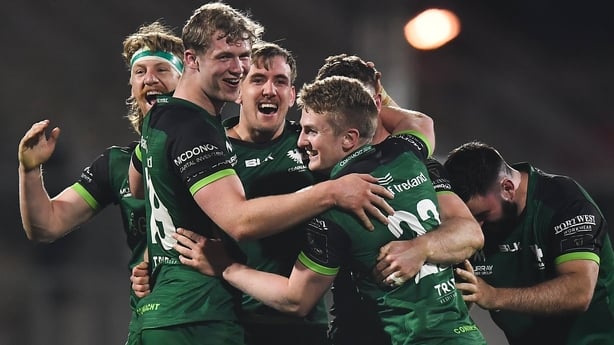 They're not the standards that any of the teams in this tournament would hold themselves to.
Yes, they made early substitutions and changed their team around with their semi-final in mind, but they took the lead after this.
To throw that away is absolutely criminal and shouldn't be dependent on who was wearing which jersey.
There were some standout performers on both sides.
Caolin Blade scored a wonder try from a quick scrum and carry from Abraham Papali'i that upset the Ulster ruck defence and allowed Blade to use his pace to score.
However, you'd have to look at the actions of Ulster in allowing him to do so. Basic errors in filling their foundational defensive structures allowed the scum-half the opportunity.
The finish was outstanding, but Ulster will be speaking about that error this week in their review.
Nick Timoney had a really powerful game for Ulster between his poach penalties and very clever lines of running which allowed him to stretch his legs.
---
Leinster in 'position of strength' ahead of La Rochelle
---
But again, there were errors that wouldn't normally be accepted when you look at his wild offload attempt to John Cooney deep in Connacht territory.
The same can be said of Munster, they gave away a number of penalties in attack and defence when Leinster were under all sorts of pressure.
I'm still trying to figure out if that's what this competition is about. Are teams going to try to bring through some youth?
Munster's selection policy wouldn't say that's true, but the game itself probably meant as much to them as the whole tournament so that might change in the next few rounds.
Where some youth was favoured in selection, it might have been to do with European games coming up.
Are teams going to use it to progress their match play and game plan? Possibly, but it can't be treated like a pre-season game either.
Connacht looked more aggressive in defence and Munster stuck with their more expansive game plan, which normally disappears against Leinster.
Game plans were loose for all four teams last weekend and error counts were really high. It made for entertaining viewing, but not for good quality rugby.
It was possibly down to the nature of the derby games but in fairness to the players, they did take the whole thing seriously.
---
RAINBOW CUP FIXTURES, RESULTS AND TABLES
---
Munster and Leinster was more highly strung than their provincial counterparts the night before. There were highly competitive moments throughout the game with physical confrontation at the forefront.
It's great to see the players taking this competition seriously but we're still to find out what it's all for and where the competition is going.
It might be a front for bringing money back into the game and if that's all it's for then so be it.
It provided entertainment for yet another weekend in lockdown and I'd prefer to have the Rainbow Cup than nothing at all.
Follow La Rochelle v Leinster (Sunday, 3pm) and Leicester v Ulster (Friday, 8pm) via our live blogs on RTE.ie and the RTÉ News app or listen live on RTÉ Radio 1's Sunday Sport and RTÉ Radio 1 Extra.