Adam Griggs praised his team's defensive effort in what was a mixed bag of a performance in their final Six Nations game at home to Italy.
As expected, Ireland made sure of third spot in the 2021 competition, notching four tries and winning by 20 points against an ambitious but flawed Italian side.
Ireland held the visitors scoreless until the 69th minute, Italy's negligible kicking game seeing them unable to gain field position for most of the contest.
"We had some patches of really good play so we'll take the positives from that but we know we can definitely get better," Griggs told reporters after the game.
"That's probably the biggest positives we can take from it, is our defensive effort.
"Italy never stop coming at you, they're a really scrappy team. We had to really dig deep to scrap for every inch around that defensive line as well. That's one of the huge positives that we were able to keep them out.
"If you look at the game against Wales, at similar times, we were put under pressure and our defence held strong.
"I think over the last three games, while week 2 was obviously disappointing, we can take some positives from our defensive efforts and the way we scrambled and we were able to keep teams working really hard to get across our line."
The Ireland head coach was pleased with the performances of his three new starters - Stacey Flood at out-half, Brittany Hogan in the back row and Amee-Leigh Murphy Crowe on the wing, all having been drafted into the starting XV during the week.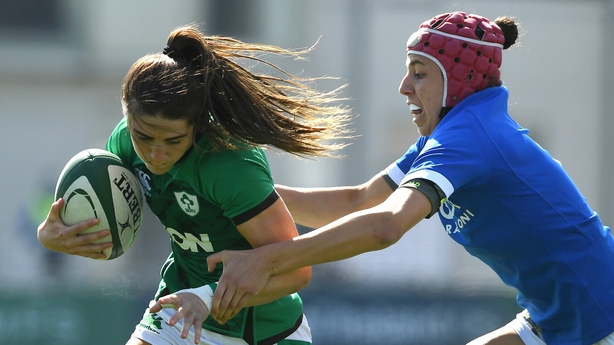 "I thought Stacey managed the game fairly well in that first half when we had a bit of a wind with us. She put us in the right areas of the field. We were really happy with that, we just let ourselves down with some execution. But we felt she (Flood) had a really strong game and she kept the tempo up.
"Brittany did a great job as well, she brought her physicality and tested them at the breakdown. We were really pleased with that.
"We know what Amee-Leigh can bring and it was great to see her get the ball in space. We had a nice set-piece move that we'd worked on and it was really good to see her back herself and score those couple of tries for us."
Ireland lost their captain Ciara Griffin to a HIA in the opening 15 minutes - and subsequently lost their back-up captain Sene Naoupu to a sin-binning for 10 minutes, resulting in Kathryn Dane briefly assuming duties.
Leinster's Hannah O'Connor filled the gap vacated by the captain, her performance hailed by the head coach.
"It's always tough losing your captain. Ciara brings that work-rate to us and does most of the unseen work in the back-row. At the same time, I thought Hannah O'Connor was brilliant when she same on. She steadied the ship for us. While she's not as experienced at test level, she's played rugby for a long time now. She understands our systems and she made a really good go of it."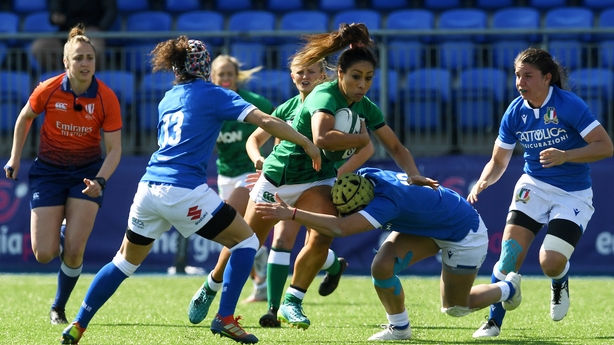 Ireland centre Naoupu played up the positives at the conclusion of the campaign, saying that two wins from three was a reasonable return in the context of a developing squad and the disrupted year they've endured.
"It was a huge honour to play in the Six Nations like this," Naoupu said after the game.
"To come away with two wins from three games after a big spell away, with the massive dedication from the whole squad, the players and the management, we're really pleased with this result.
"We're a squad that's building. The reality is, from a results perspective, two wins from three against really tough opposition is a positive. But at the same time, we're now aware of where we 100% need to be more accurate."