It's two and a half years since Lauren Delany made her international debut in the same game as her much hyped counterpart on the opposite wing, Ballinasloe's Beibhinn Parsons.
Both took very different routes to that international starting point.
At 16, Parsons was the youngest player ever to play senior international rugby for Ireland, coming off the bench in the 19-10 loss to the USA.
Delany, meanwhile, had only taken up rugby at the age of 25.
"It's a few years ago - and a few years in the age difference between the two of us at the time!" said Delany in a virtual press conference with reporters.
Delany's first game was basketball. She had emerged from the basketball nursery in Coláiste Íosagáin in Stillorgan, representing Ireland at underage and playing in the Super League for Meteors.
She's far from alone in this in the current international rugby set-up. Two other members of Ireland's starting lineup last Saturday played basketball at Super League level, prop Lindsey Peat, who captained the national team, and Sligo-born lock Aoife McDermott.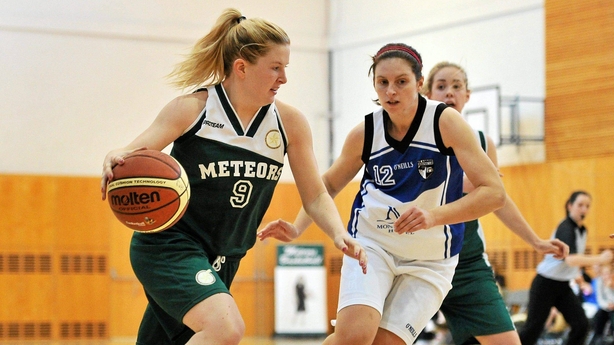 A combination of funding cuts to Ireland's basketball programme, and possibly more relevant, the professional/educational necessity of a move to England set Delany on a different path.
"I went to the Irish speaking secondary school Coláiste Iosagain in Stillorgan and they had a really good basketball culture.
"We won 10 All-Ireland medals there over the years with the coach there, Marie O'Toole. I absolutely loved it. I'm not a big NBA or WNBA fan. It was more in our little bubble in Coláiste Íosagáin.
"It's always great to talk about the basketball days with Lindsey Peat and Aoife McDermott on the current team. Unfortunately, when I got to U21, all the funding for the women's senior teams, and the men's senior teams, got cut.
"So, that avenue wasn't there anymore. After I did my undergraduate university degree in Dublin, I decided the best route for my professional career was to move to England to do my Masters.
"And basketball became the lesser priority in my life in comparison to my nutritional career. And then the opportunity with rugby came up and that was an amazing new journey to go on.
"I still definitely miss the basketball and we still do talk about it a lot with Lindsey. Yeah, it potentially could have been a very different career. But I don't think I'd be the rugby player I am today without those years playing basketball."
With little basketball to speak of in her new locale of Milton Keynes, a 25-year-old Delany tried her hand at rugby, heading along with a friend from work.
Fours years later, she was playing for Ireland.
"I moved to Milton Keynes for a new job with British Badminton. There was nowhere to play basketball there so I decided to bring a friend from work and the two of us went down to a local rugby club and tried it for the first time."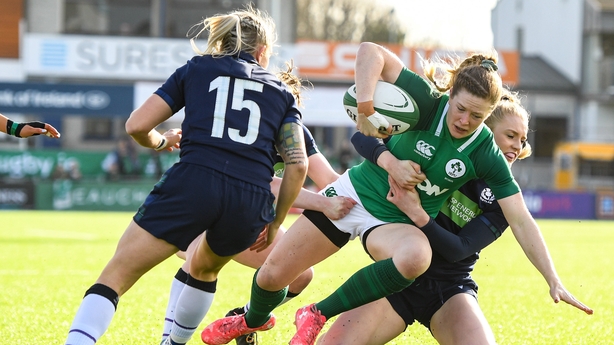 Though born in Shankill, Delany's early rugby tutelage came through the English game and thus, she has the IRFU's IQ [Irish Qualified] system to thank for her progression in green.
By now playing with Firwood Waterloo in Premier 15s, Delany was spotted in trials by the current Ireland head coach.
"I went to a talent ID day back in the summer of 2018. Adam Griggs was there and I got selected for the autumn international squad based off that.
"I wouldn't probably be where I am today without that IQ system so I massively recognise the importance and the value that it brings. It brings an access to thousands of young girls and rugby players who could potentially qualify for the Irish system so it opens up a whole heap of opportunities.
You've a lot of players over here playing in such a high standard of league as well. It allows players to develop by playing in the Premier XVs while also still having that connection with the Irish set-up. It's massively valuable. I owe my international career to it."
Since then, she has earned 12 caps in total, notching her first try against England in Twickenham and registering her first Six Nations try in last spring's victory over Wales in Donnybrook.
The past year has caused huge disruption to the women's rugby calendar, with the 2020 Six Nations aborted early last November, the current one re-shaped and squashed into a smaller time-frame, and the 2021 World Cup postponed for a year.
However, one particular scene has trundled on in spite it all. The English club game continues to grind forward, with Delany part of it, having departed Firwood for her new club Sale Sharks at the beginning of the 2020-21 season.
"With the Sale Sharks, we're based in the same facility in Carrington that the lads are. It's a phenomenal facility and it's excellent to be part of it. We've full access to all the gym facilities, the pitches, the physios. Fair play to the owners and the set-up of the Sale Sharks women's side.
"They've really invested everything they can into the Sale women's side to make it as professional as possible. Again, it just comes back to feeling really grateful and privileged to be able to play in the circumstances that we're in."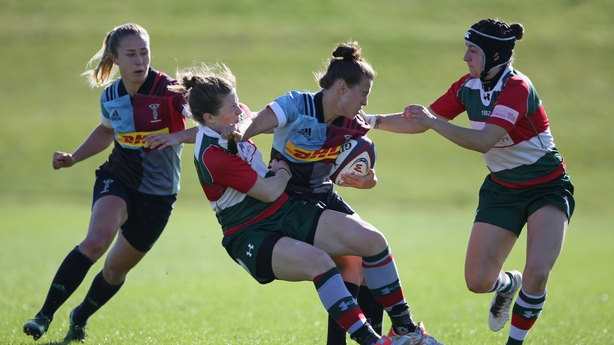 Like her backline colleague, Ulster's Kathryn Dane, who works in the physio department at Leinster, Delany works in rugby - albeit of the league variety - in her professional life.
A performance nutritionist, Delany has worked with a host of sporting programmes under the Team GB umbrella, including badminton, swimming and, for five years, cycling.
At the beginning of the year, she took a post as Performance Nutritionist with the illustrious League outfit, Leeds Rhinos.
Given her credentials, does she double-job as winger and nutrition advisor for the Irish women's team?
"No! We have our own performance nutritionist with the IRFU, Marcus (Shortall), who's great and has done some really good work with the squad.
"I suppose everyone probably recognises my food knowledge and the majority of the conversations you have about food will be over meals. So, there's always some questions!
"But I try and separate, a little bit, my rugby role and my nutritionist role. I refer on to Marcus and reiterate the points that he makes so that everyone is on the same page on the team."
After a few years of difficult transition for the Ireland XVs team, bottoming out in 2019 with a fifth-placed finish in the Six Nations, the thorough-going demolition of Wales appeared like the start of a new, brighter era.
Like the rest of the squad, Delany is enthused about the future. Last weekend's performance was coming and they feel they could be more ahead as they attempt to bridge the gap to the big two in the northern hemisphere.
"I think we definitely knew something was building. Every camp we go to we've been building and improving. We've taken so much confidence from the last few months of training and seeing everyone developing and improving.
"We knew that there was definitely something coming. Everyone was itching to get out on the pitch. We're really chuffed that we were able to put that performance on the pitch.
"I think last week we laid really good foundations. We recognise that we're on a journey. Every team will bring different challenges. But we're optimistic based on last week's performance.
"It's a really exciting time. We can really bring it to France next week and put in an even better performance out there than last week."
Follow Ireland v France (2.15pm, Saturday) via our live blog on RTE.ie and the RTÉ News app or watch live on RTÉ2 or RTÉ Player, listen live on RTÉ Radio 1's Saturday Sport.