This weekend sees the start of the 2021 Women's Six Nations. Delayed because of the impact of Covid, this year's tournament will take on a condensed format with matches every weekend for four weeks.
Traditionally, the teams play each other in a round-robin format but this latest staging will see the six teams split into two pools of three, with the winner of each pool playing a final on 24 April and the other four playing their last fixture the same day.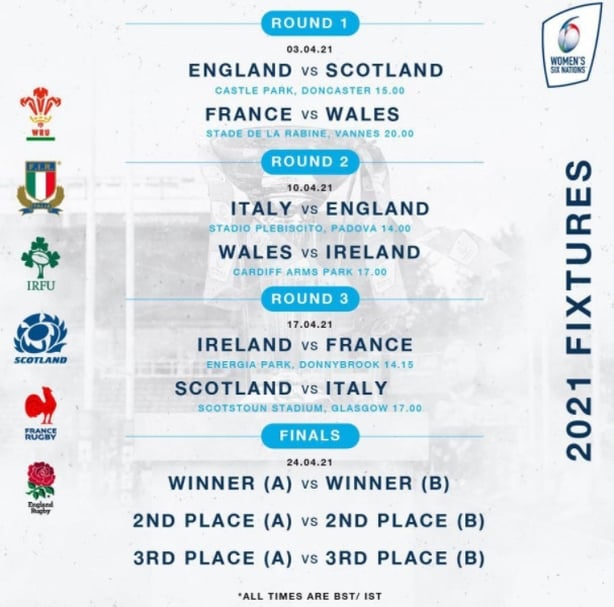 Adam Griggs' Ireland began their campaign away to Wales on Saturday, 10 April and will face France in Donnybrook a week later. The truncated tournament is likely to be a one-off, with talk also that its own slot in the calendar, separate from the men's tournament, may be the case for the Women's Six Nations sooner rather than later.
Former international Fiona Coghlan is just glad that the current squad are back playing competitively - a long wait it has been since the 24 October clash with Italy in last year's Six Nations. 
"The squad have had 20 weekends together since they last played but I'm sure they are delighted to get back out there," Coghlan said on 2fm's Game On.
"They are meeting Wales next week, who by then will have a game under their belt. That ring rustiness will be gone. Internal games can be feisty at times, but nothing compares to the international game. Not even having a friendly to warm up for is unusual. Ireland have talked the talk about how cohesive they are, so lets see it on the pitch in just under two weeks' time
"I wasn't too happy the tournament was condensed, but due to Covid and upcoming World Cup qualifiers they had to condense it. 
"I thought that when the qualifiers were postponed they might go back to the extended format but they didn't. It is what it is. Ben Morel (Six Nations Chief Executive) said the other day at the launch it will be the case just for this year. This window is potentially good for the women's game. All the matches will be shown on TV, with RTÉ showing the Ireland games. There will be more eyes on the game - the potential is there to maximise things.
As to what Ireland can achieve throughout April, Griggs expects another "top-three" finish in the Six Nations. And while she feels there were some positive things to take from last year's campaign, she also adds the squads needs to firm up in one key area.
"I thought 2020 was an improvement on previous years. They got the wins over Scotland, Wales and Italy and had a good defensive performance in the second half against England. I've heard the girls speaking about the defence improving a bit more, so that needs to step up.
"It's the attack that's letting them down.
"I think we are up to eight No 10s that have been tried during Adam Griggs' time in charge. It's about someone cementing that position going forward towards a World Cup. Hannah Tyrrell was there for the last game; hopefully she will stay there and be given an opportunity to develop. From that, you would hope the attack can function even better.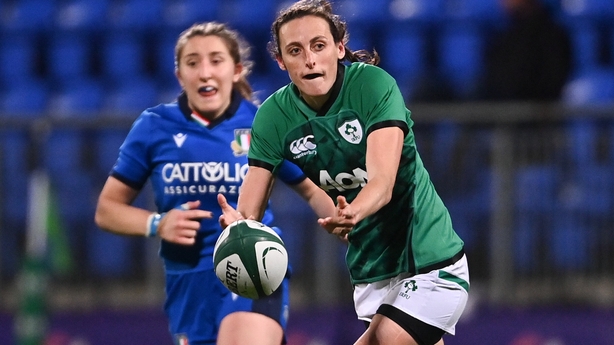 "Some of the other players who were given an opportunity at 10 didn't stand up and take it, yet on top of that they weren't given the time, either. Some of the new 7s players coming in like Stacey Flood, who played at nine there, probably has the skillset.
Eve Higgins, who as a 16-year-old was one that we thought was next in line to play at 10, but she went into the 7s game. Both players need time to develop and not just given a game or two to play here and there."
Watch England v Scotland (2pm) and France v Wales (5pm) live on the RTÉ Player on Saturday, 3 April. Wales v Ireland (5pm) live on RTÉ2 and RTÉ Player, Saturday, 10 April. Live commentary on RTÉ Radio 1. 
Listen to the RTÉ Rugby podcast on Apple Podcasts, Soundcloud, Spotify or wherever you get your podcasts.