For the ninth time since the Five Nations became Six in 2000, Ireland meet England in the final game. 
That pattern in the scheduling may indicate the organisers view this match-up, more often than not, as a likely title decider.
This year, it's only a third-place play-off, presuming France win at least one of their two home games.
Based on Eddie Jones' own mantra, this represents an abject failure for England, in particular.     
On taking over, Jones immediately guided England to their first Grand Slam in 13 years in 2016, an achievement which he took in his stride in an interview with Lawrence Dallaglio a couple of months later.   
"Yeeeeahh, I thought we'd win the Six Nations. Look, without being arrogant, I think England should always win the Six Nations - or be in contention to win the Six Nations ("I agree with that," interjected Dallaglio). You might have some bad luck along the way that stops you winning it. But given the players and resources, you should be in position to win the Six Nations."
This could be read as an implicit criticism of his predecessors, though it probably wasn't intended as such, merely a coolly phlegmatic Eddie setting out his stall.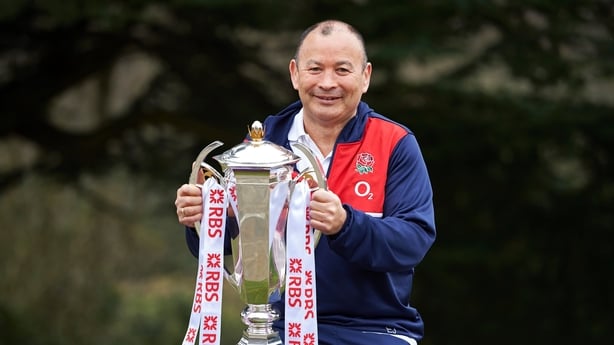 In the 12 seasons prior to Jones' arrival in England, they had won just one Six Nations title, in 2011, and even that was nothing to write home about. A few functional wins - wins all the same, we should concede - over Wales, France and Scotland, followed by a spanking defeat in Dublin when seeking the Grand Slam. It was soon overshadowed by a memorably shambolic World Cup campaign in New Zealand in the autumn and coach Martin Johnson wasn't let stick around to defend his title. 
Over the course of his six seasons in charge, Eddie can surely be said to have made England winners again, as opposed to "apologetic losers". 
He led England to a world-record equalling 18 consecutive victories in his first 15 months in charge, a run which was ended in their Grand Slam game against Ireland in the last round of the 2017 Six Nations (yet another English Slam scuppered in Dublin 4).
Still it was back-to-back Six Nations titles, the first since the Clive Woodward era. 
He was cock of the walk in his first two years in England, much in demand on the conference circuit, delivering numerous Pendulum Summit style addresses and expounding on his coaching philosophy at the Oxford Union. 
His name became a by-word for top level management in the United Kingdom, the in-vogue cliche for politicians and business execs in dire need of a clunky sporting analogy. 'In the same way Eddie Jones has led England to glory down under, this Conservative administration will lead Britain to victory in the Brexit negotiations'. etc. etc. 
The mood would alter violently in 2018. Without warning, England's potency and vigour evaporated and they embarked on a dismal losing streak, eventually finishing a barely believable fifth in the Six Nations (their worst performance since 1987). The talk of 'always' being in contention to win the Six Nations suddenly read as bravado. Hailed as the saviour two years before, Jones was now being widely written off as a pseud and an Aussie loudmouth.
However, in a strange turn, it transpired that Jones himself had predicted such a slump.
In a chat with Donald McRae in the autumn of 2016, Jones said "wait until the third season, mate. We might hit a bit of a low then."
Their lowest point coincided with one of Ireland's high-points, the Grand Slam game in Twickenham on 17 March 2018. The match was over at half-time and it might have been a record home defeat in the Six Nations, but for Elliot Daly's post-80 minutes try, which gave the final scoreline an unduly flattering look.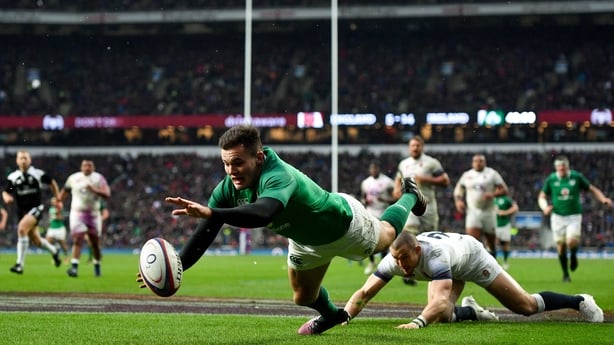 Jones was fairly inscrutable in the aftermath but, according to McRae, he was still relatively serene behind the scenes. 
"We'll be alright mate. The plan is on track," he told McRae shortly after the St Patrick's Day game.   
England would return to full bloom in 2019, peaking during the knockout phase of the Japan World Cup. It was very nearly a perfectly choreographed management of a World Cup cycle. But the semi-final display against New Zealand couldn't be matched in the decider and an unfeasibly powerful South African side snuffed them out in the final.
England are out of the reckoning for the current Six Nations. After the home defeat to Scotland, England's first for 38 years, there was another severe re-assessment. Jones was once more "over-rated".
There is a school of thought that Jones is playing a longer game than anyone else here, that the team is pacing itself, holding a bit back, sacrificing the immediate and focusing on the grander prizes - the World Cup, obviously - down the line. 
The evidence of 2018 suggests that Jones may have form in this regard, which might lead us to be cautious in interpreting what we're seeing in the 2021 Six Nations. 
As Ugo Monye said this week: "To think that no international team will endure any hardship in a World Cup cycle... What world are you living in?
"Wales had that awful year last year, winning three games, two against Italy, one against Georgia. They've had some of that pain, now they're bearing some of that fruit, in terms of being able to mix things up.
"England are in this sticky period now and I'm hoping it makes them a better team for it." 
The evidence of 2018 suggests that Jones may have form in this regard, which might lead us to be cautious in interpreting what we're seeing in the 2021 Six Nations. 
Jones gets no easy ride from the media in England. The culture over the water, as per his 2016 quote, is to presume England should be winning every trophy going. Nonetheless, he has managed to accumulate Six Nations titles while also keeping an eye on the World Cup bigger picture. 
Ireland, with our thinner resources, may not have the same luxury. There are gripes on this side of the water that Ireland's reluctance to pause and take a breath mid-World Cup cycle are the root cause of our failure at the tournament itself. 
The 2019 World Cup debacle coming off the back of an all-conquering 2018 season has scarred some, leading them to doubt the evidence of their own eyes mid-cycle. 
Ireland have had a middling Six Nations, but worse than that, the present travails don't seem to be in the service of a longer-term plan.    
Ominously, there were signs, even against Wales, that England's back-line is beginning to roll again. In particular, Ben Youngs' try to level the game in the final quarter was beautifully constructed, showcasing serious back-line fizz and offering a glimpse of what they're trying to do.
While they were overshadowed in the flamboyance stakes last Saturday, they showed ample flair themselves when dominant for large parts of the first half. 
In the immediate aftermath of the game, Jones was talking baldly about the World Cup, making clear that England had lain down a marker against France in the race for the Webb Ellis in 2023. 
"They haven't really got back anywhere near the standard they were at in the World Cup," Eddie O'Sullivan commented on Against the Head on Monday. 
"And they're still not there yet. But I think last weekend was hugely important for them. Now Jones feels things are turning their way. The team is getting more confident. They're building towards the World Cup. As are France. 
"These teams are still tinkering away. But you can see them progressing. You can see what they're trying to do. You can see the plan starting to emerge two years out." 
Ireland have a good record of beating England on the final weekend in Dublin. Based on current trends, they have their work cut out to maintain that run on Saturday. 
We need your consent to load this YouTube contentWe use YouTube to manage extra content that can set cookies on your device and collect data about your activity. Please review their details and accept them to load the content.Manage Preferences
Listen to the RTÉ Rugby podcast on Apple Podcasts, Soundcloud, Spotify or wherever you get your podcasts.
Follow Ireland v England (kick-off 4.45pm, Saturday) via our live blog on RTE.ie and the RTÉ News app or listen live on RTÉ Radio 1's Saturday Sport. Highlights on Against the Head on RTÉ2 and RTÉ Player, 8pm Monday.