In what has been a deeply frustrating year for women's rugby, Ireland flanker Anna Caplice was enthused to hear the announcement of the new global tournament coming down the track. 
On Tuesday, World Rugby unveiled their shiny new tournament, the Women's XV, set to commence in 2023, offering the top three sides in the Six Nations a spot in the top tier of a new annual global competition. 
It dangles the possibility of more regular games against the world's leading teams outside Europe: New Zealand, Canada, Australia, et al. 
As Caplice told RTÉ Sport, more variety is definitely to be welcomed. 
"I'm just really tired of playing Wales (laughs)! We play them so often. They were our November international and we were playing them in a Six Nations and playing them in a friendly. 
"It's definitely exciting. Because even in a World Cup, you might not get the chance to play a team like New Zealand. We have played them in an autumn international but that's not a yearly thing. Just to play different teams a bit more.
"So yeah, I'd definitely love to see a few more teams thrown in there. Just to open it up and see how different teams play and see what that brings out in us."
The layout of the three-tier structure of WXV attaches greater importance than ever on Six Nations standings.
It's become an increasing source of disquiet in the women's game, the gap that has opened up between England and France, both professional set-ups, and the remaining quartet in the Six Nations - though it is worth recalling that Italy did upset France in the final round of the 2019 competition to improbably sneak into second place.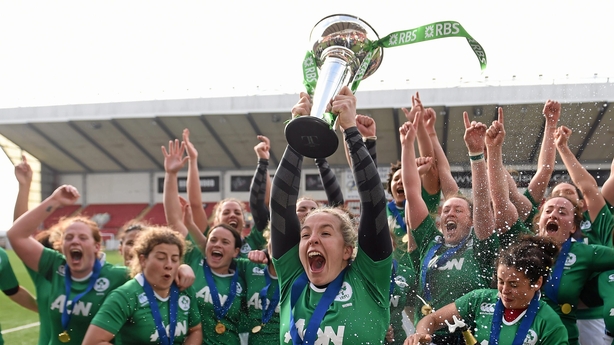 Gone are the days of 2013 and 2015 when Ireland won the title, the first of those accompanied by a Grand Slam. Caplice, while insisting their aim is to win every game, acknowledges that third place represents their most achievable target. 
"We would always be aiming for third or higher anyway," says Caplice. "Anything less than that is a disappointing result for Ireland. 
"Sadly, the gap has widened there between England and France, the two professional teams, and everyone else. It's a bit disappointing. I wish that wasn't the case. I wish we were able, realistically, to go for first place. 
"But it (Women's XV) would make it more competitive for Scotland, Wales, Italy and ourselves. You have to be the best team out of those four. Not that we wouldn't be anyway but you can't slip up. You have to get those right."
It isn't the only change planned for the women's game, with Lions managing director Ben Calveley confirming that a feasibility study was being undertaken to investigate the possibility of a women's team, having previously said that a women's Lions team was a question of "when, not if". 
"I would die with excitement! I would love it so much. Sadly, I'm coming towards the end of my career so if it can happen before I finish up, that would be a massive bonus. 
"Watching the Six Nations game at the weekend with the lads, seeing Warren Gatland in the stands. Everyone is saying 'oh, who is he picking?' It makes viewers very aware of players' performances and aware of their roles across the pitch. 
"I think the women's game deserves that level of hyper critique as well. Who's going to be good enough for the Lions? Imagine watching the women's Six Nations with that hat on, with your Lions hat on.
"The women's game deserves that. We've already had the Barbarians become a thing. I was very lucky to be part of that. The women's game needed that and deserved it. 
"It's overdue in my opinion. Bring on the Lions."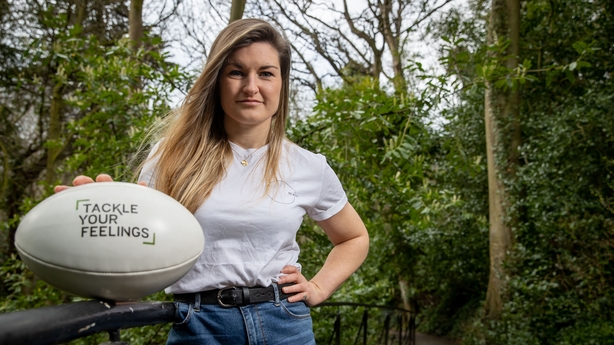 The Irish flanker attracted some headlines in February, when responding to social media users who'd reacted in a taunting, trolling fashion to the news that the Women's Six Nations had been postponed in 2021.
While critique is fine, much of the criticism of the women's game has been purely based on the fact that it's played by women, according to Caplice.  
However, she has detected some positive change in the air. 
"A lot of the criticism of the women's game that comes in from the coach observers, it comes at the game because it's played by women," says Caplice.
"One example that I often find is when the Premiership release their 'Try of the Week', there's all these comments - not every time but often - where people say 'oh, all I can see is bad defence' or 'she had no interest in tackling her'.
"Whereas when you have a men's 'Try of the Week', which you have every week. I was even watching try of the week from the Japan Super League this morning, and everyone underneath is saying 'look at his footwork, look at the positivity in attack'.
"It was focused on the positive things in the men's game, whereas it's often focused on the negative things in the women's game. I just want to see that change. 
"Interestingly, there was a fantastic try scored by Bristol Bears forward Simi Pam recently. She's a prop forward, has an unbelievable side-step, breaking through the line and running 60m to score the try. 
"A journalist on Twitter that I follow who has a massive rugby following, mostly focused on the men's game, but he shared it. A lot of comments, a lot of likes and I was like 'oh God, here we go, let's see the comments underneath...' but actually I noticed that there were a lot of positive responses. It was, 'look at the speed she has, look at what she can do'.
"There's fewer and fewer negative comments. I think it's because we're becoming aware of the online harassment and negativity and people are starting to see the women's game for what it is. People are starting to take place in positive discussion around it and I was happy to see that."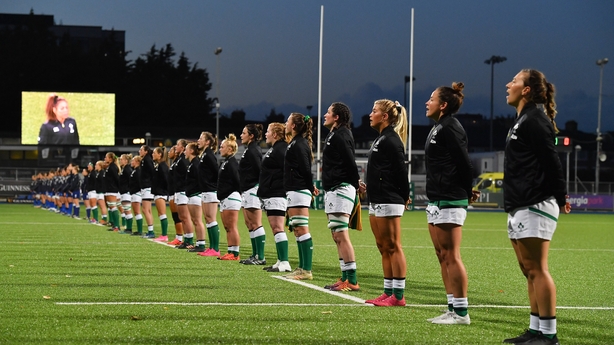 The notion of encouraging a more forensic critique of the women's game is a vexed issue. 
After Ireland's 2014 World Cup semi-final loss to England, then captain Fiona Coghlan lamented what she regarded as the excessively tame, toothless reaction to the team's under-performance.
However, as Caplice acknowledges, that level of scrutiny could be wearing. Notably, both Billy Burns, following his late error in Cardiff, and James Lowe, after a series of mistakes against Scotland, have come in for heavy criticism, and occasionally abuse, on social media. 
"Tagging players - which you see a lot in the men's game so this isn't just a thing in the women's game - is so unnecessary, really silly, it has no place in any sport," says Caplice.
"Going back to the women's game, in a way I might be saying 'Be careful what you wish for...'
"Because if you're looking for people to treat the women's game the same as the men's game, you're going to get that. You're going to get tagging, you're going to get that level of critique of your own performance.
"I think it's difficult and there's a fine line. Because the way it is at the moment in Ireland, we're not professional yet but we're playing against professional teams. 
"The way it is in the women's game, some teams are breaking into professionalism and some are only trying to get there. We're not going to get this right today or tomorrow. It's going to happen over time. But if we keep the exposure going, it will improve over time. It's already started to improve."
We need your consent to load this SoundCloud contentWe use SoundCloud to manage extra content that can set cookies on your device and collect data about your activity. Please review their details and accept them to load the content.Manage Preferences
Listen to the RTÉ Rugby podcast on Apple Podcasts, Soundcloud, Spotify or wherever you get your podcasts.
Follow Ireland v England (kick-off 4.45pm, Saturday) via our live blog on RTE.ie and the RTÉ News app or listen live on RTÉ Radio 1's Saturday Sport. Highlights on Against the Head on RTÉ2 and RTÉ Player, 8pm Monday.