Scotland's record against Ireland over the past 20 years has been well beyond dismal, and the last four matches have been as bad as ever, but is there a sense that a changing of the guard is coming?   
Eddie O'Sullivan caused a bit of a stir in Scotland after Ireland's latest victory in the fixture in the Autumn Nations Cup game in December.
"We've seen this before, they always talk a great game," O'Sullivan told RTÉ Sport after Ireland's 31-16 win. 
"They've some deluded notion that they're better than they are. These guys haven't won here in ten years. They've won three times against Ireland in 20 years. It's just deluded."
After being assailed by Scottish rugby fans for three days on Twitter, Eddie did walk back his comments to a slight degree in an appearance on 'The Rugby Pod' with Andy Goode and Jim Hamilton. 
"I did go over the top, I didn't want to upset anyone. I'm sure I did. I got huge abuse on social media and I probably deserved some of it," O'Sullivan acknowledged in his mea culpa, before stressing that he did stand over his comments on Stuart Hogg's characteristically panglossian post-match interview. 
"I stand over what I said about Stuart," Eddie insisted. "That's where I think the delusional part came in... the notion that Scotland dominated (that game) for 70 minutes is just claptrap." 
Hogg's interviews seem to be a key part of the issue. 
Hoggie has mastered the ability of meeting with triumph and disaster and treating them just the same - namely, as triumphs. If Hogg had been involved in the skirmish at Widow McCormack's cabbage patch, he'd have concluded afterwards that Irish independence was imminent. 
The Scotland full-back has taken huge slagging over this tendency, notably on the Second Captains podcast, which has instituted a slot called 'Hogglebox', tracking all of his most bullish pronouncements. 
Perhaps this mindset has to be understood in the light of where Scottish rugby is coming from.
That the last couple of decades have been so unremittingly bleak for Scotland that they've had no choice but to shield themselves from the full reality of it, taking refuge in the notion that they were developing towards some better future ("when all's well").
That the incessant talking up has served a vital need to generate confidence.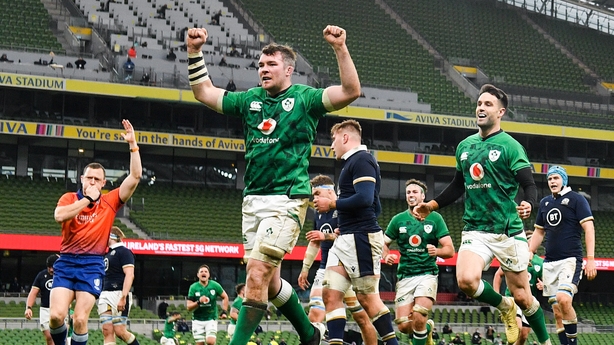 Some Scottish fans have expressed hurt at the displays of "Irish schadenfreude", with some indicating that it ill-behoves Ireland rugby folk, in particular, to be delivering such high-handed smackdowns. After all, we were once stuck in the same place ourselves and, in the grand scheme of things, not that long ago either.    
For the anoraks, there's some historical interest in Sunday's Murrayfield meeting. After Ireland's last five successive wins, the two teams are now tied at 66 wins apiece in the all-time head-to-head. (They say 2020 was a dismal year for humanity but I ask you, can it really be that bad when the Centenary Quaich rests on Irish soil?)
Of course, if you remove the late 19th century from the equation, when most of the players sported handlebar moustaches and the bulk of the Irish team were plucked from the Trinity College common room, then Ireland are well clear in the head-to-head. 
In 1899, the record was 17-3 in Scotland's favour. The 20th century was even enough. Both teams enjoyed their own stretches of dominance. Ireland did so in what we might refer to as the Pathé News era ("And it's Henderson to O'Reilly, O'Reilly flings it on to Pedlow and Pedlow is streaking clear, look at that boy go!"), losing to Scotland just twice in the Five Nations between the mid-30s and the end of the 1950s. Out-half legend Jack Kyle played against Scotland on ten occasions and won every game. 
Scotland's era of total dominance in the fixture is, of course, within living memory for most people. Irish rugby still bears the scars of the 1990s. 
It's hard to fathom from this remove how cathartic the victory over Scotland was in 2000. Within relatively short order, victories against Scotland would become routine, barely a cause for cheer. 
We switched from the perennial underdog to the consummate overdog with bewildering speed. Wins over Scotland would soon be examined far more coldly, parsed for their quality and their manner, rather than simply celebrated for being wins at all.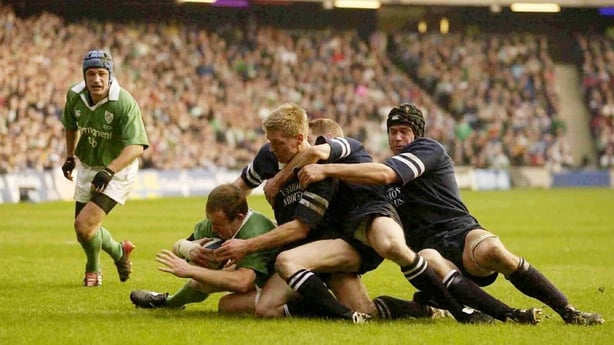 The Scots, meanwhile, whose peak arguably arrived at an inopportune time in the dying days of shamateurism era, were left eating dust in the 21st century, their regional game failing to take off in the Celtic League years and their production line failing utterly to match the quality emerging from the Irish school system. 
In a rueful 'Scotsman' podcast after the 2015 Six Nations finale - when Ireland successfully ran up the score against Scotland at Murrayfield to win the title on points difference - one of the contributors remarked "I remember back in the 80s and 90s, I used to feel sorry for Ireland. I thought they'd never win anything.
"Look at them now, deary me, back-to-back Six Nations champions. Now we look like the ones who aren't going to win anything. Now, we're the ones people feel sorry for!"
Tom English, author, BBC rugby writer and Irishman embedded in Scotland, said in 2016 that the Scotland rugby fraternity now looked at Ireland with "great envy". 
"I moved to Scotland in 2005 and, pretty much non-stop since then, it's been looking at Ireland and going 'how can they do it and we can't?'"
From that nadir, things have picked up. While Scotland were wooden spooned in early 2015, that was also a landmark year for the pro game in the country, with Gregor Townsend leading an entertaining Glasgow Warriors to Scotland's first, and thus far only, Pro12/14/Magners/Celtic League title. 
Carrying on from the fine work of Vern Cotter (who arguably left at a moment when things were taking off), Townsend has overseen the development of a national team which resembles himself as a player, flamboyant, reckless, improvisational, capable of moments of brilliance but also some monumental brain-farts.
Possibly unburdened by the need to maintain a winning culture (see Joe Schmidt's remit from the IRFU), they've been happy to let the mercurial talents of Finn Russell and Stuart Hogg be themselves.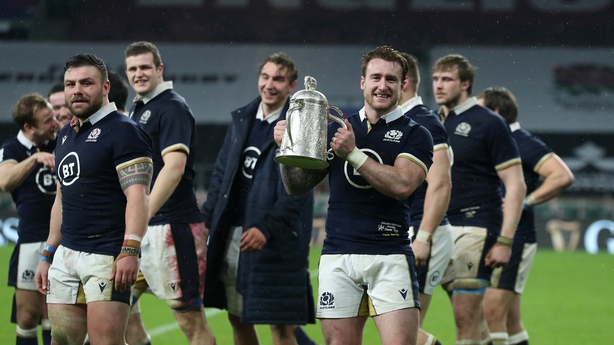 Results have still been patchy. They've routinely made a hames of things against Ireland, hideous errors gifting Schmidt's team victories in 2016 and 2019. The World Cup opener in Yokohama was a demolition job, so much so that it briefly lulled supporters here into thinking all was well. 
But since the World Cup, Scotland's long promised rugby revival has at last begun picking up speed.
They stopped France winning a Grand Slam in 2020, albeit helped by Mohamed Haouas' first half sending off. They subsequently managed a first away win against an admittedly mis-firing Wales since 2002 (incidentally, Bill McClaren's last ever game on commentary). In February, they finally ended their ridiculous hoodoo in Twickenham - which out-lasted the eighth amendment by three years. 
They appeared to have all the momentum behind them but the subsequent loss to Wales revealed that the old self-destructive tendency still hasn't been jettisoned, while Ireland's commanding win in December, according to O'Sullivan, showcased clear flaws in the Scottish defensive system.
The Irish players will be anxious not to relinquish their stranglehold on the match-up but the Scots, unlike in some years gone by, are far from deluded in thinking they've a shot at this one.   
Listen to the RTÉ Rugby podcast on Apple Podcasts, Soundcloud, Spotify or wherever you get your podcasts.
Follow Scotland v Ireland (kick-off 3pm, Sunday) via our live blog on RTE.ie and the RTÉ News app or listen live on RTÉ Radio 1's Sunday Sport. Highlights on Against the Head on RTÉ2 and RTÉ Player, 8pm Monday.