Leinster scrum coach Robin McBryde is expecting a "sterner test" this weekend as the province takes on Ulster in a Guinness Pro14 fixture that will go a long way to determining which side gets to this season's Grand Final via Conference A.
Leinster are currently six points clear of their inter-provincial rivals ahead of Saturday's game in Belfast but a victory for the home side would see the gap close significantly.
Speaking at Leinster's Tuesday press conference, McBryde said he is under no illusion about the task at hand.
"Both teams are going to be buoyed by returning international players so it's going to be a big test for us," he said.
"It's all to play for but it'll be a good challenge and one that we've got to arrive to and I'm sure they'll be keen to gain some sort of revenge from the last fixture here in the RDS as well."
Leinster will go into the game off the back of an eventful win over 14-man Glasgow Warriors which saw Leo Cullen's side concede three tries. Despite ultimately earning victory, McBryde admitted there were aspects of the game that they were not happy with it and defence is one area they are looking at.
"Just our tackling in general really - we fell off quite a few tackles," he told RTÉ Sport.
"The numbers of missed tackles was completely unacceptable and the players knew straight away after the game in the changing room.
"Scott Fardy spoke up and said that personal pride really is what you carry with you, a level of intensity and there is no better sign with regard to that in how you go round in defending and how much pride you take in your one-on-one tackles and we just fell off quite a few. It was very uncharacteristic of us - a certain individual in particular really - so nobody was happy.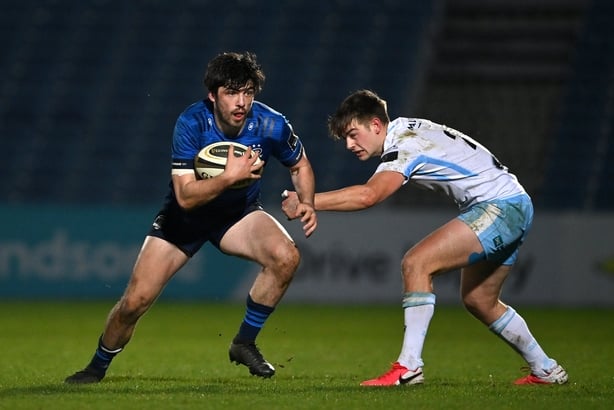 "That's one thing that we've got to put right when you look at the threat Ulster pose, especially in the backs and the powerful runners and great footwork."
In the midst of a Six Nations campaign with seasoned internationals away from provincial level, the side that faced Glasgow featured a number of relatively inexperienced players.
One of those was Jimmy O'Brien, who slotted in at full-back after recovering from a hamstring injury. A versatile player, he has filled a number of roles thus far but told RTÉ Sport that his preference currently lies in the 15 and 13 jerseys.
"I prefer 13 and full-back. They're the ones I've had most game-time at. But I played right wing this season, left wing, 10," he said, before quipping, "I think the last one I have to play now is nine so I'm just waiting for that day to come round.
"But I don't have a particular favourite. To be honest, once I get to go into the 23 or the 15 and get to play. Leo is always like, 'Can you cover this position?' and I'm always like, yeah. I've pretty much played all of them now at this stage."
In terms of player profiles to learn from in his various roles, aside from a childhood interest in the way All Blacks legend Dan Carter approached the game as a left-footer, O'Brien adds that "recently, it's a mixture of lads like Damian McKenzie and players like that and you study different teams and how lads play."
Follow Munster v Connacht (7.35pm, Friday) and Ulster v Leinster (7.35pm, Saturday) via our live blogs on RTE.ie and the RTÉ News app or listen live on RTÉ Radio 1 Extra and RTÉ Radio 1.