Who would have predicted Wales to be the winners of the 2021 Triple Crown? They had a shocker in the Autumn Nations Cup, had only won three of their last ten games and didn't know their own game for large parts of their play.
Yet, with a bit of luck, the whole Six Nations championship is in their grasp. All they have to do is overcome the tournament strugglers, Italy, and a Covid-affected French team that might not even be allowed to tog out.
Wales deserved their victory against England on Saturday. Eddie Jones' luck has run out and the discipline issue has finally caught up with him. Wales were brave and were rewarded for that in key moments of the game, despite waves of pressure coming from England. 
However, most of us will be looking back at the tournament wondering how they've got there. A bit of luck with the referee has to come into it.
Ireland didn't go into the tournament as the red hot favourites or anything but Wales were very poor in that opening Six Nations game last month and if it weren't for the red card incident which ended up with Peter O'Mahony's dismissal, the result could have been a lot different.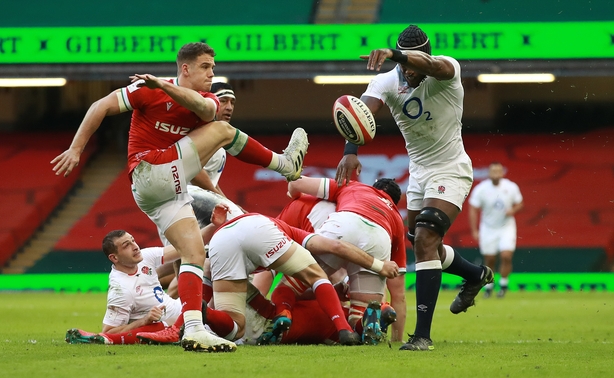 It was a similar situation in the Scotland game. Scotland were favourites there and Wales found a way to get the win. Again, it was heavily dependent on the Zander Fagerson red card. The luck wasn't the fact that the ref produced red instead of yellow, it was the fact that the opposition made errors going into contact that cost their team.
In saying that, Wales had the same referee as the opposition and could have given away penalties and red cards themselves. Often, when a referee has given a red card against a team, human nature plays its part and the man in the middle finds a similar instance on the opposite side.
The referee will then get the greatest compliment known to them which is the word 'consistent'. You'd hear people say, "Ah, it wasn't a red card incident but if nothing else he was consistent."
The Welsh discipline has been spot on to not find themselves on the other end of a red card for a high tackle or entering a ruck recklessly.
They also won the penalty battle against England last weekend, despite the referees being particularly trigger happy.
Ireland had a tough time with Mathieu Raynal against Italy on Saturday as well at certain times. They started the game with two quick penalties and weren't in control of the early exchanges of the game. 
James Ryan was pinged for illegally obstructing Italy when forming a maul, but yet again the consistency came out and Raynal found the same penalty on the other side just minutes later.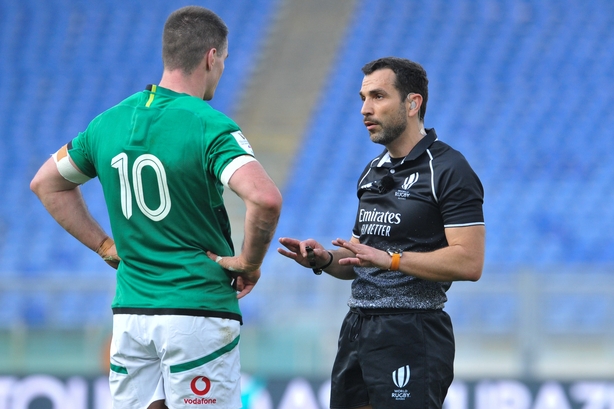 There were some petty enough calls from a refereeing point of view, but it affected both sides. Ireland gave away 10 penalties and three free kicks in a game that they dominated with six tries to one. You don't normally give away as many penalties when you cruise to victory, but Italy conceded 18 penalties. That's far too many at any level of the game but shows the pressure that they were under. 
There are times throughout these tournaments where the referees have meetings and are given new focuses on certain directives. That was clearly the case on Saturday after the break in the tournament. It's up to the players and management to adapt positively to these and sometimes that includes changing your ways as the game goes on.
England struggled to do that. They gave away a number of mindless penalties which is unlike them in many ways, but then again, they play on the line of what's legal, and this time it didn't go in their favour. They lost the penalty count 14-9. That's five more times they left Wales off the hook and either gave them an easy exit or a visit to their 22. At international level, a penalty concession is 40-50m of territory, making it difficult to maintain control of the game. In saying that, they can be fairly aggrieved by some of the officiating in Cardiff. 
What are you supposed to do in that situation? Rugby prides itself on respecting the referee and their judgement. The captain has to find a way of probing with questions and trying to sway the referee without crossing the line and getting on the wrong side of him. From Owen Farrell's point of view, he couldn't do any more. He couldn't change the referees mind with the decision, and he wasn't getting his point across when he tried. He actually did very well in the end to bite his tongue.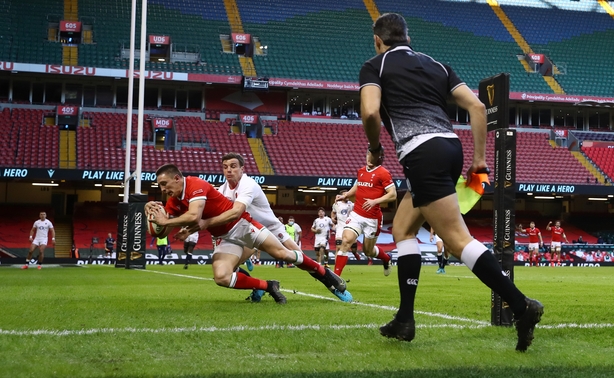 There are times when players can feel hard done by and get caught up in a decision, but the good teams get on with it and control what they can control to try to swing the momentum back in their favour. And that is what Farrell vowed to do in the interview afterwards, to focus on the things that they can control.
What they could have controlled was their reaction to the moments where Wales increased the tempo. Even better than that, they could have been much more proactive in how they managed the situation.
For the Josh Adams try, they had one wing set in time, while Dan Biggar was kicking the ball over the head of George Ford for Adams to score in the corner. For the Hardy try, Elliot Daly was running the other way when the scrum-half was crossing the line that he was trying to defend.
Wales have been given plenty of lifelines in this tournament, more than any other team that they played against, but you have to give Pivac and his players a lot of credit. They weren't in a great place coming into this tournament, yet they found a way to be resilient. Both Ireland and Scotland had the majority of possession against them, their set piece was under savage pressure and they still managed to come out on top. 
Against England, they got some lucky calls but they were all while Wales were on the front foot. They were asking a lot of questions of England and got the rub of the green with quick thinking and a try from a controversial knock-on incident.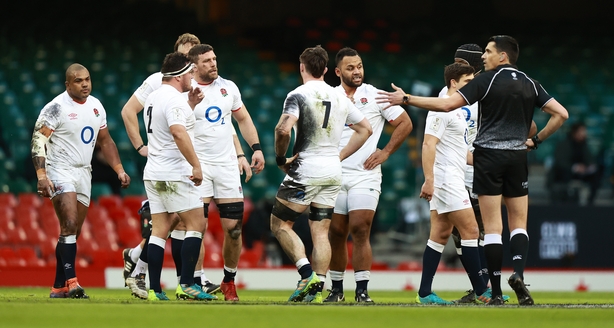 Rugby is very much about adapting to the situation and overcoming the issue. You have to go out and read the referee as much as you read the opposition defence. Every team will have their homework done on the referees' favoured penalties and focuses, so to not adapt when you get on the pitch is a huge error.
Not only that, but Wales also adapted to their defensive system that wasn't working. They changed back to their traditional, Shaun Edwards style and are flourishing again. 
So, what's left now? Ireland have still to play two of the toughest games in the tournament. Scotland are going to be very difficult to play against particularly away from home. The wave of English physicality and decision making that we saw glimpses of last weekend has caused Ireland a lot of trouble in the last couple of tournaments.
We need your consent to load this comcast-player contentWe use comcast-player to manage extra content that can set cookies on your device and collect data about your activity. Please review their details and accept them to load the content.Manage Preferences

There's a lot to play for still from an Irish point of view. After finding a performance in Rome last weekend, the challenge will be to bring that forward with them in two weeks when they face Scotland at Murrayfield.
It won't get any easier for Andy Farrell, however, Ireland have put themselves in a position to turn this tournament into something positive, much like what Wales have done. 
Follow Scotland v Ireland (kick-off 3pm, Sunday 14 March) via our live blog on RTE.ie and the RTÉ News app or listen live on RTÉ Radio 1's Sunday Sport. Highlights on Against the Head on RTÉ2 and RTÉ Player.