"It's all a case of could-have but that's not good enough, both for ourselves and the team management and the Irish public. It's demoralising. We could have a record of played three, won three, but in a year's time, all people are going to see is Ireland at the bottom of the table. They're not going to remember any performances."
David Corkery's words as reported by The London Independent throws the current expectations on the Irish rugby team into sharp relief when compared to its '90s predecessor.
While there is necessary soul-searching in the wake of a pair consecutive opening losses for the first time in the Six Nations era, 1998 and that entire decade was a very different beast.
Flanker Corkery had uttered his words 23 years ago after a third defeat on the trot to open a Five Nations campaign that would end with a fourth defeat from four in Twickenham two weeks later.
The opening two losses to Scotland and France had come with a combined margin of three points or to put it another way, the kick of a ball across 160 minutes. Yet as the Corkman said, only the results would be remembered as the years wore on.
That was evidenced as much by last week's resurrection of the statistic that no Irish side had lost the opening two games since 1998 as a word of warning before France's victory on Sunday.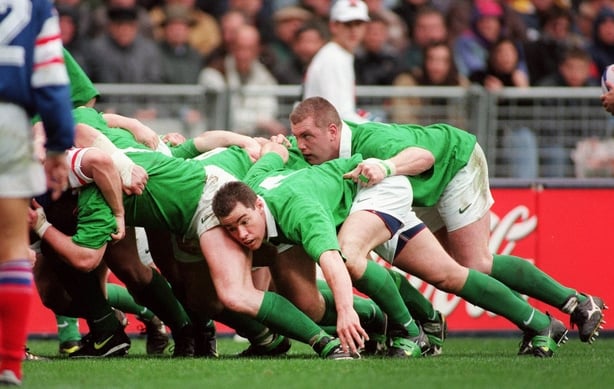 But that year was not unusual when it came to Ireland struggling to gain results in the '90s. Apart from 1991 (when the second game was drawn) and 1997, the teams involved always lost the opening two matches and at times - 1992 and 1998 - would end with a 100% losing record. The 1999 season would be a little better with one win from four, although that sole victory did come in match two.
The one major shift in script was the appointment of Warren Gatland after the opening round defeat in 1998. Brian Ashton's resignation 13 days after the narrow loss at home to Scotland left Gatland with a fortnight to plan for a daunting trip to the Stade de France.
An 18-16 loss to the eventual Grand Slam winners - including a first Irish try-scorer in Paris for 18 years courtesy of Denis Hickie's intercept and finish - proved to be an encouraging sign for the new regime, although it was punctured by the fact that heavier defeats to Wales and England would immediately follow.
Of course, two years later, Brian O'Driscoll would help himself to three tries in Paris in one go in a famous win with Gatland at the helm. What a difference 741 days make, eh.
1998 v France: C O'Shea; R Wallace, K Maggs, R Henderson, D Hickie; E Elwood, C McGuinness; R Corrigan, K Wood, P Wallace, P Johns, M O'Kelly, D Corkery, V Costello, A Ward. Replacements: R Nesdale for Wood, 60; N Popplewell for Corrigan, 60; M Galwey for Johns, 65; P Clohessy for P Wallace, 65.
2000 v France: G Dempsey, K Maggs, B O'Driscoll, R Henderson, D Hickie, R O'Gara, P Stringer, P Clohessy, K Wood, J Hayes, M Galwey, M O'Kelly, S Easterby, K Dawson, A Foley. Replacements: F Sheahan, J Fitzpatrick, P Johns, T Brennan, D Humphreys, G Easterby, M Mullins.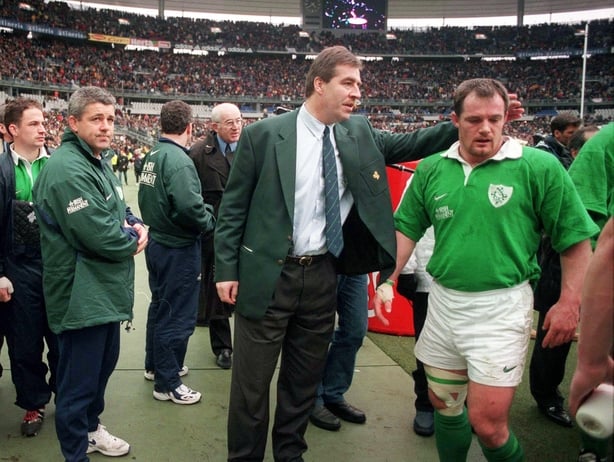 Granted there were only two years and 11 days between the games but while "babies" like O'Driscoll, Ronan O'Gara and Peter Stringer had been introduced into the team (albeit from 1999 for the first of those), the bath water was essentially drawn from a significant portion of the pool of players that had been there in choppier waters.
Notably, much of the 1998 team that started against France were at what one could describe as "good ages" during that year's championship. The average age was 26 and only two players had just hit 30 months earlier in what were the early years of professionalism.
And some from that tournament squad were still in place for the 2003 Rugby World Cup selection, namely Keith Wood, Reggie Corrigan, Malcolm O'Kelly, Victor Costello, David Humphreys and Kevin Maggs, while Denis Hickie would overcome injury to feature four years later.
The depth of the playing pool was of course shallower in those days before academy pathways but it's interesting to note that a large portion of the 1998 squad helped Irish rugby out of the deep end into the turn of the Millennium.
The age profile of the current Ireland team is also quite positive, but most supporters will be hoping for another quiet evolution, in terms of tactical approach if not wholesale personnel changes, ahead of the 2023 World Cup in France.