Speaking before Sunday's game Tadhg Beirne revealed that when the Ireland squad met up in advance of the championship they set winning the Grand Slam as their target.
Following the loss to Wales they had to recalibrate to the more modest ambition of just winning the championship.
So what now? Ireland have never lost the opening two games of the Six Nations before.
They have managed to earn two losing bonus points and can end up with a maximum of 17 points, providing they beat Italy, Scotland and England while scoring four or more tries in each of the ties.
There's quite a packed leaderboard ahead of them so any delusions of a combination of results going their way can be discounted as just that.

Ireland came close against Wales, and, in truth, dominated the stats against France, and even if it resulted from Les Bleus blowing a couple of chances to kill the game, were within striking distance at the end.
They had 59% possession, 58% territory, conceded five penalties to France's nine and had a perfect set piece, winning 7/7 scrums, 9/9 lineouts and even stole three of their opponents' throws.
Counting in the loss at the back end of last year's championship, it's three straight defeats in the Six Nations for Andy Farrell, and all the talk of small margins and progress won't cut it for much longer. 
The talk of 'effort', 'spirit', 'never say die' and 'putting bodies on the line' as if those traits weren't present in the rest of the top teams is starting to look like a guy selling a bad dummy.
"You don't really get second chances at this level and we're seeing that now for the last couple of weeks that we really need to take our chances when they come," Robbie Henshaw told RTÉ Sport.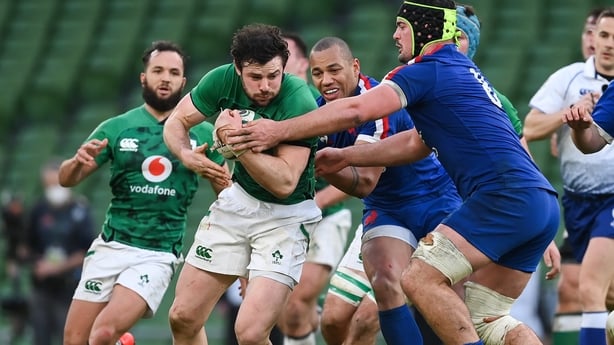 "That's probably what's standing out. 
"We just need to be honest with each other about what the standard is at international level." 
On the need for results, former Ireland captain Brian O'Driscoll told ITV: "The pressure is going to ratchet up. 
"There is always pressure on international coaches because there are less games.
"We don't know what Andy's stamp is yet. We know he's a brilliant man motivator and orator, but have we seen the nuances which will differentiate him from the Joe Schmidt style? Maybe not." 
But with no chance of winning the championship, Farrell has something of a shot to nothing.
Yes, he's beginning to come under pressure for results but there's still an opportunity to blood some new players. 
Will he wield the knife and display the kind of ruthlessness that all top coaches in the world do? 
His answer to a question about how to treat the rest of the tournament would indicate that he believes the answer lies within the squad he has assembled.
"We'll see how close we are now because we'll show our true character, won't we, because it's about finishing," he said.
"We are not even halfway through. It's about making sure these next three games we are at our best and that approach doesn't change no matter what."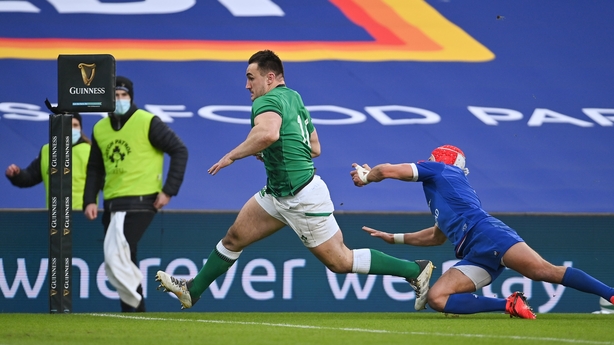 Giving an upbeat assessment of Ireland's performance against France to RTÉ's Sunday Sport, former manager Eddie O'Sullivan also mused on Farrell's upcoming predicament.
"The problem with winning against Italy is you don't get too much kudos for it," he said.
"We can still salvage it if we win our last three games but it's a championship that will go down as mediocre, no matter what.
"The guys who came in today did very well. Does he reward those guys or when guys are available does he go back to the tried and trusted? 
"What message does that send to fellas? That's there's no chance here. 
"He's in a strange place in terms of picking his team going forwards and getting results.
"Around the team, guys will watch now and see is he rewarding guys or go back to the tried and tested?" 
Ireland will most likely beat Italy whether they bring back the old dogs or usher in the young guns so there's no reason not to have a look at Harry Byrne, Craig Casey and Ryan Baird. Jordan Larmour should be accommodated somewhere in that backline.
"We have a lot of ambition, for all our games," France coach Fabien Galthie said on Sunday: "It's interesting to tick the boxes. Each game is not a goal in itself, we have bigger goals.
"I think the team will continue to improve." Refreshing words. 
With the title out of reach, winning with the next generation leading the charge would be worth so much more than five match points. If now is not the right time, then when?