Conor Murray has described Peter O'Mahony's red card against Wales as "pure bad luck" and insisted there was no need for the Munster man to apologise to his Ireland team-mates for the incident.
O'Mahony became the first Irish player ever to be sent off in a Six Nations game when he walked 14 minutes into Sunday's Cardiff encounter for dangerous play. The flanker's arm made contact with the head of Tomas Francis. Ireland went on to lose the game 21-16 and O'Mahony was subsequently given a three-match ban.
Asked if O'Mahony apologised in the dressing room, Murray said: "He didn't need to. It's not like he swung out at someone or attacked someone. It was a genuine mistake, just unlucky.
"A lot of things came together. For Tomas Francis's head to be in that position in the ruck was really unlucky.
"You can see Pete going into the ruck, there was no malice in it. He was just trying to do his best for the team and keep the ruck going really quick.
"Pete wasn't going out on his own trying to hurt someone. He was trying to his job and it was really unlucky for something like that to happen. He's bitterly disappointed. It was pure bad luck in my opinion."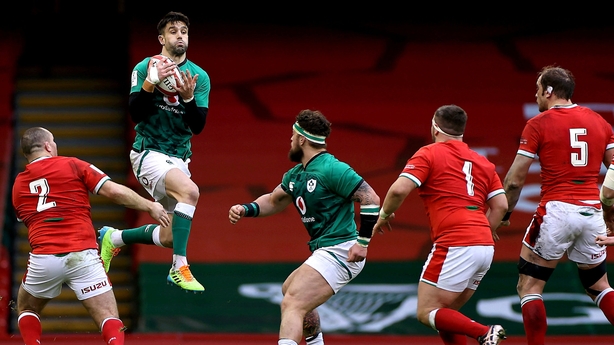 Murray insisted the mood in the camp is upbeat as they head for massive showdown with the flying French in Dublin this Sunday.
Cardiff was a tough day the office, but lessons have been learned.
"There were a lot of positives, that's probably why it's so frustrating," he said.
"There's so many positives from the game in terms of the way we played, the way we attacked, the breakdown, the speed of ball and a good few other things.
"The access we gave them into the game in that third quarter, easy access into our half and they converted opportunities in our 22. Defensively that's a little bit frustrating but giving them the access in the first place was probably the most fixable thing we can concentrate n this week.
"It's so frustrating because we played so well, with 14 men as well. We showed a lot of character.
"We fought hard for each other and worked hard for each other. It's disappointing, but there's so much to be positive about leading into such a big game against such a good side.
"The training we had to day was really, really good. Players weren't feeling sorry for themselves at all. Feeling sorry for yourself, moping around the hotel isn't going to fix things for France. I think lads have shook it off and remained positive.
"You can see in the body language, the way we trained out there today, people are buzzing and looking forward to it. This is a huge game. There's no hiding now."
Murray acknowledged the threat posed by opposing scrum-half Antoine Dupont, who was so impressive in his side's 50-10 hammering of Italy, but warned against focusing completely on any one man.
"He'd a massive game last weekend. We can't afford to give him that space.
"If you concentrate solely on him, it brings other players into the game. We know we've a huge task this weekend against a really good French side. If we get our stuff right then looking after them becomes an awful lot easier but it's a huge task."