The opening stanza of the Six Nations didn't disappoint in terms of excitement, unpredictability and talking points, those talking points coming mainly from an Irish point of view.
It must be twice as frustrating to go so close with only 14 men away in Cardiff, especially when you've created enough chances to win the game. It's frustrating for the supporters, myself included.
Yet, I can go back to work on a Monday and not worry about it again until Ireland welcome France to the Aviva Stadium at the weekend.
Andy Farrell, his staff and the players had to look at that again yesterday and attempt to answer some of the questions that will inevitably be thrown at them throughout the week and questions that they'll be asking each other as well.
The scrum was solid, even when down a number in the pack.
The lineout came out well on top of the struggling Welsh set-piece.
Paul O'Connell's coaching stock has risen quite quickly with only one game under his belt as part of the Irish backroom staff. 
But it's Wales that have a massive question mark over their set piece as opposed to Ireland's dominance. 
The hosts could not translate a numerical advantage into a real strength against Ireland.
Their lineout faltered at almost every time of asking and they didn't get the upper hand in a scrum against a pack that had to stretch themselves to make up extra yards for tackles for three-quarters of the game.
Ask your friends that play in the front row and the engine room in the second row, that takes it out of you. It was evident by Tadhg Beirne cramping at 70 minutes and the dip in the Irish performance at around the 50-minute mark.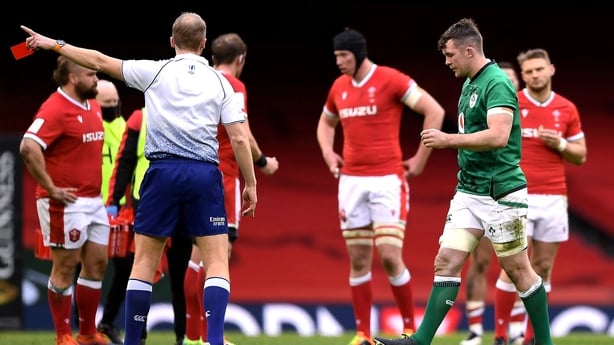 Of course, Ireland are due some of the plaudits here for the way they managed themselves when Peter O'Mahony was shown a straight red card by Wayne Barnes.
The Munster captain was rightfully sent off, although I don't believe there was any added intent in the collision in question.
O'Mahony plays on the edge of that legal aggression and it can be his biggest strength when he's upsetting the opposition. It became a weakness once he struck Tomas Francis in the head.
The real issue was the tucked arm. If he had aggressively blown the ruck apart with his speed of entry with a legal shoulder, the result might not have been as bad.
He was at a low height and the way the ruck developed meant that Francis' head was at a height where you'd attempt to blitz the ruck.
However, coming in at that speed with that intent means you have to be as clean as possible with your technique or you run the risk of leaving your team-mates a man light for a large period of the game, which is exactly what happened and Ireland ran out of steam as a result. 
Funnily enough, Ireland won the game from there. They owned possession, stifled Wales and if it weren't for the litany of errors by their more experienced players, they were well on their way to an impressive win in Cardiff.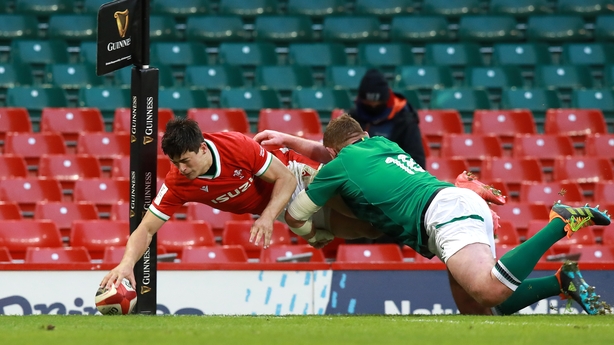 Johnny Sexton missed touch when going to the corner, Keith Earls had back-to-back errors, Garry Ringrose lost the ball in contact which set Wales up for the Rees-Zammit try in the corner. 
Of course, it was made possible by a poor defensive read by James Lowe as well. A 10-15-minute period of the game took away so much of the good work that was done by Ireland.
The biggest question still remains, who is going to take the number 10 jersey? Billy Burns had a game to forget.
That's not to negatively speak about a player who will undoubtedly receive enough criticism online. It's a fact and I'm sure Burns himself will be the first to admit that.
His reaction after missing his kick to the corner to allow Ireland to sneak the win was a picture in itself. I've been there and it isn't pretty.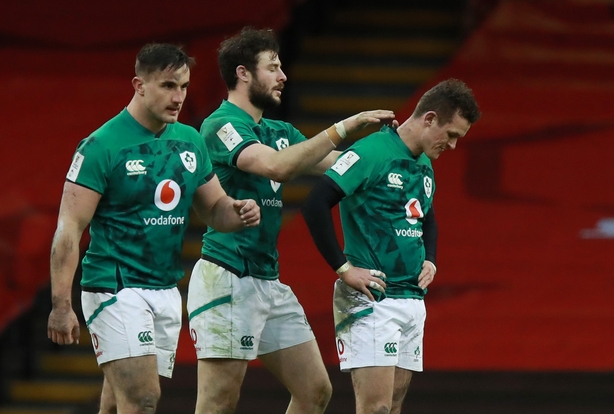 He won't need any more reminders about the incident, players are their own harshest critics and that one will haunt him for a while.
My own perception of the out-half spot was that Burns was the guy to spring from the bench whereas Ross Byrne would be the one to control the start of a game if the number 10 shirt was left free.
But, for me, the missing piece in this puzzle earned his 150th cap for Connacht last Friday night. He brings both elements of the game to the plate with Connacht.
Jack Carty is able to manage the game and also brings a degree of unpredictability to the opposition defensive line.
Of course, this is on the assumption that Sexton's head injury is bad enough to keep him out of next weekend, but there's not enough room to have Burns, Byrne and Carty all in camp when Sexton is there too.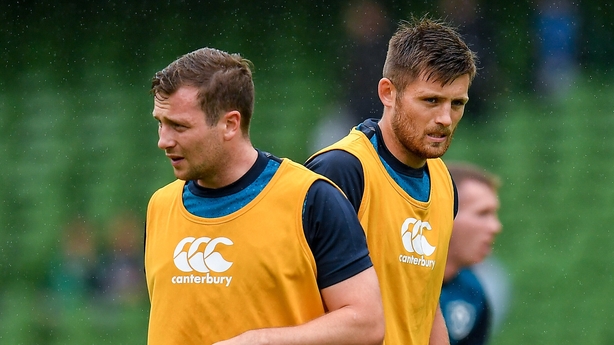 There will be calls for Harry Byrne to oust his brother and get a call up too. The problem is that any time one of these guys gets a leg up, the rest take a step backwards into that same pack of out-halves.
Nobody is able to consistently wrestle the starting jersey from Sexton. Will Farrell boost the confidence of Burns and allow him the chance to put things right?
There's a degree of man management in that one to keep his career on the right path. Will he go back to the tried and mostly trusted Ross Byrne, or is it time to dip deeper into the out-half reserves?
There were so many positive talking points for Ireland. The setpiece was on top, they owned possession for large periods of the game away from home, they played with so much spirit that they controlled the game with 14 men and finished the game with a number of chances to win it.
There are certainly still a lot of work-ons. They didn't score freely enough for a team with so much ball but then again they were doing so without a back row on the pitch.

Apart from Robbie Henshaw's brilliance, there weren't many obvious chances to score tries. The attack was very flat for a majority of their possession too. It looks like it's a tactic that they use on purpose.
When they were on the front foot it allowed the back receiving the ball behind the forward enough time to either pass or carry with footwork into contact.
However, when they weren't going forward it meant their playmakers had to ship on fast passes so forwards could find some space to battle for the extra inch.
You could hear the Welsh voices on Wayne Barnes microphone shouting "double". They managed a number of double hits which meant Ireland would struggle to create fast ball.
Double hits are a huge part of these compressed defensive lines but with the early identification on the ref's microphone it means that Ireland were a bit predictable at times.
That predictability will become difficult to convert into scores when the opposition are more physical again in the coming weeks.
Scotland will deal with it, England normally do, and it depends on which France turns up at the Aviva but it's a safe assumption at the moment that an interested and keen French team will rock up next week.
I had thought that this was a make-or-break game for Ireland. The O'Mahony red card means it's a difficult game to judge and the team has probably gained a lot of respect from it.
However, that won't put many points on the board in the championship table.
Next week is going to be a pressurised situation. Irish rugby needs the result.
Follow Ireland v France (kick-off 3pm) on Sunday via our live blog on RTE.ie and the RTÉ News app or listen live on RTÉ Radio 1's Sunday Sport. Highlights on Against the Head, Monday at 8pm on RTÉ2 and RTÉ Player.