If Peter O'Mahony's sending off was the key moment in Ireland's loss in Cardiff, then Billy Burns' horror-stricken face at the final whistle was nonetheless the defining image of the afternoon.
The Ulster out-half, having been offered a chance to kick a penalty to the corner and set up a lineout maul opportunity, proceeded to screw his kick the wrong side of the corner flag, sending the ball sailing over the dead ball-line and guaranteeing the win for Wales.
The replacement out-half was immediately consoled by team-mates, including Robbie Henshaw, Iain Henderson and James Lowe, with even Wales captain Alun Wyn Jones on hand to offer sympathy.
But the inquest and recriminations were already in full swing.
Despite entering the game as firm favourites, Ireland, through a series of rather unfortunate events, conspired to lose to a Welsh team who were desperately low on confidence after a dismal 2020.
Reflecting on the closing seconds, Ireland's leading point-scorer Ronan O'Gara said he felt sympathy for his fellow 10.
But he was inclined to ruminate on the thought process of a kicker in that situation.
Given that a five-metre lineout is the maximum reward in that situation - regardless of how close one gets to the corner flag - the La Rochelle head coach doesn't see the benefit of straying too near to danger.
"Of course I do (have sympathy) because I understand the subject very well," O'Gara told RTÉ Sport on Monday morning.
"It's very interesting for me to think what the thought policy is with the kickers.
'I think it should always be open to review' -
former @IrishRugby out-half @RonanOGara10 explained on @GameOn2FM why the IRFU may have to consider their overseas player policy down the line if certain players' circumstances change pic.twitter.com/JCq9CZX38S

— RTÉ Rugby (@RTErugby) February 8, 2021
"You have to have that visualisation or process spoken through with them before you put it into practice.
"I'm not sure how many opportunities in the past Billy Burns has had in that position - I wouldn't say he's been in that same scenario.
"Nowadays the five-metre line is the goal-line for a kicker. The corner flag, as in the traditional corner flag, is of no relevance - because you cannot get a lineout nearer the five-metre line.
"So, why would you even think of kicking for the corner flag?
"Your new corner flag is the five-metre line. You know on a bad day that you cannot go out of bounds over the five-metre line. You have a 4.99m out of bounds range - which as a kicker is quite big.
"On the other hand, to get a lineout five metres out, you've got to aim for the five-metre line. Your error rate can be the five metres previous to that. If you miss your target by five (metres), you have a lineout 10 metres out.
"You know your out of bounds is five metres, you're in the red, you can't go there. But you're going to get rewarded if you go out of bounds by four metres because you get the lineout five metres out. It's a desperate or great feeling to have, depending on if you are feeling it.
"He doesn't need to be told but it will be more disappointing for him if in the next scenario for Ulster in a Heineken Cup game, or for Ireland in the future, he does the same - then people will get frustrated."
"Nowadays the five-metre line is the goal-line for a kicker. The corner flag, as in the traditional corner flag, is of no relevance - because you cannot get a lineout nearer the five-metre line."
Inevitably following the game, there was talk of Ireland's issues at 10, Ross Byrne being elevated to the No. 2 spot in the rankings, or even the possibility of Harry Byrne being drafted into the squad.
But O'Gara suspects that Farrell will stick with Burns for the time-being.
"I wouldn't think so. I think Andy will be disappointed with the execution. I think it's a very different debate if it happens another time. Or another time after that.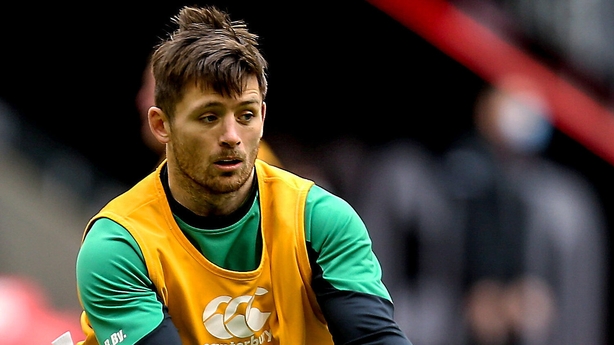 "We all make errors. There's no robots playing the game. He went for it and his skillset let him down. He's seen enough from him obviously to bring him in as his No. 2. And I think he'll continue to believe in him."
The focus on Burns' dramatic error in the immediate aftermath deflected some attention from Peter O'Mahony's sending off after 14 minutes.
Having been clear favourites beforehand, Ireland were instantly downgraded to the status of underdogs after O'Mahony's dangerous clear-out on Tomas Francis was spotted by the TMO.
While the incident proved immensely costly to Ireland's chances, O'Gara has sympathy for the Munster flanker, and back rowers in general trying to navigate the rules.
"The massive takeaway for me from the weekend is: live in action the referee (Wayne Barnes is saying) 'it's a clear-out, nothing wrong, totally unavoidable' to then be stopped 40 seconds later by his TMO.
"Then his language changes because we're looking at a still: 'Foul play, from a distance, high-speed, hit in the head, not in control, high danger, sanction is a red card.'
"And I do think (O'Mahony) was in control of his body. I didn't think it was high danger."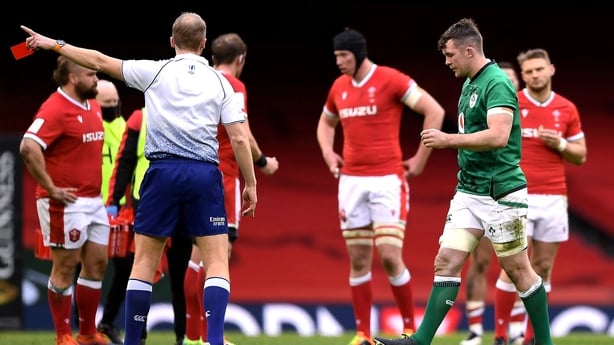 For O'Gara, the quandary for back-rowers is they need to attack the breakdown at speed to clear the opposing player and yet the smallest movement from the tackler can result in a solid clear-out becoming dangerous play.
In this instance, this occurred as Francis twisted his body in the tackle just as O'Mahony hit the ruck, meaning the Irish player caught him in the head.
"That's the key point. So many times, the player would land on the back of Francis. But because of the way Johnny (Sexton) cleared him, he (Francis) turned around to have a look (at the arriving Irish players). The head pops up... that incident happens like that! (snaps fingers) It's so hard.
"If you've a Pocock or, in my team (La Rochelle), Botia lock onto a ball, you have no chance of removing him unless you're coming at high speed. That's not going to change.
"Obviously the one area that isn't up for debate is if it's a headshot it's a red and unfortunately Peter caught Francis in the head so we don't have a discussion today. But it's gonna be (a situation) where you could have a red card a game."
The TMO subsequently missed Johnny Williams high hit on Garry Ringrose later in the first half. While it prompted some discussion as to whether another red card might have been meted out - for O'Gara, a sin-bin would have sufficed.
"It warranted a yellow card because I think that's him [Ringrose] off the left foot trying to beat an inside shoulder and he catches him.
"For me that's a yellow card, a red card is where there is a shot to the head with force, that wasn't with force it was a flailing shot for me."
For all the unfortunate flashpoints, the costly moments and the ultimately sickening result, there were plenty of positives in Ireland's display, notably the performances of Tadhg Beirne and Robbie Henshaw, with Hugo Keenan also impressive in the backfield.
And Ireland's performance in the second quarter, when they transformed a 6-0 deficit into a 13-6 half-time lead despite being at a numerical disadvantage, was particularly encouraging.
For O'Gara, there were signs that Ireland's players are becoming more comfortable operating "in chaos", one of the key areas for improvement identified at the conclusion of the Joe Schmidt era.
"It's the great old subject, 'Are you glass half-empty or half-full?' Only people involved in sport at a high level understand, especially in rugby, what losing a guy after 14 minutes is.
"It's different in soccer where you can change a lot of things...11 v 10 is a little bit different because on the rugby pitch, there's a lot more space.
"Taking the guy out of the defensive line or him not being the extra link in the wide channel in attack, it affects you.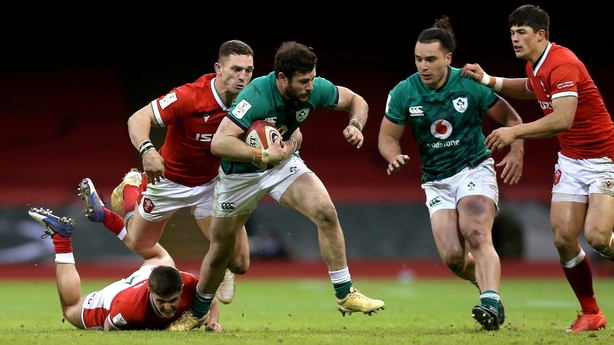 "In fairness to Ireland, they rolled up the sleeves and went after it. That's what I think they'll be doubly annoyed with. I'd say at half-time, I'd say the dressing room would have been pumping.
"You were able to see the guys who had good skills. I think we're better at changing the point of attack.
"You could definitely see new additions with the width we had on our game. In the inside channels, we're probably 'planting' a little bit on passing. As to opposed to, we can probably have that second more (holding the ball). We can attack a little bit more and then whip the pass. That'll make it even harder for the defence on the outside.
"But it's an area where I think the coaches will be happy because they'll see that if we keep at this, we're not far away from it."
The Welsh, O'Gara noted, were badly lacking in confidence entering 2021 and despite the win, their performance with a numerical advantage, wouldn't have convinced many they were on the cusp on achieving great things under Pivac.
Ultimately, given all the mis-steps, O'Gara concluded that Ireland had "snatched defeat from the jaws of victory."
"Wales are lacking confidence, and that for me is the key point. Under Pivac, it was three out of 10 wins. This team hasn't even got up and running yet.
"There were glimpses of it when they played a few nice balls out of the tackle and they got their width and speed into their attack game, they looked dangerous. But way too infrequently against 14 men. At times, watching the game you felt there wasn't a mismatch in terms of numbers.
"So from that point of view, they looked to see how they didn't stretch Ireland more, because it was...as we know now with hindsight obviously, Ireland snatched defeat from the jaws of victory.
"That's what happens nowadays. You get a lineout seven metres out, 10 metres out, if you get your driving maul going which I'm sure Paulie would have on the last play, seven out of 10 times you score."
Former Ireland and Munster flyhalf Ronan O'Gara has teamed up with Aviva Insurance to launch the Aviva 'Safe To Dream Team' online skills hub.