Ireland head coach Adam Griggs says that having confirmed dates for the Women's Six Nations is "a real added bonus" in a year when World Cup qualification is the priority.
Ireland will face France, Wales and one other team in this year's rescheduled European competition, while they await confirmation of when the postponed WC qualifying tournament against Scotland, Italy and Russia/Spain can take place.
"The players and staff have been doing a lot of work over the last six months and it's hard when you don't have games coming up," said Griggs, whose team have played only one match (November's win over Italy) since February last year.
"In terms of our planning, we can now add some tempo and build towards those games.
"Until we can get clarity on those World Cup qualifiers, this now is our focus.
"We'll have to make sure now we have the players ready for Test matches. We've had internal games together but it's not quite replicated in Test match scenarios."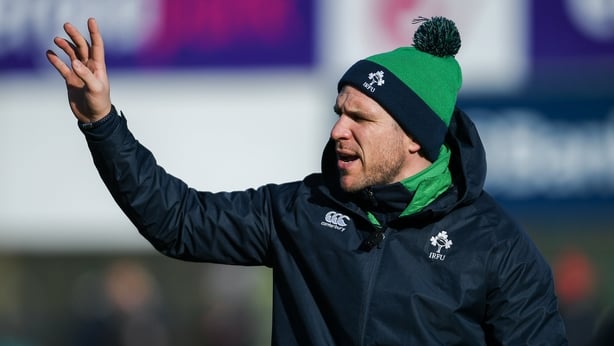 Griggs (pictured) has no issue with the reduced slate - three games instead of the usual five - given the disruption caused by the pandemic and in a year when qualification needs to be decided ahead of the World Cup's scheduled start in September in New Zealand.  
"Obviously we are still hoping to have our World Cup qualifiers, so when you add those in the format really does suit us," he said.
"They are a priority to get played as well.
"You want to have a full championship and play each team, because you get better with each game, but for the year that's in it, in terms of having our qualifiers coming and getting the chance to play these games as well, it's a good format and works well."
"They are buzzing to get out there and represent the green jersey."
Griggs paid tribute to his players, whose amateur status means that squad bubbles, such as those being employed by the men's games, are not practical.
"The players have been amazing in terms of how adaptable they have been to the schedule changes and the work they have put in on the training field," he said.
"I don't believe we'll have an issue with us being ready to play, whether it's a Six Nations game or a qualifier.
"They are buzzing to get out there and represent the green jersey."