Ireland manager Adam Griggs admits that it's been hard on the players to see their season once again disrupted by Covid-19.
Last year, they were unable to play all of their Six Nations games owing to the spread of the virus, while earlier this week the 2021 edition of the competition was pushed back to late spring at the earliest.
This is also a World Cup year, and Ireland are yet to book their place at the tournament, which is due to be held in New Zealand in the autumn.
They don't know their qualification opponents yet, with Russia, Spain and the Netherlands still having to play each other first. The winner of that mini-group will then enter a qualifying tournament consisting of Ireland, Scotland and Italy, with the top team guaranteed a place at the tournament.
Owing to the amateur status of the players, finding a location and arranging for travel for the qualification tournament could prove to be another challenge for Griggs and his squad.
Speaking on RTÉ's Game On, the New Zealander admits it's a tricky business trying to get his players to peak in such a significant year.
"It's a difficult time," he said.
"I think we've done about seven or eight season plans at this point that have all been chopped up and thrown away because things are moving so fast all the time.
"It's certainly been one of the most challenging periods for the team and the management as well.
"The one aspect from a playing group, and the way we're slightly different to the men's programme as well, is that this is our main window of the season - everything leads to this.
"To have it taken away - albeit understandably - it is quite hard on the players.
"It's not in the back of my head, it's in the front," he jokes when asked about still having to qualify for the World Cup.
"We're hoping for a call on that in the next seven to ten days (and) hopefully by next week we'll have some idea. But like we're seeing this week, even if we get dates pencilled in, it's moving so fast that anything could happen.
"We obviously also have the travel issues with quarantines and our players being amateur. From my point of view, the safest way is possibly sending us to a venue, and having everyone there.
"Where we can know that on the week of a test match, the travel wouldn't be something that is hindered to stop a game being played.
"At least have us somewhere where we know these games will go ahead because we're in a safe environment.
"So we've got to remain adaptable to the circumstances."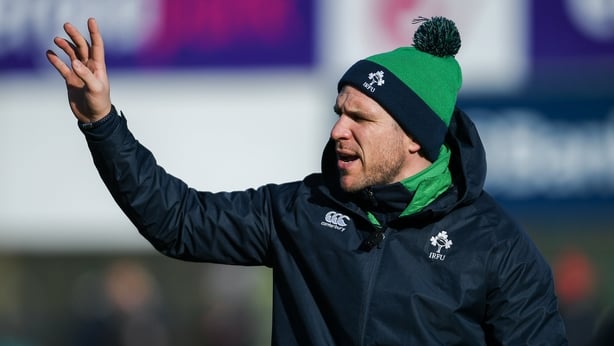 Ireland's last scheduled game against France was ultimately cancelled due to the escalating situation with the coronavirus in November.
It means that the national side have only played one game since last February's 27-0 defeat to England. That was a victory over Italy at Energia Park in October.
Griggs admits that it has been difficult to give the players some variety, with internal games taking place during their 14 training camps over the last 11 months.
"The challenge for us is keeping it fresh," he points out.
"We've pretty lucky that through the IRFU, and the protocols that we follow, we're still able to train. We were able to train last week (and) we're able to have a training camp again this week.
"We've got to be grateful for that that we can continue to do that.
"Like in everything, even in the men's game at the moment, the club game for our players hasn't been played since October.
"So it's a window for our players to still get some rugby, and still get a ball in their hands.
"Also, mentally, they're not stuck at home on the weekend like they are during the week, having to work from home."
We need your consent to load this YouTube contentWe use YouTube to manage extra content that can set cookies on your device and collect data about your activity. Please review their details and accept them to load the content.Manage Preferences
Listen to the RTÉ Rugby podcast on Apple Podcasts, Soundcloud, Spotify or wherever you get your podcasts.