Joey Carbery is studying for a Masters and taking comfort from being involved in team meetings to keep his spirits high as his long journey back to fitness continues.
The Munster and Ireland out-half hasn't played for over a year; he suffered a wrist injury in a Pro14 clash against Ulster on 3 January 2020.
A recurring ankle problem further hindered the 25-year-old's progress, and with no date set for his return, Carbery admitted he's had to take encouragement from every possible source.   
"It's been pretty tough," he told the Munster Rugby club website. "Obviously it's not nice being injured, but I am blessed to have such a good physio and S&C team around me.
"It's been great to see the lads do well. It's never nice being injured but hopefully things can change soon.
"The pandemic has been quite tough because normally when you're an injured player you're away from the team anyway. With the pandemic we were all in smaller groups so I wasn't seeing some guys for a couple of weeks on end. Then you'd run into them and be like, 'oh hi how are you?!' That was a bit strange but we have to be safe and smart and look after ourselves."
Munster are top of Conference B in the Pro14 and had been going well in the Heineken Champions Cup before the remaining pool games were cancelled. The tournament is now moving straight to the knockout phase.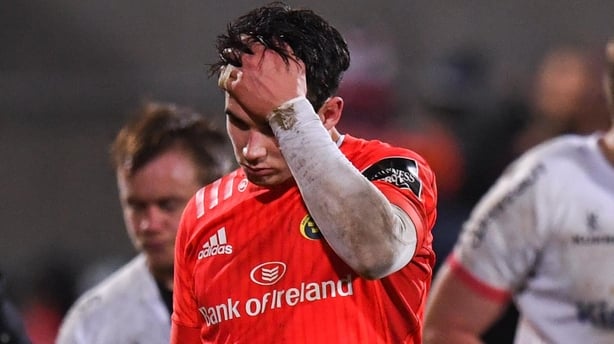 With more spare time on his hands, Carbery hit the books, though he's also been getting a taste of training again and dreaming of getting back on to a rugby pitch.  
"When you're injured you might have a weekend off where you can go away or something but I haven't been able to do that. I've started doing some college - a Masters - so I've been pretty busy with that," he added.
"College has been a great distraction for me. 
"It is a year since I have played. Guys have come in and out [of rehab] and it has been a bit demoralising seeing them start before you and come out before you.
"In the last month or so I have tried to jump in with the backs as much as possible [in training].
"It makes it a bit easier when you're in a team environment, getting to the meetings and just being in with the squad makes a huge difference mentally. It is the only thing that has really got me through this, looking to the end and wanting to be back on the pitch.
"Staying in the meetings helped a lot with that because you can keep clued in and stay match sharp I suppose.
"Wanting to get back on the pitch and back in with the squad makes me very ambitious and motivated to return."