A freezing cold weekend was never going to produce the greatest interprovincial clashes last weekend, yet we were still served some exciting moments in both games.
Leinster have not yet fully recovered from their defeat at the hands of Connacht last week. We're still seeing a lot of the characteristics that make them the leading Irish team for the last decade but there are aspects that need much improvement if they're going to continue their dominance in this country and challenging for top honours in the European Cup.
They didn't score the first points of the match on Friday evening last, which isn't that troubling for them, but we often see them strike first. Despite John Cooney striking beautifully for the first points, it was Leinster who characteristically crossed the line for the games first try.
This is what we expect from a team as clinical as Leinster. They win the early exchanges of the match and suck the life out of the opposition. They play well from the front and it is very hard to break down their psyche when they do so, as Ulster found out.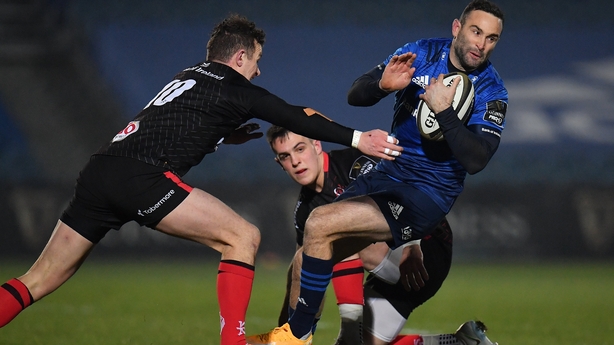 Another aspect of that try that has become synonymous with Leinster and their half-backs is that they have no fear in throwing decisive passes deep in the opposition 22. We see Johnny Sexton pulling the trigger quite often, Ross Byrne pops up with decisive kick passes too but this time it was Jamison Gibson-Park that flung a wide pass for Dave Kearney to finish excellently in the corner.
They were able to up the pace when the game needed it and it was really the player of the match Hugo Keenan and his back-field partner Jordan Larmour that danced their way on to the front foot for Leinster.
However, the game was also littered in uncharacteristic trends and errors from Leo Cullen's side.
When Ulster went down to 14 men you would think it was going to be a troubling period for them. They lost their explosive power when Coetzee continued to tackle recklessly until Andrew Brace had no choice but to give him a break for ten minutes.
Leinster normally kick on and punish teams during this spell. However, Ulster were the ones that clawed the game back and won that 10-minute period 6-0. They were then 9-5 up and back to a full compliment.
Dan McFarland's side won all the territory in the first half which would seem uncharacteristic of any team when playing against Leinster but in reality it isn't an uncharacteristic trait of Leinster to be inconsistent in the aerial battle since Rob Kearney was out of favour and subsequently moved on. We were speaking about this aerial battle when Munster challenged this aspect of the Leinster game post lockdown 1 and we feared for Leinster against Saracens.
They couldn't get any dominance in the game until they sorted out their aerial skills, which was done so eventually by Keenan and he went on his way to a standout performance.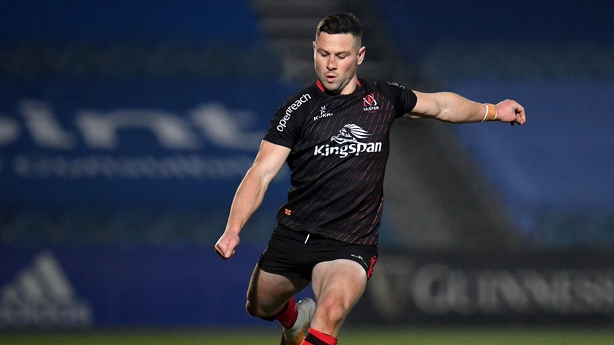 The first penalty that Cooney kicked came from a blocking, escorting line by Leinster because they knew their back field was under a bit of pressure and tried to give them some protection. We also saw Mike Lowry climb highest at one stage to claim his own kick ahead.
He's a great talent and lightning quick on the ground but he's always going to be one of the smaller players on the pitch and shouldn't be dominating the aerial battle against Leinster.
It was a combination of Leinster improving their backfield play and Ulster failing to exit due to the Leinster pressure that finally took this advantage away from the visitors to the Dublin venue. .
Something else that we wouldn't be used to seeing from Leinster is the compounding of errors. Good teams don't back up a mistake with another one. Johnny Sexton was unfortunate to miss touch after clever play from McIlroy on the touch line.
However, his mistake was backed up by a penalty concession from Cian Healy. Instead of Leinster marching up the pitch and creating a scoring chance, Ulster were back in the opposition half. It's not the easy out that teams expect to get from Leinster.
There was confusion in the Leinster lineout in the second half and in the last 20 minutes minutes their lineout failed to execute simple plays. We've come to expect the Pro14 holders to be the sharpest team on the pitch. Even when they're not the most physical side, they will find a way to outsmart the opposition.
You don't normally see Leinster players miss the jump or forget their role. These things are nailed on during the week, even when they have a younger side out, which wasn't the case at the weekend.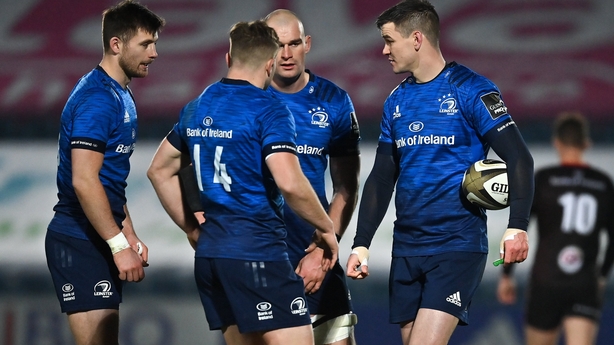 In all my criticism there were still too many positives to take from their game last Friday. I'm criticising a team that didn't get up to full speed and they won 5-0 in terms of match points. They earned a try bonus point, that's 9 from 9 matches now which is an astonishing achievement considering they didn't win all nine games, and they kept Ulster out of reach of a losing bonus point. If you offered them five match points to zero before the game, I'm sure they'd have taken it happily. You've to remember that Ulster are a side in good form and full of confidence.
It was the start of the second half that won the game for Leinster. They had a tough first half and Ulster worked as hard as they could to take a lead into half-time. Yet after all that effort and mental determination, the hosts came out on the resumption, took the lead from Ulster and didn't relinquish in for the rest of the night.
At the moment, Leinster are still trailing Ulster in the conference but with two games in hand. If their form is anything to go by, they will probably win them both with bonus points. Ulster have had a great league campaign already, but it must be so demoralising knowing that even if Leinster lost a game more than Ulster, they would still have a chance of finishing ahead of them because of their ability to pick up bonus points. All while not playing at their best.
There's never a right time to take Leinster on but now might not be the worst. In a few more weeks they could be unplayable again.