Connacht head coach Andy Friend credited Quinn Roux's vocal leadership style as a pivotal factor in their landmark victory over Leinster in the RDS at the weekend. 
Leo Cullen's side, seeking a fourth title in a row in 2020-21, were unbeaten before the weekend, lying second in Conference A to Ulster only by virtue of having played less games.  
However, the westerners stunned the defending champions, running in four tries in a 35-24 win, in the process ending a winless run away to Leinster which stretched back to 2002. 
Speaking to reporters this afternoon, four days out from the final leg of their inter-pro series against Munster, Friend acknowledged that the RDS display was among the best performances of this three and a half year reign.  
"From the opening whistle and all the way to the death, they didn't stop," Friend told RTÉ Sport. 
"It was very impressive. Was it the best? I'd have to say it's certainly up there. 
"We had a couple of key messages before the game. The first one was - whatever you do, be very decisive in what you're doing. Don't second guess yourself. 
"Second one was trust our systems and the third one was and trust the game plan.
"Quinn Roux was our captain on the night and I thought the way he spoke to the players after our captains run on Friday, how he talked to the players in the hotel in Herbert Park before we went across to the RDS and how he spoke to the players at half-time was all really powerful.
"Certainly, listening to the players, they got a lot of belief out of it, they got a lot of energy out of the way Quinn spoke.
"So, there was a combination of things. But it was an impressive performance."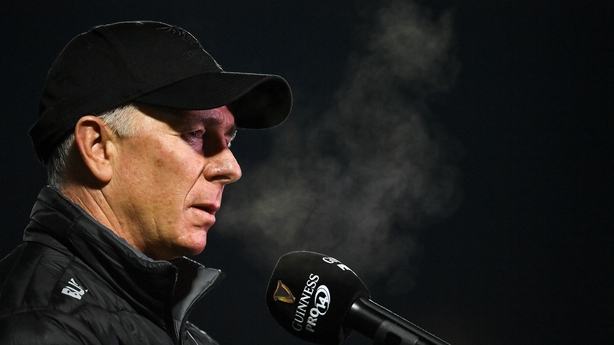 While Roux only stepped into the captaincy role in place of the absent Jarrad Butler, Friend stressed that leadership was more of a collective business and said that different figures within their designated leadership group bring different qualities.
"It's one of the things we've been trying to build - our leadership group. Jarrad has been our captain, but we've also had Caolin Blade as a captain, we've had Dave Heffernan, Quinn Roux, Paul Boyle as captains. Eoghan Masterson has stepped in on occasions too.
"All of those blokes are in our leadership group. They all bring something slightly different and have a slightly different way of doing it. It's just trying to get a blend of the best bits of their respective leadership qualities and using them at a time.
"The way Quinn speaks, he's very much 'I demand this from you and I want you to deliver for me.' Whereas some of the other leaders are more 'follow me, watch what I do and see can you emulate that.'
"But on that night, the way Quinn spoke to the group struck a chord and we got a response."
Notching 25 points in total - with two tries thrown into the bargain - Jack Carty equalled the record tally any player has achieved against Leinster in the professional era.
Having shot to prominence at international level in 2019, making the World Cup squad and starting against Japan, Carty struggled for form in the early part of 2020, slipping below Conor Fitzgerald in the provincial pecking order and dropping out of contention for the No. 10 jersey with Ireland. 
However, the weekend's display marked a dramatic return to form for the Athlone-born player and Friend spoke about the importance of maintaining that confidence in his game. 
"Jack's a classic example of how powerful that mind can be," he said.
"You saw when he got into the Irish team, and he went away to the World Cup, he had the confidence. He was walking on air. and he was brilliant. Things happen in a player's career where a player loses form, loses confidence and starts to have self-doubt.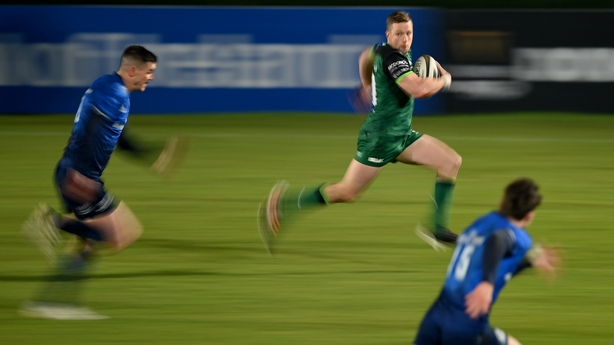 "Jack Carty, at the weekend, was back to the bloke where he didn't have the self-doubt. He believed in what he was doing and he bossed the show.
"What does Jack need to do? He needs to keep being Jack, the positive Jack. Because he's got the skillset, he's got the awareness. He's a very talented young man and when he believes in himself, you get that performance."
Carty was among those who struggled the previous weekend against Ulster, Ian Madigan catching most of the positive vibes as the Conference A table toppers won in Galway. 
There was little indication on 27 December that Connacht would deliver something special seven days later. How does Friend account for the fluctuation in performance?  
He said: "The previous Saturday night, we could be blamed for not bringing the energy that Ulster brought. This is the great mystery of pro sport, how do you continue to bring that energy and that level of accuracy and excitement, how do you bring that on a daily and weekly basis so that's always there. We're working on that. 
"I thought our first half against Ulster was very good. A few things happened in the second half. The wind turbine of Galway kicked in and we didn't control things as well as we needed to. We probably dropped off in our energy and intensity and Ulster didn't.
"But we said failure is only failure if you don't learn from it. We did learn out of it and we went up to the RDS, where we hadn't won before, and we said we needed to bring the intensity from start to finish. Now, it's one thing to say it, it's another thing to do it. 
"Did I know it was going to happen? Probably not. Could you smell something through the week? Reflecting, you could look back and say yeah, you could probably smell something."
Conference B leaders Munster head to the Sportsground in Week 3 of the inter-provincial series. Friend did not give any firm indications regarding injuries, with Bundee Aki still dealing with a knee injury. The Connacht coach said it was still a case of "wait and see" concerning the current injury list.
The big question - can Connacht maintain that level of performance for the rest of the season and beyond? Friend is cautious on that point.
"I'd love for that to be our bar. I've also been around the game long enough to say we won't hold that every week. Why not? Well, because we're human. Things do happen.
"But I'd love for that to be our new bar and to go a step beyond that. So, back to Quinn Roux's message, it actually means bugger all if this weekend, we come out, don't have the same energy and get turned over easily by what will be a very strong Munster side."
In the immediate aftermath of the win, Friend said Connacht would always attempt to play in the free-flowing manner they did on Saturday.
However, three days on, he walked back those comments to a degree, qualifying the statement by saying they would try to do so - provided the conditions allowed it. 
"It'd be foolish to keep trying to play like that. Our ambition to play like that is never going to change. Where we've got caught and been undone before is that we've continued to try and play like that when conditions haven't allowed it.
"So, I'll take that back and say we'll hold that ambition to do it but we'll also use our rugby smarts and say we're not going to try and play against the opposition and the conditions because we'll lose that game."
Follow Leinster v Ulster (7.35pm Friday) and Connacht v Munster (7.35pm Saturday) via our live blogs on RTÉ.ie/sport and the RTÉ News app or listen to live commentary on RTÉ Radio 1 Extra and RTÉ Radio 1.