2019 was regarded as something of an annus horribilis for Irish rugby, at least by modern standards.
If you took Ireland's win-loss ratio from last year and dropped it some time in the 1990s, it would be regarded as a glorious shaft of light in the darkness, sign of an impending renaissance. Ireland managed two wins out of four in 1993 Five Nations - the only year in the decade we achieved that many - and our cup runneth over with joy.
That won't wash these days. Irish rugby's collective ego was badly bruised by events in Japan as Joe Schmidt's otherwise success-laden reign ended on a grimly jarring note.
The feeling was that a new start was required in 2020. Even if results didn't improve under incoming head coach Andy Farrell, then there should be evidence of a new, less prescriptive style emerging, ideally one which merged the best aspects of Schmidt's Ireland and the more freewheeling approach of Leinster under Leo Cullen and Stuart Lancaster.
Seven games later and the report card on 2020 is decidedly mixed and the criticism has certainly been mounting.
Ireland's Six Nations performance, three home wins and two away defeats, while arguably not unexpected, was nonetheless described as "an average return, for us" by performance director David Nucifora this week.
Two impressive home wins over modern nemesis Wales probably have to be re-framed in the light of the hideous form of Wayne Pivac's team in 2020, while Ireland shipped not one but two heavy defeats in Twickenham.
Ireland appear no closer to mounting a proper challenge against Eddie Jones' boys than they were last year. The unsettlingly narrow 23-10 win over Georgia, admittedly with an under-strength team, represented probably the worst performance of the lot.
Some critics are struggling to detect any signs of improvement in Ireland under Farrell and his coaching team.
But the head coach insists that things are coming along, even if it isn't always visible to those watching from a distance.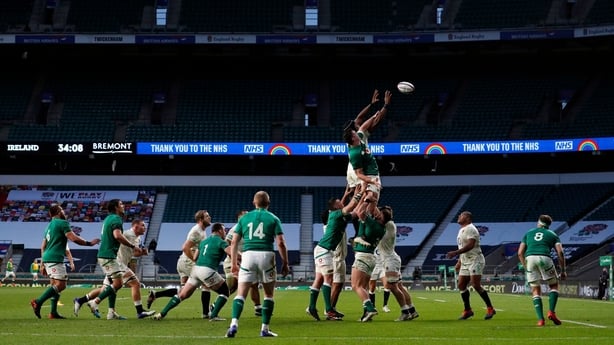 "We're always striving to improve every aspect of our game," the head coach told reporters at a press conference this week.
"You guys will obviously judge the performance on the weekend and you won't necessarily see the steps that we're taking on a daily basis behind the scenes.
"What have we seen so far? Our game understanding has grown, our attacking-kicking game is improving but the accuracy is not quite there yet.
"And then obviously the fundamentals of the game always have to be strong.
"It's finding the balance to make sure the fundamentals stay unbelievably strong - and you make sure they stand at the top of what you want to stand for - and finding the balance of how you want to improve the rest of the game."
Reflecting on the year, ahead of the meeting with Scotland on Saturday, Farrell indicated that the post-Six Nations games were mainly about transition and experimentation.
"Obviously, it's been a strange old year for everyone. It's been a little bit stop-start but I think this last period of time has been great for us.
"We've made it known from the outset that this is about us finding out about ourselves and each other, with regard to the next steps ahead."
Farrell, Ireland defence coach since 2016, was announced as Schmidt's eventual replacement at the end of 2018, after the latter saw the team through to the World Cup. Ireland were top of the world when the announcement was made. Since then, things have imploded to a great degree. Has the job proven tougher than he expected?
"One hundred percent, no," Farrell says flatly. "There's always going to be massive ups and downs. There's never a smooth road.
"The learnings that you take all the way will make you stronger in the long run. That's what I'll take from it."
With only eight games completed in his reign, Farrell will be afforded plenty of time to get it right yet. But critical voices are emerging.
Gordon D'Arcy laid into the team's "shambolic" set-piece, scrum and rucking during the Autumn Nations Cup in a hard-hitting Irish Times column this week, while Donal Lenihan said Farrell's coaching nous was open to question in the RTÉ Rugby podcast.
Does Farrell feel the pressure?
"No, not really. I'm big enough and ugly enough.. I'm around professional sport most of my life. This is another big game. I'm aware of that. So, the stress levels are fine.
"You always take note (of criticism). Because people always tell you anyway. I'm pretty self-aware and I would trust myself to know where I'm at and where the team is at. That's the main thing."
We need your consent to load this YouTube contentWe use YouTube to manage extra content that can set cookies on your device and collect data about your activity. Please review their details and accept them to load the content.Manage Preferences
Follow Ireland v Scotland this Saturday via our live blog on RTÉ.ie/sport and the RTÉ News app, watch live on RTÉ 2 from 1.30pm, or listen to live commentary on RTÉ Radio 1's Saturday Sport