IRFU high performance director David Nucifora is extremely keen that South Africa's four biggest franchises complete the deal to join the Guinness Pro14, saying it would "challenge" Irish players and benefit their development. 
In his annual briefing delivered on Monday afternoon, Nucifora reflected on an "unusual and challenging year" for the game in the country, acknowledged that Ireland had achieved an "average return, for us" in the Six Nations and discussed the vexed matter of player contracts, with the IRFU currently blocking the provinces from negotiating contracts.
Speaking on the day after Ireland's deeply underwhelming 23-10 win over Georgia, Nucifora did stress that the Autumn Nations Cup had offered the possibility for experimentation, a rare thing in Test rugby. 
"Yesterday's performance was disappointing," Nucifora acknowledged early in the briefing. "We wasn't up to speed. It wasn't something Andy Farrell, the coaching staff and the players were satisfied with. 
"The Six Nations - winning our home games, losing two away games - you'd call it, I suppose, an average return for us. It's something we're obviously looking to build on and improve. 
"You want to see consistency. But I suppose we can't have our cake and eat it in terms of using 40 players and hope that you get consistency. 
"You don't often have the chance to experiment in Test match rugby. It's an unusual opportunity we have this autumn.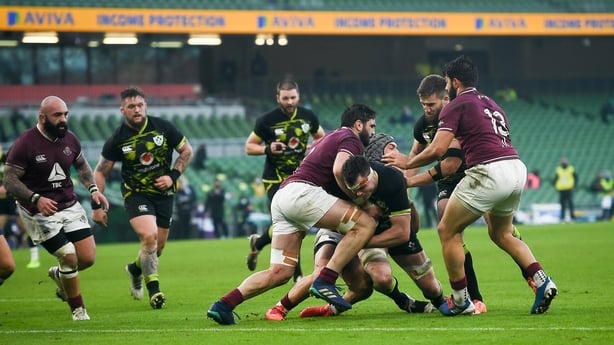 "It was about looking at players we wouldn't normally have the chance to look at, combinations that we wouldn't normally experiment with, to see how they perform. And for the coaches to try and implement how they want the team to play going forward.   
"By the end of the 2021 Six Nations, we'll have a far better understanding of where we are."
Building squad depth and aiding the development of players was a theme Nucifora struck on throughout, and he praised the provinces for their start to the Pro14, especially given they had to rely more than ever on academy players.
The four Irish provinces have won 23 of the 25 games played thus far, with Leinster, Ulster and Munster all registering 100% records thus far.
However, the IRFU high performance introduced a caveat into this praise, saying he wanted to "push and stretch the development of our players". 
"It's been a good start to Pro14. Our teams have had their depth tested. It's given a lot of our younger players, our academy players, pathway players, to step up and play a lot of rugby. 
"The provinces have done well, winning 23 of their 25 games. But in saying that, I would hark back to the need to push and stretch the development of our players.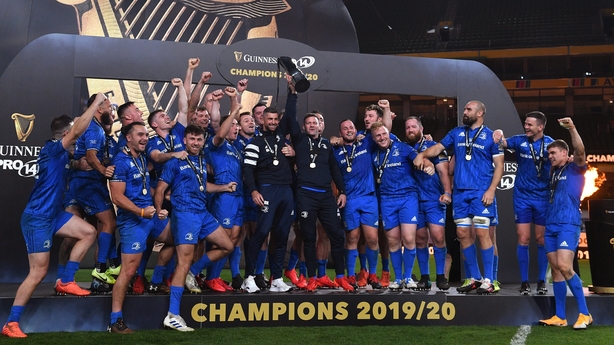 "The IRFU would be very supportive of South Africa entering the Pro14 and potentially making it a Pro16.
"Irish rugby needs to be ambitious, the Pro14 needs to be ambitious. We think that having those four strong South African teams enter our competition, it will help develop the game in the Pro14, it will help develop Irish rugby and Irish players, by stretching us, by challenging us, both our teams and our players. 
"Sending teams - be it at full-strength or sending down the younger players - on tour in places like Cape Town, Pretoria, Johannesburg, playing full strength South African sides is something that I believe will hold the development of Irish players in good stead.
Asked whether the Pro14 was any longer fit for purpose, Nucifora said the competition had "served its purpose to this point in time but we've always got to look at ways of getting better and challenging ourselves more.
"This opportunity may not always be here. So we have to take the opportunity while it exists. I believe it's the best thing for Irish rugby going forward."
Nucifora is confident that the issue of player contracts can be resolved once the situation returns to normality. 
The IRFU have placed a hold on the signing of new contracts, with former Irish international and player agent Niall Woods telling the Irish Times today that close to 90 players - just shy of 50% of professionals in Ireland - will be out of contract in June. 
"I don't believe it's (job losses) a risk at this time," he said. 
"What we needed to do was a thorough feasibility of where the business is going to be over the next 12-18 months so we could responsibly take a position on offering long-term contracts to players.
"We hope that there is some light at the end of the tunnel and that we'll be in a position on the other side of Christmas to have solutions to enable us to look at our ability to contract our players going forward.
"There's still some discussions needed with RPI (Rugby Players Ireland) until we can get to that point."
With the state of the game in the country still uncertain, Nucifora was asked again about the issue of the national team picking players who are based abroad. 
There isn't, he said, any change of policy in that area though he also points out there's no set and definite rule. 
"We've no intention of doing that at the moment. The position, as it has been all along, is that if players choose not to play their rugby in Ireland, it's unlikely that we'd select them. 
"It's not a hard and fast rule. But our attitude wouldn't change. We'll be selecting players who stayed here and play for our provinces."