For once the panel and the players were in agreement. Kind of.
The talk that emanated out of the camp after last weekend's defeat to England didn't tally with the fare on show in Twickenham.
This time, following a 23-10 win over Georgia, there was nowhere to hide.
Even Andy Farrell, when, in a throwback to the Joe Schmidt era, went through the details of how Ireland had two tries disallowed, his heart wasn't in it.
"Two tries, one from a forward pass and I don't know the rules any more regarding that," he lamented, sounding like he promised himself beforehand that he wouldn't go down that route but couldn't help himself.  
"We have a touch judge telling us it's a try and then a referee that says it's not. James Ryan is over the line just before half-time, he's got the ball down, so he says."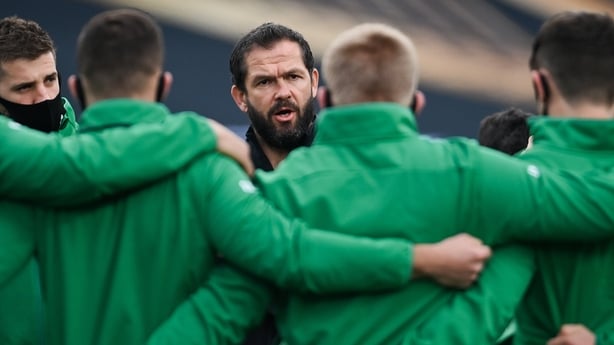 But Farrell, whose record as head coach now reads played eight, won five, quickly turned the spotlight inwards.
"I thought our game flowed a little bit in the first half and we went out in the second half and I just thought we didn't have the courage of our own conviction," he said. 
"Georgia thoroughly deserved the right to slow our game down by being total menaces at the breakdown and fair play to them for that, but that's not good enough from us." 
Fiona Coghlan, who captained Ireland to a Women's Six Nations Grand Slam, agreed.
"No creation, uninspiring, and sloppy at times. I don't think we imposed ourselves at all," she said. 
'It wasn't just the scoreline, it was the manner'

Fiona Coghlan and Stephen Ferris give their reaction to an uninspiring victory over Georgia #RTERugby pic.twitter.com/BPhmpZmN5M

— RTÉ Rugby (@RTErugby) November 29, 2020
"Underwhelming," was Stephen Ferris' summation, the former Ireland flanker also on sideline duty for RTÉ.
"Ireland went backwards in their game plan in the second half.
"It looked like they were all over the place at times. They couldn't get anything going. When they seemed to get something going there was a pass that didn't go to hand, there was a knock on, there was a penalty at the scrum, it was really scrappy.
"The Georgians got stuck into them more than Ireland got stuck into them.
"When a team put it up to us physically, we didn't perform."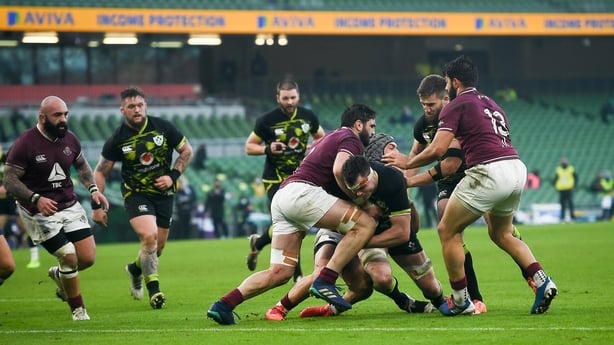 "It's a problem area. How do they fix that and we need to fix it fast with Scotland coming next week? The likes of Hamish Watson over the ball is a much better player than some of the Georgians. The accuracy at the breakdown hasn't been there." 
For a team that makes plenty of noise about the natural leaders in the ranks, the question must be asked; who is piping up on the pitch when things are going wrong?
"We obviously talk to each other," said captain James Ryan. "Look, there's no magic words or magic moments. We know ourselves, we just need to be more accurate.
"We've got to be much stronger at the ruck and we just need to understand where the space is and probably be a bit more efficient as a team in that middle third of the pitch.
"Could we have communicated that better, kind of managed that part better in the second half? Maybe.
"Their vocal energy, the atmosphere they created was better than ours so yeah, we'll have to have a look at that." 
Scotland boss Gregor Townsend, you feel, will have plenty to mull over this week. His side have been bettered by Ireland in eight of the last nine meetings.
On this showing they'll fancy their chances on Saturday in the third-place play-off.
'We're creating opportunities but we're not taking them - that was the story again today'

Iain Henderson, man of the match, and James Ryan speak after Ireland beat Georgia at the Aviva Stadium #RTERugby pic.twitter.com/hQJxPntTQY

— RTÉ Sport (@RTEsport) November 29, 2020
"It's not the standard it should be," added Ryan.
"We'll have to take a hard look at ourselves tonight and tomorrow. Because if we want to finish the year on a positive note next week we'll have to be a lot better than that." 
Ferris: "Watching England-Wales, there was niggle, getting in their faces. It seemed like Ireland were going through the phases a bit." 
Maybe yesterday's result will provoke some sort of reaction. They have a right to be pissed off, they should be angry and should have a massive point to prove against Scotland.
The alternative is to "go through the phases" again and that would mean having to stew over another defeat for three months before the start on the 2021 Six Nations. 
And we know they hate that.