Normally one to play up the positives, Andy Farrell was in no mood to view the glass as half full.
The Ireland head coach had just seen his side labour to a 23-10 win over Georgia with numerous turnovers and basic errors meaning the team never threatened to pull away from their sticky opponents. 
Following another comprehensive defeat to England last weekend, the Irish camp had set out to bounce back with a strong, consistent and ruthless performance against the team ranked 12th in the world.
But it was far from that.
"Not good enough, not good enough," was his immediate reaction to how the game, in which Ireland led 20-7 at the break, played out.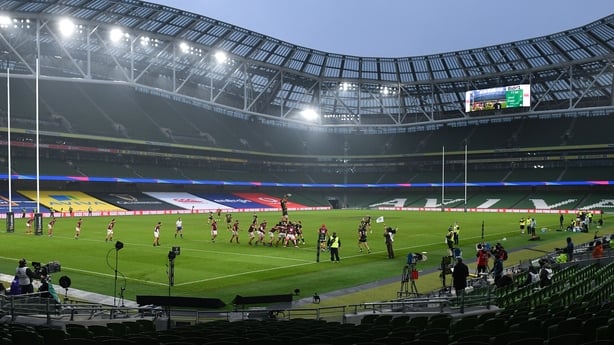 "Certainly, in that second 40 it wasn't the standard we expect of ourselves.
"Especially playing at home after the first 40 that I thought was decent enough at times, still obviously things to fix at half-time. 
"Georgia thoroughly deserved the right to slow our game down by being total menaces at the breakdown and fair play to them for that but that's not good enough from us. 
"Specifically, the bigger picture stuff, if you haven't the courage of your own convictions then your follow through with whatever it may be... 
"If you are trying to get the ball to the wide channels, let's do it properly.
---
Burns and Earls on lengthy Ireland injury list
---
"Let's make sure that there's proper intent in our play to get in there.
"There certainly was opportunities for us to get into space out wide and we just tucked and turned ourselves back inside on a number of occasions and got turned over at the breakdown.
"They hunted hard there us at the breakdown.
"Then on the other side of that, when we punched onto a ball, we punched onto a ball a couple of times towards the end of the game, really hard and then our breakdown work was able to follow but sometimes I didn't think we had conviction with our carry as well and they were able to swallow our ball up. 
"We needed to just stick to the plan and keep putting the pressure on Georgia by keep turning them around etc but we decided to play a lineout and go wide and it was on to go wide but we commit ourselves properly to it. 
Again, all these things add up to giving the opposition energy and belief." 
'It wasn't just the scoreline, it was the manner'

Fiona Coghlan and Stephen Ferris give their reaction to an uninspiring victory over Georgia #RTERugby pic.twitter.com/BPhmpZmN5M

— RTÉ Rugby (@RTErugby) November 29, 2020
Georgia captain Merab Sharikadze  said: "We missed the opportunities that we got so we could get more points than we did. That said, we don't get too many opportunities like [playing Ireland] so we are not that experienced." 
Head coach Levan Maisashvili echoed his captain's sentiments.
"We need to be patient and have more time to play against high level opposition," he said. 
"I don't know if it is commercial reasons that are blocking our way, but we need chances."