Ireland assistant coach Simon Easterby is confident that Saturday's lineout woes in the 18-7 defeat to England will be ironed out and stressed again the coaching ticket's ambition to improve decision-making within the team.
After a comprehensive win over Wales in the Autumn Nations Cup opener, Andy Farrell's side were reminded of their current place in the pecking order with another emphatic loss at Twickenham.
Chief among the issues up for discussion in the post-mortem was the malfunctioning lineout, with Jonny May's spectacular second try coming directly from Irish mishaps in this department.
Ireland are currently in a transitional phase in this area, with first-choice hooker Ronan Kelleher boasting just five caps and former lineout stalwart Devin Toner now inching towards retirement and conclusively out of favour. James Ryan and Quinn Roux were the starting second rows, the latter favoured in place of the returning Iain Henderson, but the lineout descended into shambles.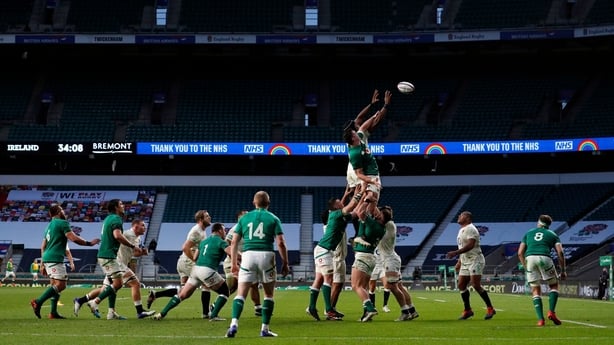 Easterby, who earned 65 caps for Ireland as a flanker in the noughties, acknowledged the errors but insisted that the current lineout would develop in the coming years.
"We're on a bit of a journey with this lineout group," Easterby told reporters this afternoon.
"It's a new group. We've a couple of inexperienced younger guys in there who we feel are learning every week and growing in their roles. It takes time to build combinations and get those things right.
"England, in terms of where they're at in comparison to us, there's far more experiences that they've gained in the past couple of years as a forward pack compared to some of the guys in our group.
"There's definitely a couple of fixes and alterations that we need to make. But it's not doom and gloom. We're really confident with the guys we selected. There were inaccuracies and hopefully we'll learn from those.
"Part of it is strategy, part of it is decision-making in the moment, and part of it is execution.
"I'm certainly not concerned that confidence will be eroded on the back of the performance at the weekend.
"Should we be better in those moments? Yeah, 100%. We need to make sure that we take opportunities when they arise. We work hard to get in those positions close to the opposition tryline. We need to make sure we deliver more accuracy and effectiveness in our lineout drills."
In the wake of the 2019 World Cup debacle, weaning Ireland away from Joe Schmidt's strategic template was deemed a high priority.
The departed coach led Ireland to unprecedented heights during his six-year reign but the team's prescriptive and labour-intensive approach appeared to catch up with them in the World Cup year.
The new coaching ticket has spoken often of inching away from that more rigid approach and developing the 'decision-making' ability of the team and their capacity to thrive in a more chaotic gameplan.
While Ireland's attack was criticised following the Six Nations defeat in Paris and again after Saturday, Easterby sees enough to suggest things are moving in the right direction.
"We spent more time in England's 22 than they spent in ours. I believe that we are trying to change the way we play a little bit - compared to 12 months ago.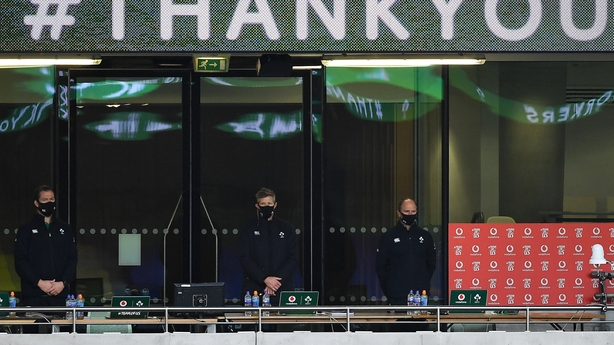 "It takes time to develop those skills for individuals to make better decisions, to make the correct calls. I think there's probably a balance to be had there. We're probably not getting enough from our maul attack.
"We certainly feel we're going in the right direction in terms of our phase attack. But like everything else, there's still lots that we can do better.
"The review of that, today and tomorrow, will hopefully keep opening the eyes of the players to understand where else they might be able attack in those situations and hopefully come away with more than we're getting out of it at the moment."
Ireland's current tendency to go for broke rather than take up the offer of three-pointers – seen most dramatically just before half-time in Paris – is attracting some criticism but Easterby says it's a decision that has to be made on the pitch.
"If the players are always looking up at the stands and wondering what to do, then we're not doing our job as a coaching group to try and build their decision-making under pressure.
"Is there a call to take three points and build the score like we did against Wales? Yeah, that certainly can keep momentum going.
"But you've always got a 'feel' out there in the game. The players may feel that there's an opportunity to get more out of a strike-play or a maul or a scrum than by taking the three points. Because they feel that the opposition are under pressure.
"We don't always get those decisions right but more often than not, it's a decision made on the pitch. It's certainly not a case where we're screaming down on the microphone. We've got to allow the players to build experience and understanding in a moment as to what decision they make."