There is so much to digest after the Irish defeat at the hands of England in Twickenham on Saturday evening.
England played just how we expected them to play. They were confrontational and physical, bordering on illegal at times, but that's exactly how they get under your skin.
Eddie Jones skirts the line in terms of what's acceptable to say in the media and he gets it wrong from time to time.
He has instilled this type of gamesmanship in his players, characterised by Maro Itoje's dance after a turnover in the second half.
However, that's England's game and doesn't explain why Ireland can't cope with them.
None of these factors contributed to Ireland's inability to cross the gainline against John Mitchell's bruising defensive line or our inability to come away from the opposition 22m line with points, particularly since the France game in the Six Nations.
The England kicking game was expected but still not dealt with. Ireland kicked with the hope of causing some disruption or possibly getting the ball back, which Hugo Keenan did quite well at times throughout the game.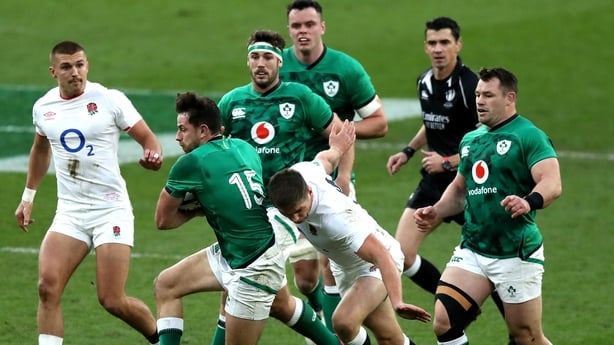 However, England impose themselves on you with the kicking game; they kick to transfer pressure and to terrorise you when you have the ball. Terrorise your positioning when gathering the ball, terrorise your ruck if you manage to hang on to the ball and they use it as a platform for their own defence, leading to turnovers and penalties.
All of this was in plain sight for Ireland to deal with coming into the game and yet we weren't able to cope.
In saying that, Ireland lost the game by 11 points. Yes, maybe they were flattered a bit by the scoreline considering the English dominance, particularly just before half time when they could have stretched their lead, but a Peter O'Mahony turnover in the maul meant the visitors were able to dust themselves down at half-time while still being relatively in with a chance.
You must also consider that at 5-0 Ireland had a chance to get their first score as well but instead turned the ball over and some scintillating play from Jonny May turned the game on its head.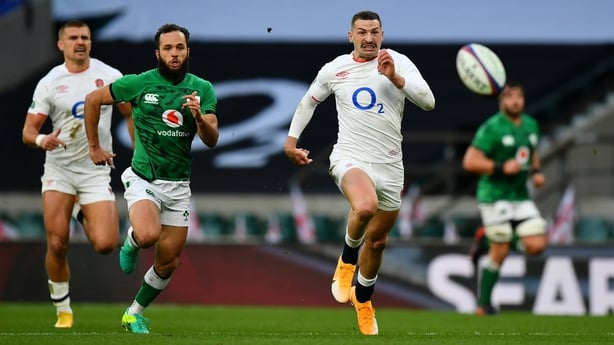 It was then 12-0 to England - who were at home in Twickenham - instead of 5-5, or even 5-7 if Ireland had converted their opportunity. That play was in Ireland's control until they relinquished it and fell foul of May's weaving running style.
There are a number of questions that must still be asked of Ireland and the management team.
Why is the attack so inefficient in the 22m?
Even when you take the problematic lineout out of the equation and Ireland secure possession, they are not converting possession into scores. They aren't regularly coming away with three points, never mind converting these chances into championship-winning tries.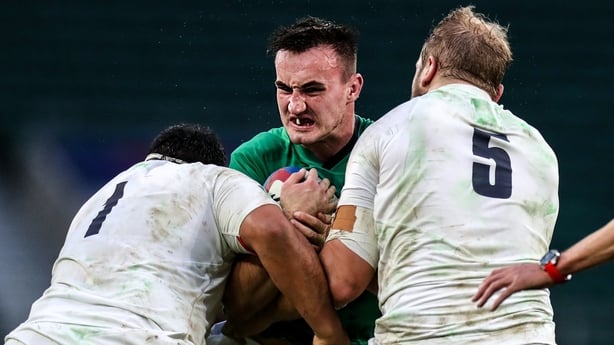 There's no doubt that hooker Ronan Kelleher (pictured above) is able for international rugby and he is still odds-on favourite to be the long-term successor to Rory Best.
However, the limited lineout options are causing problems for the flow of the attack.
If you throw to the front all day to secure possession you risk playing no rugby and failing to put yourself in a position to win the game, but at least you'll do it with possession. That is until the opposition decide to mark the 2 and 4 jumper and invite you to throw to the back.
If you roll the dice and throw to the back, you will play with much more flow in attack due to the improved platform and consequences on their defence being down more numbers from the back of the lineout, but you risk losing some of your possession, as we saw on Saturday.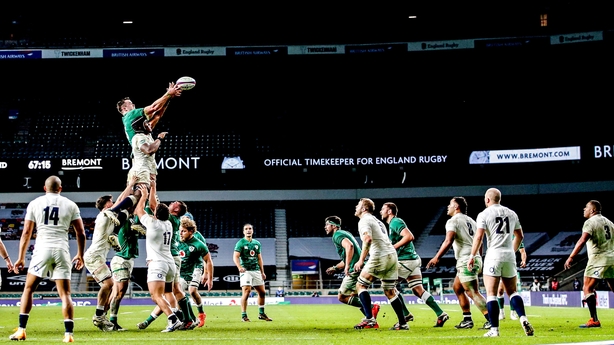 If you can only hit the front of the lineout, or can't hit the back consistently, then the chances are you won't put yourself in the position to beat the top teams. The middle of the lineout wasn't an option because Itoje is so good there and caused serious damage to the Irish set-piece.
It's a major part of the Irish jigsaw that needs to be figured out soon.
Who is the back up to Johnny Sexton? Billy Burns put his hand up and will probably take up the number 22 jersey after he plays against Georgia, at least that's how I would see it.
Ross Byrne has been great for Leinster but he brought very little personality to Ireland on Saturday and will struggle to force his way in again. Will he be given the benefit of the doubt this time with Twickenham being one of the hardest places to go to?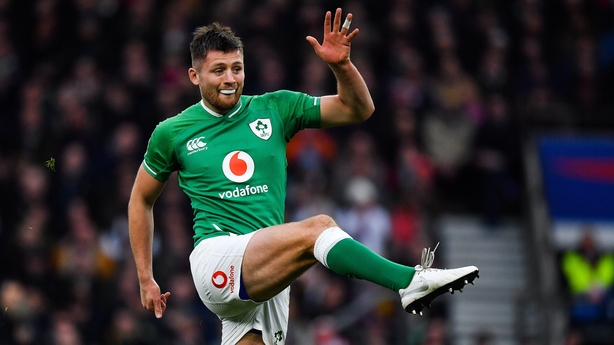 He has certainly given up some control over that back-up spot to Sexton.
Two really positive questions are who are the backrow and back three options?
Peter O'Mahony had a fine game for the second week running and so did Caelan Doris. This time it was CJ Stander who was quieter against a physical and aggressive defence, but we've seen him perform time and time again.
It's going to be a difficult decision when the management have to pick their best XV once more.
Similarly with the back three, Keenan did himself no harm at all. He was very comfortable with the high ball bar losing it slightly for the May try from a crossfield kick. Keith Earls showed how dangerous he is and the spark that he can bring to the team with work-rate underpinning every one of his performances.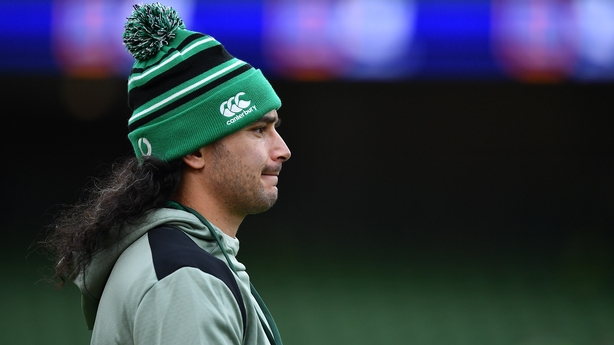 James Lowe played alright aside from his wobbly kicking performance. You'd have no issue starting with that back three again, but where does Andrew Conway come in? He's been unbelievably consistent for Ireland and deserves his place on the team.
Jacob Stockdale came back and scored a great try to save the Irish embarrassment of failing to get on the scoreboard. You don't need mathematical qualifications to realise that five into three doesn't go.
Is Jamison Gibson-Park still the starting scrum-half? He unlocked the English defence with his darts around the fringes and Earls almost finished one off.
Conor Murray's experience may just be enough to win the number nine jersey back
However, after the first quarter, the Kiwi's performance deteriorated a bit following compounding penalties and he never fully recovered. Replacement Conor Murray showed some urgency when he came on and did well. His experience may just be enough to win the jersey back.
Context is always important when you're weighing up a performance.
England were runners-up in Japan last year and they look like they are ready to go to the next World Cup already. They have a consistency in their squad, they know their values, the gameplan is rock solid and there are very little question marks over them.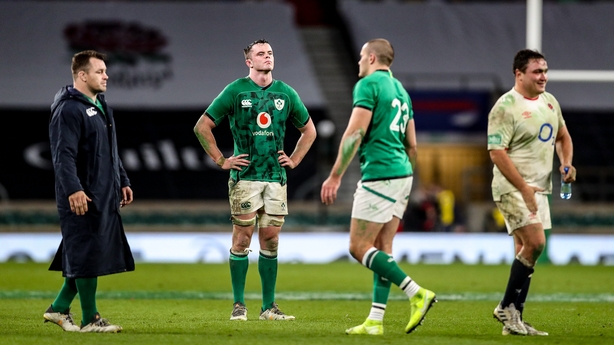 Ireland were 11 points off them away from home. At least that's what the scoreboard tells us anyway. Andy Farrell's Ireland are far from the finished article and there is inexperience in certain areas.
This isn't always a bad thing. Of course it needs to be developed and there are questions that need to be answered but it's a long way from the next World Cup and now is the right time to be battling through these dilemmas. We've always wanted that World Cup performance and it hasn't been delivered. Maybe this will be the slow game building up to a performance on the big stage.
We don't have many answers at this early period in the Andy Farrell era. We'd like to have fewer questions by now, there's a long way to go in the development of this team.