The fragility in Welsh rugby was compounded at the hands of Ireland last Friday night in the Aviva. It was all too easy for Andy Farrell's side, considering their own performance wasn't guaranteed and especially while losing their captain to a hamstring injury.
Not to take it away from Ireland, but once the initial bravado was softened by Peter O' Mahony and James Lowe, Wales didn't have many strengths on the night. It took them 55 minutes to put a proper string of phases together, at which stage Ireland were confident and comfortable in defence.
Ireland are improving and it's a great result for them to get under their belt, although being at home to the wounded Welsh won't hold a candle to England away.
Wales reverted to their Shaun Edwards defensive strategies, which we saw from France not so long ago. The wider attacking channels are proving to be a weakness for Ireland, and I don't mean in terms of personnel.
When the Irish attack sets a target in the midfield and then attacks the space on the edge, they are unsure of how to beat the modern out to in defensive shape. Ireland tend to carry the ball into contact and are dictated to by the opposition. This will be one of the next areas of improvement under Farrell and Mike Catt in particular.
Their attack in the opposition 22m is faltering too. This should be a more straightforward fix, and Ireland are spending time deep in their opposition territory but are yet to show the clinical nature that has been pivotal in the success of their provinces and their own game in the last decade.
Ireland aren't clinical enough in that area of the pitch currently, which is leaving teams off the hook.
Against the weaker sides you'll get enough chances to cross the line, but against the likes of England in Twickenham you won't get away with it. This is a regular stuttering point for teams that haven't fully hit their heights yet and under this regime it's no different. In saying that, the orchestration of the set-piece has been promising and vital in putting the team into these advanced attacking areas.
A few positions on the pitch are starting to heat up in terms of selection headaches.
The Irish backrow is very strong and has now been challenged by the strength of Peter O'Mahony's performance on Friday. He started the game with an uncompromising attitude and finished with a dominant leadership role with some lineout steals in between.
It's one of the areas where Ireland have always been strong and the coaching team will need to decide on the balance that they want going forward. There are probably four players really vying for those three jerseys at the moment and making it really difficult for the management after Friday.
Caelan Doris was worthy of his man of the match award, although it could easily have gone to O'Mahony as well. Doris adds a lot of athleticism and fluidity to the Irish attack, a lot of physicality too.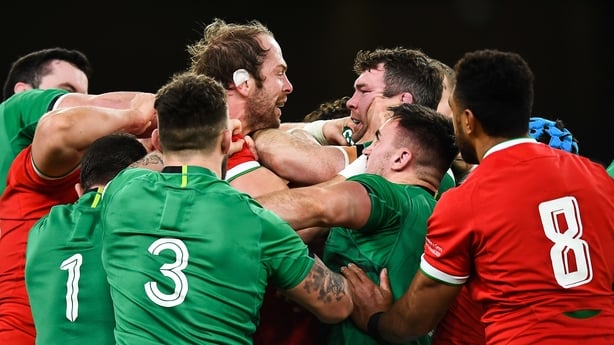 Will Connors was in the driving seat for a while after his performances with Leinster, man of the match against Italy and chop tackles that are so disruptive to the opposition. Those tackles offer the Irish defenders loads of opportunity to poach and he's no slouch in attack either, as seen from his offload in the tackle last week.
These young Leinster performers are really putting the pressure on the likes of O'Mahony, who has been racking up big moments for Ireland in the last number of years and is still finding himself on the end of some criticism. His ability in the defensive lineout could earn him another go at a starting position against England, but the decision won't be easy.
Every time CJ Stander puts on a red or green jersey he will carry 20 balls and is close to man of the match every time. Again, criticised for the amount of metres he makes with his carries, but he carries the ball that nobody wants, into a brick wall of defenders and still retains possession while everyone else organises themselves around him. He's no stranger to the tryline either and he's got a serious work ethic.
The half-back positions are another decision for the management team.
Jamison Gibson-Park sped up the Irish play noticeably and can break himself too. The downfall was his infield box kicking, but he's a really solid option to unleash the rest of the Irish attacking potential.
However, Conor Murray is an experienced rugby player. He showed his class by stepping in at out-half and kicking three out of three while he was at it. He's such an intelligent player around the pitch. It's going to be a tight call for Farrell, who might be able to shirk some of the big decisions for now based on the competition that's being played. He's under no pressure yet to make big decisions with a first 15, and I'm sure he'd like to keep that enthusiastic competition in the squad.
Ross Byrne will more than likely come back into the squad. A capable replacement for Sexton who facilitates the people around him by getting them into the game. He's an intelligent guy and allows others time on the ball.
This will be important if England do what they have been doing to Ireland, that is targeting their main distributor to upset their flow. Byrne will need to let the ball go to his physical centres and hope that Ireland's attack can manage itself by playing off someone other than their first receiver.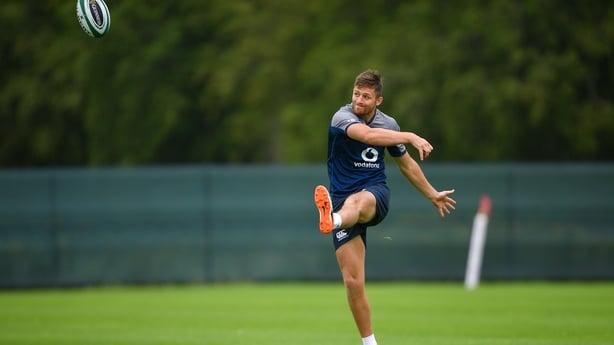 Byrne also has a confident phase-play kicking game that could be key to managing the English line speed. He's done it with Leinster and hopefully he'll be selected to do the same against England.
The back three is another area with four players vying for three positions.
After strong showings last week, I would expect and hope that Conway and Lowe will keep their places. Lowe was everything we expected him to be on his debut and is a real game changer. His physical presence is so hard to stop, evident from a basic 8-12 combination for his try at the end of the game. A winger that steps in to attack that 10-12 channel is very hard to stop.
The decision for Farrell is whether to stick with Keenan, who had a quiet game last weekend due to Welsh attacking incompetence. We only saw glimpses of what he can do with the ball in hand about 30 minutes into the game.
Stockdale is still a strong option if he is available for selection and was clearly in Farrell's plans last weekend. It's another area that will be watched closely when the team is announced.
This Ireland team has taken a step towards finding its feet under Farrell. It's still early and that will take the pressure off them going to England, they don't need to find their peak in 2020 or even 2021 for that matter, but winning away in England would be a serious statement and something that we know they are capable of doing.
Follow England v Ireland this Saturday via our live blog on RTÉ.ie/sport and the RTÉ News app, watch live on RTÉ One from 2pm, or listen to live updates on RTÉ Radio 1's Saturday Sport.