Cian Healy attributes his longevity to the backroom staff at Leinster and Ireland as well as "the bit of drive" as he closes in on his 100th international cap this weekend. 
If Healy is selected for Saturday evening's Six Nations finale in Paris, then the 33-year-old will become Irish rugby's sixth centurion, following in the footsteps of Brian O'Driscoll, Ronan O'Gara, Paul O'Connell, Rory Best and John Hayes. 
The Leinster prop made his international debut against Australia in Croke Park in 2009, a game which ended in a draw thanks to a last-minute Brian O'Driscoll try under the posts. 
Ireland had just won a first Grand Slam for 61 years and boasted a team stuffed with stars, including four of the five current members of the 100-cap club. 
"It was class to play in Croker," Healy recalls. "We had such a team out there, there were a lot of big names which kind of shocked me a bit. 
"But I was cocky and confident in myself. I got slagged for it but that bit of that confidence, it goes a long way. I remember Paulie (Paul O'Connell) tapped the ball down to me off a kick-off and that's probably my outstanding memory from that game. I got a bit of a run off it!"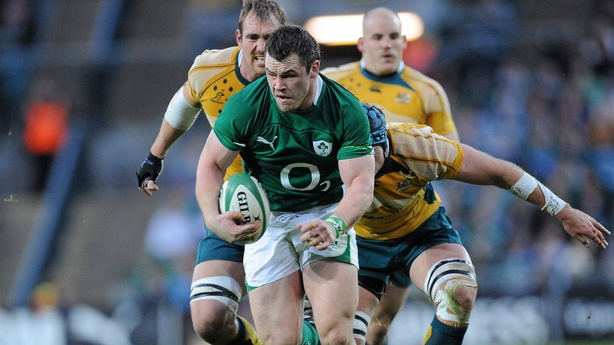 Over the past 11 years, Healy has been part of three Six Nations winning teams, including the Grand Slammers of 2018, has won four Heineken Cup titles with Leinster and been a member of the 2013 Lions squad. 
In his early years in the green shirt, the Clontarf man was more renowned for barn-storming runs in the loose. The prop acknowledges that his game has had to evolve in the intervening years as the game has become more structured. 
"Realistically, I got away with murder when I was younger. Because I wouldn't do a lot of the dog-work and I'd hang off a 10 or a 9 looking for a ball to carry. And probably hit six or seven rucks a game. 
"Now you're required to do an awful lot more and ending up on a ball is nearly part of a plan. It doesn't just happen by accident anymore. I love when I get a chance to carry with the ball, getting a ball in the hands and running people and running through holes. It's the most enjoyable part for me."
Cian Healy is "trying to brush aside" talk of his 100th Ireland cap ahead of a landmark milestone this weekend #rterugby #FRAvIRE pic.twitter.com/jCPCUnX2s5

— RTÉ Rugby (@RTErugby) October 27, 2020
Healy is quick to credit the medics and backroom staff for helping him stick around for over a decade in the Irish front row.
"A lot of what we're surrounded with is top level professionalism from medics, who I've relied on a lot, and rehab coaches and physios to bring me back from the brink. They do it day in, day out for every player and everyone at some point requires the help of people around them to drag them back from injury or out of a tough place. A lot stands on that.
"I think a bit of drive as well. I'm not the type of person to settle down too easily and roll over. So, it's down to a bit of that as well."
While Healy is reluctant to dwell too long on his personal milestone this weekend, his captain Johnny Sexton is less bashful about doing so, hailing his teammate's attitude and stressing the desire to make it a 100th cap to remember for Healy.
"It's an incredible feat. You look at the guys who have 100 caps and how special they are. This doesn't come easily. Every player in that category are legends of the game in Ireland and he will add himself to that legacy. He deserves it.
"He's so professional in the way he goes about his business. He had that one particularly bad injury that took him a long while to get back from and he put an unbelievable amount of work in to get back, so I'm absolutely chuffed for him.
"If it is his 100th cap, we want to honour him in the best way possible by trying to win the game. Same with the first-cappers last week, we wanted to make the day special for them."