No hats, no scarves, no flags. No ticket touts. No hot-dog stands. No pre-match pints. No hum of crowd.
No buzz.
Absent were the bright green and blue-clad fans who would, in normal times, populate Dublin 4 for hours in advance of an international Test, friendly and good-natured, soaking up the unique atmosphere of these days.
It was a Six Nations game day like no other.
Sometimes we even get lucky with the spring time weather and it adds to the occasion as supporters mix freely as part of the rugby family.
Instead we had to make do with beautiful autumnal colours, a kaleidoscope shower of brown, auburn, green and golden leaves with splinters of October sunshine for company.
Beautiful in its own way, but a completely unnatural companion to Six Nations rugby.
Even back in 2001, when the completion of the foot-and-mouth-delayed tournament also came in October, we had fans and something special to cheer about, a famous Slam-busting win over England.
This was different; bizarre, surreal and just not quite right.
Less than 80 mins to #IREvITA kick-off #SixNations #notasweknowit #RTERugby #RTESport pic.twitter.com/azq49cNHtE

— Michael Glennon (@MicilGlennon) October 24, 2020
That the organisers got the game played in the first place, with all the problems that the soccer and GAA teams are having with Covid-19, was a victory in itself.
Inside Lansdowne Road, between players and management, stadium staff and media there were probably around 300 there for the action, a 50-17 win for Ireland over a largely compliant Italy.
There was a snippet of 'Shipping up to Boston' and 'Enter Sandman' bursting out of the PA before kick-off but you couldn't escape the massive void of an empty Aviva.
"The anthems were definitely different," captain Johnny Sexton told RTÉ Sport.
"It was strange being able to hear yourself, I just mimed most of it. It was different.
"We have such good support that it took some getting used to.
"To create your own energy, you have to do good things because you can't create energy going backwards or conceding scores."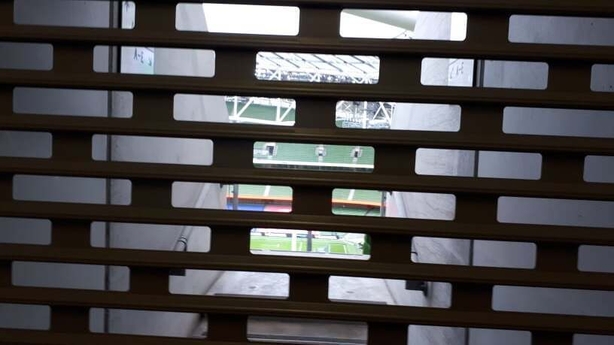 It was refreshing to hear the players' cries loud and clear, even with the odd f***ing thrown in; who knew?
"It's strange not having the support of your home crowd, the noise and the energy," said prop Andrew Porter.
"But we knew they'd be watching at home, so we were really looking to put in a big performance to hopefully give people something to get excited about in trying times.
"So it's tough obviously and it takes a bit of getting used to.
"It's all about giving people at home something to look at and take their minds off the crazy things that are happening."
That was accomplished in terms of delivering the result, which keeps Ireland's title hopes alive.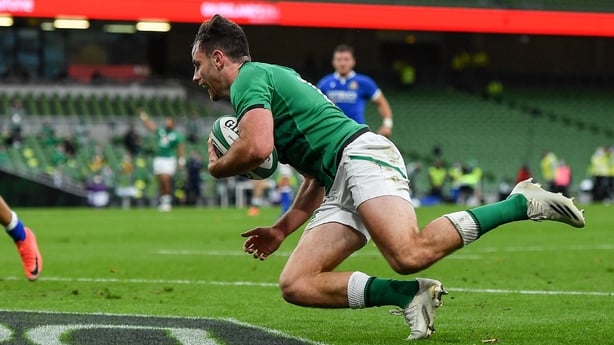 Hugo Keenan was in no mood to complain after making a two-try-scoring debut in an empty stadium.
"It was a bit different to how I might have imagined it growing up but it was still special," said the 24-year-old.
"The lads celebrating with you is such a good feeling and just to help them in the first half with those tries at important times was extra special."
Next week it's France's turn to host minus their boisterous fans and maybe it's something that will work out in Ireland's favour.
Let's hope so.