Exeter Chiefs are European champions and fully deserve the accolade based on the style of rugby they promote.
The 10-year transformation of the club involving Rob Baxter has been underpinned by hard work and ingenuity in terms of how they play.
Unfortunately, there are a few performances that overshadowed their own in the final.
Scrum-half Teddy Iribaren was particularly poor for the Parisians, which gave Exeter a strong foothold and meant that Racing 92 were always chasing the game.
In hindsight, if Maxime Machenaud had started the game it would have looked completely different.
Iribaren started with a missed kick to touch that could have seen Racing first on the scoreboard.
He followed it with a quick throw in from touch where he was turned over and then a wild pass to Juan Imhoff where Exeter won another penalty close to the Racing try line.
One of those mistakes is enough but three of them in a final put his side under immense pressure.
The coaches couldn't have foreseen the opening 20 minutes of the game but it's hard to believe Machenaud would have been so detrimental to the Racing game. 
Machenaud was warming up quite early in the game before Iribaren managed to get control of it but he was subsequently whipped off at half time and Machenaud was much more controlled and very nearly led his team to victory.
Rumours are that Iribaren was injured but I'm not sure that's solely responsible for his decision-making.
Referee Nigel Owens had a relatively poor game as well and made some questionable calls throughout.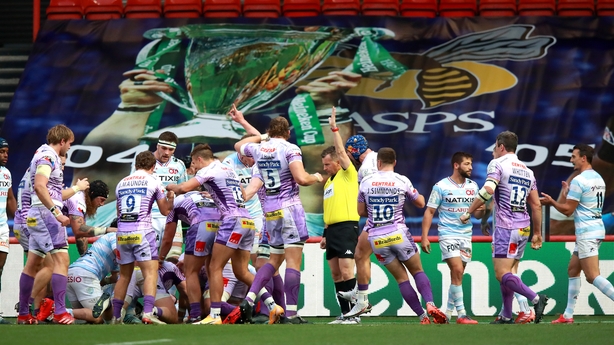 He was fair for both sides but some of the laws of the game were managed terribly which allowed a ferocious contest at the ruck.
The Welsh man allows a free-flowing game with big moments for the neutrals watching a final which may earn him the big games but some of the calls were baffling.
It was like he refereed the game on last year's terms with laws that have changed focus going into this season.
The breakdown in rugby is a much more technical aspect of the game than what some followers would realise.
Teams get officials into training to try to understand the interpretations from the referee to give themselves an advantage or at least a level playing field when it comes to big games.
You know going out in high-stake matches that the team that adapt to the referee's perception of the situation at ruck time will inevitably be the team that get a strong foothold in the game early on.
Last season, once you were on your feet and you were the first arriving player at a ruck you were able to poach for the ball.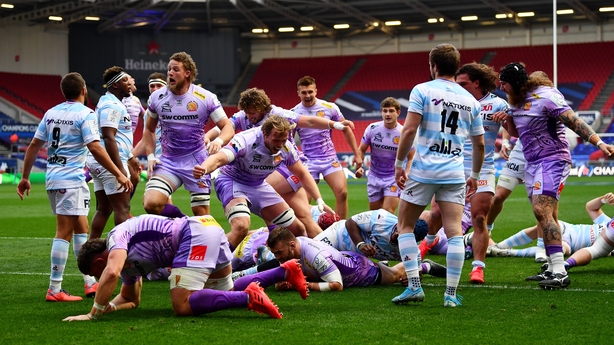 You could keep poaching at the ball if you managed to stay on your feet despite your hands being taken away from the ball by an opposition player.
There was an example just before Tomas Francis was sinbinned where Exeter won the penalty despite Stuart Hogg having two attempts at the poach.
Even down the levels in the AIL players would have been penalised for that.
However, Owens gave the call to Hogg before the TMO brought play back to look at a deliberate knock on from Francis.
The call was discounted because Racing were awarded the penalty but it showed how the ruck was being policed – poorly.
The biggest moment of the game was Hidalo-Clyne's turnover to win possession back for Exeter on their own line when Racing looked poised to go into the lead for the first time in the match.
All momentum had turned and Racing had blunted the Chiefs attack before launching their bid to win the game.
Hidalgo-Clyne was never the first arriving player at the ruck but he was also clearly in the side of the ruck.
Owens told Exeter to leave the ball yet subsequently awarded the scrum-half the penalty.
Mind-boggling stuff from a very experienced referee in a highly pressurised and vital time in the game.
That was the last attack that Racing would have and Exeter did well to see the game out.
Owens didn't win the game for Exeter by any means.
These are the calls that stood out to me when watching but I always say if you study most rucks there's probably some questionable behaviour from one of the players.
On reflection you could pick out penalties that should have gone the other way for both teams.
The saving grace for Owens is that he is usually consistent for both sides but it was a pivotal moment in the game and you lose faith when everyone else can see the mistake.
However, Racing put a nail in their own coffin a number of times.
They gifted the Premiership finalists field position on many occasions which is unacceptable when you're playing against a physically intelligent team.
The Exeter maul and scrum firmly won the game for them. If they could sure up the lineout they would be an unstoppable force.
We need your consent to load this Facebook contentWe use Facebook to manage extra content that can set cookies on your device and collect data about your activity. Please review their details and accept them to load the content.Manage Preferences
Racing out-half Finn Russell was hot and cold. His flair and ability on the ball can sometimes be countered by his flair and inability to make the right decision for his team at certain moments but you live and die by the sword.
You'll always get that from players like Russell and on the balance of things his positives outweighed his negatives.
Unfortunately, between the half-backs their average was much more negative which can't happen in the same game if you are to go on and win it.
Russell had an intercept pass for a try, a blocked grubber through which gifted Exeter serious field position but he had a similar pass for Simon Zebo's first try.
You win some, you lose some.
My heart went out to Zebo.
He would have loved to justify his move to Paris from Blackrock with a Champions Cup medal, which is currently very far away for his native province.
He scored two vital tries to urge a comeback from his team-mates but Racing gave up a score or vital possession every time they clawed one back.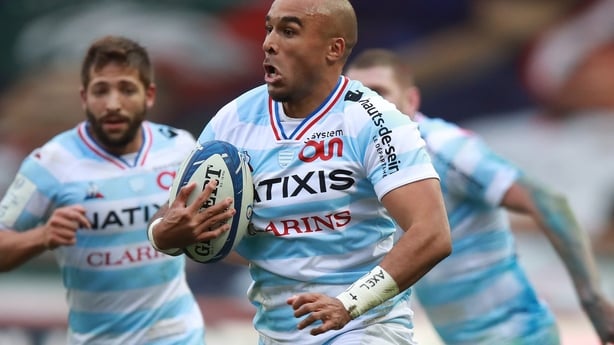 Zebo showed the people at home what we've been missing, all while honouring the late Axel Foley in the process, with a wristband bearing the name of the Munster and Ireland legend.
I've never seen him so pumped up for a game, there was obviously a lot on the line.
While I'm delighted that Exeter have completed a monumental task and have gone from the Championship to Champions Cup winners in a decade, I was rooting for my former team-mates Donnacha Ryan and Zebo.
Exeter didn't get to show off their backline attack. They only really cut Racing apart once but that's the way finals go.
They did what had to be done to win the game and overall deserve to celebrate.
They also won over a few fans along the way.
It's a great success story for all involved in the club and the game as a whole. 
We need your consent to load this YouTube contentWe use YouTube to manage extra content that can set cookies on your device and collect data about your activity. Please review their details and accept them to load the content.Manage Preferences
Listen to the RTÉ Rugby podcast on Apple Podcasts, Soundcloud, Spotify or wherever you get your podcasts.
Follow Ireland v Italy (3.30pm Saturday) with our live blog on RTÉ Sport Online and the RTÉ News app or listen to live commentary on Saturday Sport on RTÉ Radio 1. Follow Ireland v Italy in the Women's Six Nations (6.30pm) live on RTÉ2 and on RTÉ Radio 1 Extra.