The last time Ireland finished a Six Nations campaign in late autumn, they denied England a Grand Slam.
This time, they can - at least technically - deny the Red Rose another Six Nations championship victory.
Whether we'll get as far as that is another question. It is a fast evolving situation and NPHET's call on Friday morning to place the whole country under Level 5 restrictions could put Ireland's participation in the remainder of the competition in doubt.
Even if that does happen, it doesn't automatically sound the death knell for the grand old tournament and the busy programme of rugby matches planned for the winter. Elite sport may yet receive an exemption allowing it to proceed, and allowing the rest of us avail of televised competition during the potential lockdown.
Friday's Zoom press conference was very much of its time - that being 2020, aka Covid-time.
"I thought that was Darth Vader asking me a question for a minute!" Farrell remarked after a fairly standard glitch in the technology had undermined one of the questioners, rendering his contribution in distorted slow-motion.
Farrell's screen froze completely when he was in mid-flow at one point. We'd like to imagine he spent that 30 seconds trash-talking the upcoming opposition and lambasting the quality of the food in their capital cities but that's probably not how it went down.
The demoralising nature of the defeat in Twickenham may have sapped the public of their enthusiasm for the 2020 campaign but Farrell is happy to stress that the competition is still there to be won.
With Eddie Jones' team surely unlikely to stumble in Rome, bonus point wins - one of them in Paris - will probably be required.
"We're one of the teams that's lucky enough to still be in the hunt so why wouldn't we go and hunt it?"
"That's how the whole group feels. It's a tough old task because we know what we probably will need but we're willing to give it a go. .
"We're the only team that can look after their own destiny. Ten points would seal it for us. I don't want to be disrespectful to either Italy or France. I want to focus on ourselves.
"I just want to make sure that we put our best foot forward and that it's a performance that we're happy with."
Ireland's style of play has been a vexed matter for several years. Even as the team swept all before them under Joe Schmidt in 2018, there were gripes about the supposedly rigid approach. The clamour for change grew louder as the team lost form and confidence in 2019, once more timing their slump for the arrival of the World Cup.
Farrell openly acknowledged the need for evolution in Ireland's game, stressing the need to become more "adaptable". But the head coach stressed that this was going on all the time, even if it was obvious to casual observers.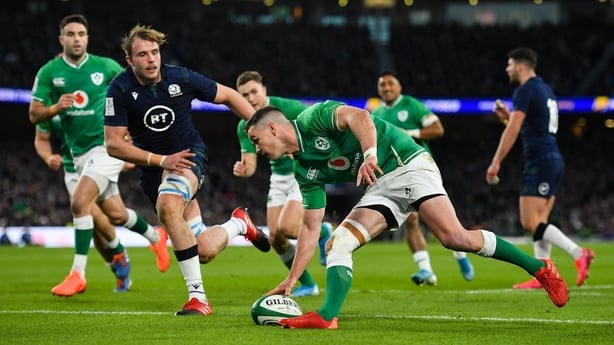 "There isn't just tweaks from coach to coach, there's tweaks from game to game. You don't want people to be able to analyse exactly how you're going to play the whole time.
"So, we're always tweaking things. Whether you notice that or whether it's plain and easy to see is another matter.
"But I can guarantee that there's things that are being done on the training ground, and hopefully they transfer to the field, that will allow us to progress our game continually."
Farrell's squad selection last week had a novel feel, containing no fewer than six uncapped players. Hugo Keenan, Ryan Baird, Will Connors, and New Zealand born scrum half Jamison Gibson-Park were plucked from the Leinster set-up. The versatile Cork-born full-back Shane Daly was drafted from the Munster ranks.
The selection of Gibson-Park - ahead of both his Leinster teammate Luke Byrne and Ulster's John Cooney, the in-form player back in the spring - captured the headlines.
"He brings something a little bit different," Farrell says of Gibson-Park.
"His ability to keep his head up, to see where the space is, whether that's either side of him or out wide. He's a calm presence on the way to the ruck as well, having said that, he does that at speed at well. He's able to see quite a few pictures and make good decisions."
In addition to that grouping, five players, not included in the squad for the coming fortnight, have been drafted in to drain.
Harry Byrne, Craig Casey, James Tracy, Fintan Wycherley and James Lowe, the last of whom becomes eligible in November, have been part of the sessions this week.
"Their remit when they come into camp is to make sure they don't waste our time," Farrell says.
"They have three or four days with us and hopefully that whets their appetite to get back in the room sometime soon.
"We've seen potential in these guys. They've made sure that they fitted into the squad straight away and they get the same run of sessions that everyone else does. We want them to be fully part of that and that experience to help them into the future."