The Guinness Pro14 may be contemplating trying something new by bringing in the four South African Super Rugby teams, but experimentation is not something the competition's head coaches can really think about, even at this early stage of the season.
I don't think any head coach is going to risk too much at the start of a season. You have to get off the mark in any competition these days; that goes for the AIL as much as it does in the professional tournaments.
If you don't start well, the pressure comes on very quickly and all of a sudden you could be looking into Christmas without a win under your belt.
That's why it was vital for Irish rugby to come away with four wins in the league last weekend. Connacht and Munster showed a lot of grit to turn their games around, although Connacht did it with a bit more attacking flair and excitement.
Munster, on the road, didn't look like they'd be able to turn it around against Scarlets, but up stepped Ben Healy and slotted a penalty from more than 50 metres to create some excitement in the southern province.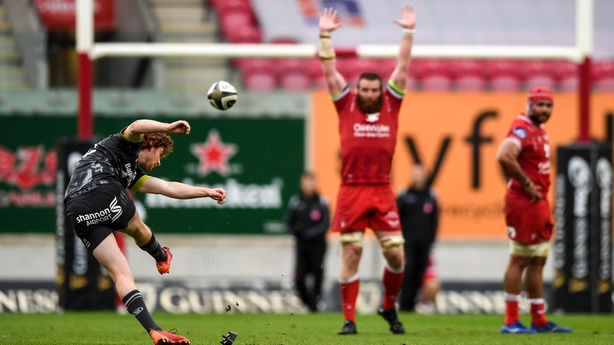 Craig Casey started at scrum-half for Munster and for a period of the game he partnered with his Ireland Under-20 colleague Healy. A youthful pairing which brought Munster back from 21-10 to win the game with the last kick of a ball.
However, not everything is that straightforward when selecting your up and coming stars. Some of the Munster faithful have been calling for the likes of John Hodnett and Jack O'Sullivan to start the game, but there are only so many positions on the pitch.
Johann Van Graan would have been under a lot of scrutiny and pressure if Munster had lost the opening round
The same people would still want CJ Stander and Peter O'Mahony on the pitch and sharing their Lions experience with the rest of the squad.
It is much easier to call for changes when your head isn't the one on the block. Johann Van Graan would have been under a lot of scrutiny and pressure if Munster had lost the opening round, even if it was away in tough conditions against a strong Scarlets side littered with top quality Welsh internationals.
The first half didn't go well for Munster, going down 9-0, giving away penalties and kicking the ball rather than building phases. Yes, the weather was poor, but Munster showed that they could play ball when they did decide to throw it, resulting in Jack O'Donoghue's try after some nice work previously from Haley, Conway and De Allende.
The outcome of the game is much more at the forefront of the head coach's mind rather than the immediate development of talent or a game plan that will see them past a semi-final.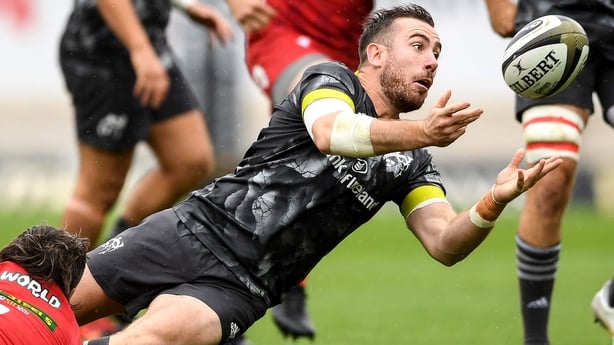 It is much easier to call for those changes when you're that bit more detached as a follower.
Hopefully, now that the first win is under their belt, Munster can develop the game plan that their attacking threats deserve to be playing. Once players got used to the conditions, Munster did try to play more rugby and move away from their kicking game.
Supporters can use their memory selectively when putting their case forward for starting a younger, developing player. However, the coach has to manage that development and ensure that the player doesn't get too much exposure too soon.
For example, James Hume and Stewart Moore both scored tries, so not many supporters will be looking back at how Benetton split them in defence to score a try under the Ulster posts.
The same can be said of Healy, who didn't start the game particularly well. He made a few mistakes and missed touch with a greedy, raking right-footed effort down the touchline which allowed Scarlets to counter-attack in Munster's half, the same mistake that JJ Hanrahan made at the start of the second half.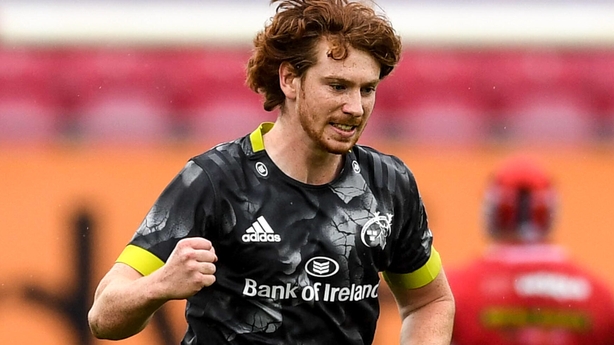 In saying that, Healy showed up when it mattered. He kicked his side to victory, the most important aspect of an out-half's game and as a result not too many people, including his team-mates, will remember the errors when he first came on to the pitch.
It's up to his coaches to manage the expectation from here and put him in the best situation to push on. Of course, the slow approach isn't always the best one. Sometimes a player just needs some backing and to be thrown straight back into the deep end to confirm just how well they can swim.
It's probably time to see what Healy will offer Munster in the absence of Joey Carbery. Surely, the coaches will have to afford him a start next time out to give him the chance to prove himself again.
I've seen Healy in the AIL. He's an unbelievably talented kicker, off both feet. I was watching him warm up against Cork Con in the Munster Senior Cup final a few years back to see what he was about. Initially I assumed he was left-footed because he kicked a perfect spiral off his left. He confused me as he turned and did the exact same off his right. You don't see that too often!
The likes of Craig Casey, James Hume and Ronan Kelleher are good examples of players that just take it in their stride. Who says that Healy won't be another one of them?
Leinster have been the standard bearer when it comes to playing their younger talent. Ulster and Connacht have smaller squads compared to both Munster and Leinster and at times are forced into playing a lot of academy players due to injury and Six Nations selections.
However, Munster have quite a big squad so they still have a bit of experience to cover when their internationals are away at camp meaning younger players sometimes struggle to get a look in.
It's up to Van Graan to balance the squad and rotate game time as he sees fit but with the first win under their belt and a home game coming next, albeit against recent finalists Edinburgh, I'm sure he can make a few tough calls in a handful of positions.