The likely addition of four elite South African sides to the Guinness Pro14 has moved the possibility of the Springboks joining an expanded Six Nations closer, according to two former internationals.
South Africa Rugby yesterday announced that it will "accelerate preliminary conversations" with Pro14 organisers to get its four erstwhile Super Rugby teams – Bulls, Lions, Sharks and Stormers into the northern hemisphere competition, which has been won for the last three years running by Leinster.
Reports emerged last February that the world champions were exploring the possibility of joining the Six Nations from 2024.
New Zealand's Rugby Union has decided that its Super Rugby teams will play on a reduced schedule, most likely against sides from Australia and that has prompted SA Rugby to look north.
It's a move that opens up the vista of South Africa departing the Rugby Championship, which also includes New Zealand, Australia and Argentina, sooner rather than later.
"It's down the line but I'm sure it becomes more obvious with their players being aligned to our season," former Ireland forward Bernard Jackman told RTÉ Sport.
"For the moment they are still in a Rugby Championship but if all their players are in Europe and that becomes a success then it's obviously much more interesting and easier to align the international side.
"You'd have the world champions, potentially, coming into the Six Nations. It's something that would be more likely than less likely.
"That could be a great boost for the Six Nations."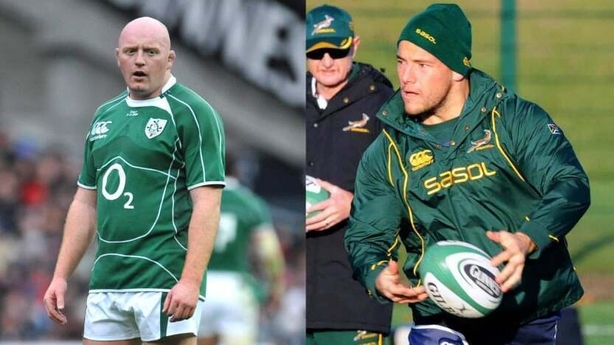 It's a switch that 2007 World Cup winner BJ Botha also believes is in the pipeline. 
"I don't know what's going to happen with the Rugby Championship," the former Munster and Ulster prop told RTÉ 2fm's Game On. 
"We've had a couple of hiccups there, New Zealand not agreeing and [then they're] looking at player welfare.
"It's heading that way and I think as a player, the timeline makes sense.
"From a TV rights perspective, a lot of our games in Super Rugby were played very early in the morning.
"Who knows where it might go but I would feel that it's heading that way and it can only be better for the game."
Listen to the RTÉ Rugby podcast on Apple Podcasts, Soundcloud, Spotify or wherever you get your podcasts.