Former Ireland rugby captain Fiona Steed says she cannot see the Irish women's game going fully professional in the near future in the current financial climate.
Speaking on the RTÉ Rugby Podcast, Steed explained that funding issues would prevent such an eventuality from occurring anytime soon.
All this week the RTÉ Sport podcasts are focussing on the future of women's sport in Ireland. You can listen to the RTÉ Soccer podcast right now and the RTÉ GAA podcast on Thursday.
"I don't see us ever going fully professional here, I just don't see it happening," said Steed.
"Right now, if you look at how we are, the financial crisis of sport in general and rugby in particular as mentioned a couple of weeks ago when [IRFU CEO] Philip Browne was discussing with the Dáil Covid committee and the impact of Covid on sport, I don't think the funds will be there and I think the women's game, we have to be able to sell ourselves too in terms of it's a game that you want to play and is worth watching and that we sell out grounds.
"At the moment we can't sell out grounds to build our fanbase. I think the women's team in recent years have done an absolutely fantastic job of that. I was in Ashbourne for the heady days of beating England and France and all of that and it's grown and grown.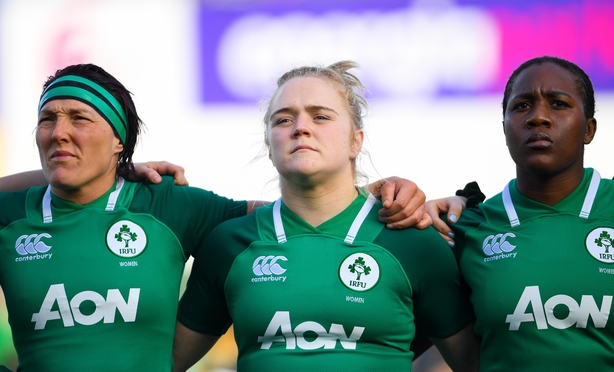 "But we need to keep at that so we are able to fulfill our own prophecy in terms of the whole 20x20 thing [which] is, 'how many people will go to see a women's match over a men's match?' Who can put their hands up and say, 'Well, I went to support a women's match rather than watching the men's match on telly.'"
Also speaking on the RTÉ Rugby Podcast, current Ireland international Cliodhna Moloney emphasised the importance of continuously highlighting the push for equality for the benefit of future generations.
"I've said before and I do understand how bad it was before and I always will acknowledge that," she said.
"I do understand how much we've moved on but I think if we keep looking back, we can never move forward.
"So it is my job to say, 'No, that's not good enough'. It is my job to demand more and more. It is my job to want more and drive forward because if I don't do that, my daughter, if I have one, or my nieces, they won't have it.
"It's also my job not to say to them in a couple of years' time when they are giving out about not having enough money if they are full-time athletes that 'you're lucky to have anything at all because I didn't'.
"It should be, 'Absolutely, you should get more money and keep driving for more'. Why wouldn't you? Because that would be the attitude that drives our game forward from everybody, not just from those who participate."
Listen to the RTÉ Rugby podcast on Apple Podcasts, Soundcloud, Spotify or wherever you get your podcasts.