The Anglo-Saxon theme is set to continue in the Champions Cup in three weeks when Exeter will face off against Parisian powerhouse Racing 92.
There will be a sense of déjà vu for both sides. If you were to summarise their respective semi-final opponents, both teams will feel like they're saying a lot of the same things in their preview for the final showdown.
Both Toulouse and Racing 92 are powerful yet unpredictable in how they play the game. Exeter took some time to get to grips with the Toulouse style but will now be more equipped to handle Racing, who can also strike in the blink of an eye - although they are somewhat more structured than Toulouse.
Exeter and Saracens approach the game similarly in terms of attacking style. Saracens are more abrasive and confrontational in their forward pack and they controlled the game for long periods against Racing, particularly in the third quarter, where Exeter did most of the damage against Toulouse as well.
Exeter started pretty poorly against Toulouse and couldn't get a handle on their own set-piece. The home side had a crooked throw and a knock on in two of their first three set-pieces. 
The third one was a poor delivery from the lineout, which gave the team scrappy ball to play with and a poor platform to launch their attack.
Out of three possessions for Toulouse, Exeter gave away a kickable penalty and a free kick at the scrum, which gave the visitors easy outs and, eventually, a 6-0 lead in a semi-final.
Toulouse were in a dangerous run of form at this stage but to Exeter's credit they started to turn things around.  Surviving another attacking onslaught around the 18-minute mark was crucial to this and they managed to get their hands on the ball. Delivering at their own set piece was vital here.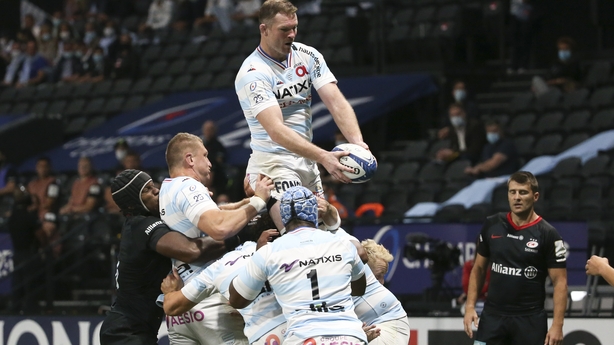 Racing exchanged penalties with the dominant Saracens scrum that we saw demolish Leinster. Both sides earned penalties and Racing were able to compete at scrum time where Saracens like to launch their attack.
Between this scrum parity, with a huge scrummaging pack and Donnacha Ryan's lineout ability, Exeter will need to improve their set piece massively if they are to go on to taste the European victory that so many think they deserve.
Their set-piece frailty made them look like a team that was just surviving in the first half against the French flair of Toulouse. That flair will be evident when they face Racing 92 as well, except it will be guided by a Scotsman with an Irish man at full-back egging him on.
Racing didn't exactly find their flow for large periods of the game against Saracens. They started well and were in control of the game but, in typical championship style, Saracens turned the screw a bit after half time to pull away in what was a predictably tight affair at La Défense Arena.
It took a trademark Finn Russell chip ahead, gathered by the monumental Virimi Vakatawa to steal the game late on for Racing.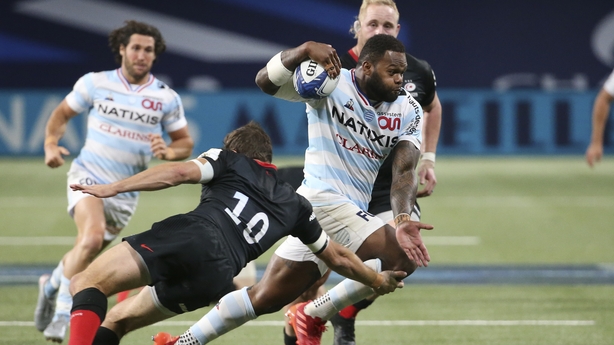 If Exeter are going to control the unpredictable attacking prowess of Russell and co they will need to hold on to the ball for longer periods than they did at times in their semi-final last weekend.
However, once they do secure possession Exeter are more capable than anyone of challenging teams at the tackle line and forcing defenders into all sorts of uncertainty with their decision making.
Exeter are known for their accurate lines of running and their detailed set piece strikes. Funnily enough it's another Scottish international that provides the pace and excitement that will cause Racing a lot of bother too.
Stuart Hogg broke down the Toulouse defence in the second half, which earned them the territory to stay out of reach of Toulouse.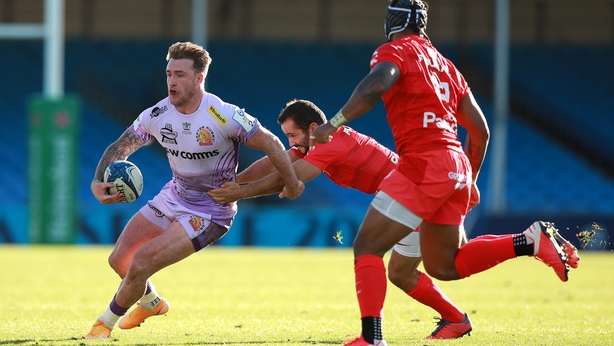 It took until the second half for Exeter to be really comfortable facing the Toulouse line speed. When Rob Baxter's team are going well they play right at the gain line, with live decisions on front and back-door options that are run with an accuracy and timing that would cause the best teams problems.
Once they got to grips with the Toulouse defensive tactics, Exeter played their way more and more into the game. That's vital for them going forward because Racing play with a similar line speed but possibly more line integrity, so they will be harder to break down.
Racing also played right to the end and snatched victory with a try at around the 75-minute mark. Exeter will have experienced this, with Toulouse having scored at a very similar time last weekend. The French can strike at any time of the game.
They fired another shot before this but Exeter managed to scramble and turn the ball over before Toulouse could make it count on the scoreboard. That too shows that Exeter are willing to go toe to toe until the final seconds.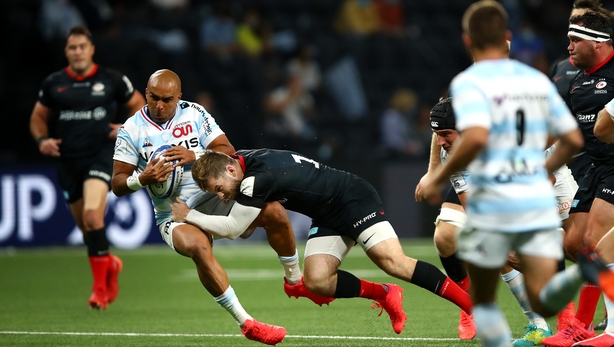 Exeter soaked up the first quarter of the game being dragged from side to side by Toulouse and still managed to kick on in the third and fourth quarters of the game. This bodes well for them going into the final.
From a Racing point of view, they will feel more ready for Exeter having played against Saracens' attack and offloading game, which we saw snippets of. They were a real match for the power of the Saracens pack, which levelled the playing field compared to Saracens' previous challengers, but they still struggled at times with the lines of running that Saracens have become known for.
Exeter are just as good as Saracens in this area, if not better. They'll need to be much better and from early in the game.
My fear for Exeter is that they haven't yet been to this stage of the competition. History has shown that some teams, including Munster and Saracens, have lost a final before they managed to get their hands on silverware.
Exeter might take the Leinster and Toulon route of winning their first final but Racing have been defeated twice in the Champions Cup final. 2020 could be their year.