Munster have been stuck in a semi-final purgatory in the last couple of years and it's set to continue for another year.
Leinster vs Munster on Friday night was a poor quality game served up in tough conditions.
All the backlash on social media has been against Munster and how they were brutal but if you watch it again both sides weren't great. A semi-final stalemate in the national stadium contrasted by a frenetic North vs South game the following morning in New Zealand. It has really gotten under the skin of some rugby followers.
You cannot compare the rugby between Friday night and Saturday morning.
You don't want to go into a game in September completely dictated by the weather but if you try to play a lot of rugby in your own half with a slippery ball and the new focus on the laws at the ruck you will find yourself conceding scrums or penalties in your own half.
I can understand why Munster decided to exit from their own half the way they did. Box-kicking is a staple of the game because it transfers the pressure to the other team while also getting out of your own half.
The ball remains in the air for three to four seconds, which is a few seconds that you can use to organise your kick-chase and structure it so that there are no opportunities for the team catching the ball.
That is if they do catch the ball, something that Jordan Larmour couldn't do for Leinster in the same fixture two weeks ago.
It was no surprise to see Munster going for the box kick again to test Larmour, who passed the test from the third minute and didn't cough up possession for the entirety of the match.
It was helped by the focus that Leinster put on escorting the Munster chasers to create a wall between Larmour and the Munster challengers. They needed to protect him and they got their tactics right for the most part in this area.
What was frustrating was that it felt like it was Munster's only tactic. When they got into the opposition half they persisted with the box kick to put pressure on Leinster just outside their 22.
It's fine from a defensive perspective but I had hoped that they would bring more of an attacking edge to the game and not rely on kicking from an attacking point of view.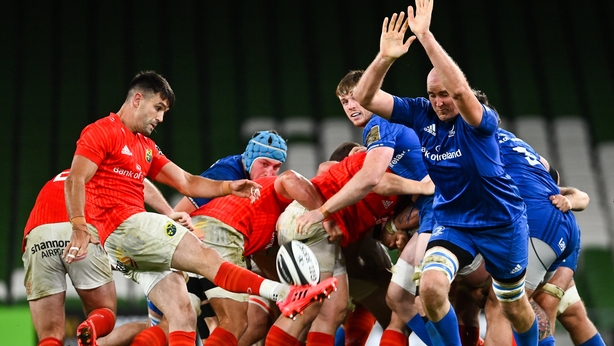 In saying that, Munster struggled to get any ball on the front foot. Damian De Allende's first carry was from a pass that stuck him slightly and it resulted in getting turned over by Johnny Sexton.
Munster didn't lack territory or opportunity but they did lack a clinical edge that would have put an underperforming Leinster side under pressure.
Whether it is the game plan that dictates where you are running or not, the facts are that Munster couldn't cross the gain line and made considerably less metres than Leinster. This is a huge factor when trying to play any form of rugby.
The ball was slow and the defence was set, there wasn't really anywhere to go. However, Munster should have known that they were up against it and should have tried something different to allow them to put the Leinster defence under more pressure.
It wasn't exactly the Irish rugby spectacle that most people had hoped for. Munster missed six points from the tee and had another very kickable penalty scratched off for taking James Lowe out in the air.
Leinster also had a questionable try from a maul and had a couple of penalties that clearly fooled the referee by holding the Munster player on the wrong side.
Larmour caught JJ Hanrahan for one of the first penalties of the match and Lowe caught Peter O' Mahony in the second half. All the while, Leinster took their other two opportunities with kicks at goal.
They were just much more efficient with the opportunities that they got which was enough to get them to yet another final.
The part that frustrated me most was that Munster faded out of the game. I understand that it was a semi-final and discipline was paramount but you have to try to turn the fixture around.
Munster players didn't get under the Leinster skin and played out the end of the game with very little answers. There were opportunities missed at goal that you can't argue with but there simply weren't enough opportunities created to win a game against a Leinster side of this calibre.
Leinster are the form side and are still unbeaten. You have to bring something to the game to upset them. Munster tried to do that with a kicking game that didn't upset them all that much.
There was a little return from it and it worked to exit from their own half but after that you'd like to see a bit in ingenuity, even if the weather conditions are tough to handle.
I thought Ulster were going to play out the same type of game on Saturday night. Edinburgh started very well and in full control.
They used their possession cleverly with a physicality that hurt Ulster and then when they got the ball into their backs hands they didn't eat up ground on the inside.
Two passes away from the tackle line meant that they could get the ball to the width outside Ulster's narrow defence and Duhan Van Der Merve was doing all the damage expected of him.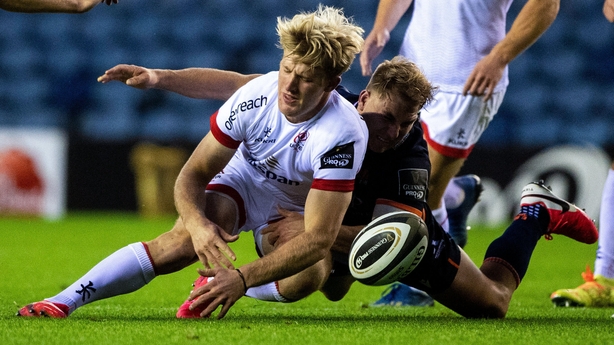 Ulster had more than enough possession but couldn't convert their opportunities. However, in the second half they came out to play a bit more.
They moved the ball wider, which moved the physical Edinburgh pack, and they managed to get some purchase after some fine handling from their back line.
Getting the ball to a wider channel meant Marcell Coetzee had more space to run into, in turn leading to an offload after getting his hands through the tackle and resulted in a Rob Lyttle try.
It also earned them territory through penalties, which they converted through two mauls into tries, and then up stepped Ian Madigan to seal their spot in the final.
Ulster took their chances from the kicking tee whereas Munster didn't but the most impressive thing was that in the second half Ulster took a different approach and it really worked for them.
They earned their place in the Guinness Pro14 final after two and a half game of under-performing.
Leinster will be a completely different threat to Edinburgh but going away to Edinburgh and winning in a semi-final will give Ulster some much needed confidence and so too should their approach in the second half.
Ulster have the ability to play very effective rugby when they get the pace up. They will have to challenge Leinster's comfort zone more than what Munster did on Friday night.
However, for anyone saying you should ban the box kick, it was a box kick that gave Ulster the platform to earn their final penalty that gave Ian Madigan the chance to win the game.
Ulster exited from their own half because the game was level and giving away a penalty in the ruck could have reversed the result.
Except, in this version of events, Jacob Stockdale won the ball in the air while flirting with the touch line and Ulster were able to continue their attack from a more comfortable position, further away from their own posts.
The Ulster bench made a serious impact, which gives Dan McFarland a headache going into the final on Saturday, but momentum is on their side and they will fancy themselves to have a go off Leinster this time round.