Saracens look likely to be without star man Owen Farrell for their Heineken Champions Cup quarter-final with Leinster after the England out-half was sent off against Wasps today.
Leo Cullen's side host the reigning European champions on 19 September at the Aviva Stadium in Dublin.
Farrell saw red after an hour of the Gallagher Premiership game at Allianz Park today following a high tackle on Wasps' Charlie Atkinson, the academy back having to replaced following the heavy collision.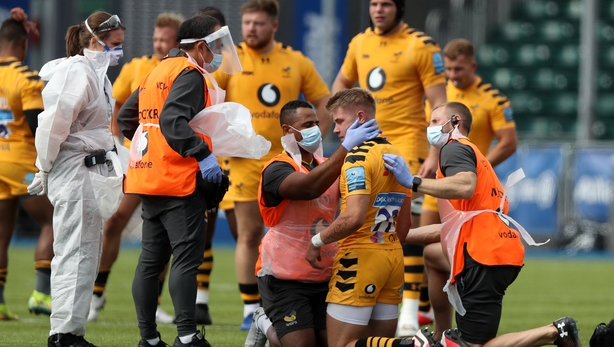 Referee Christophe Ridley immediately sent off the England captain, who acknowledged his mistake on the field.
RFU regulations state that "any act of foul play which results in contact with the head shall result in at least a mid-range sanction", which is a six-week minimum ban, and would rule Farrell out of contention to face Leinster.
The 28-year-old has won five Premiership titles and three Champions Cups with Sarries.
Saracens will be relegated from the top tier in English rugby at the end of the season following a points deduction for salary cap breaches.
However, they had retained a number of top players and qualified for the Champions Cup quarter-finals as eighth seeds.
Former Leinster player Jimmy Goperth kicked 23 points as Wasps ran out 28-18 winners.
Swinging arm red card for Owen Farrell today and inevitable ban coming his way. Big impact in @leinsterrugby v @Saracens @ChampionsCup 1/4 Final.

— Brian O'Driscoll (@BrianODriscoll) September 5, 2020
"I watched it live but have not watched it on the video. He was chasing his own kick and was desperate to make a tackle and clearly got it wrong and he got his red card," said Saracens director of rugby Mark McCall.
"It is what it is. He could easily have been out of the Leinster came for another reason - injury or whatever.
"He missed the last quarter-final of the Champions Cup because his wife was having their first child.
"We have got plenty of good backs at the club so we will just rearrange our back line a little bit and get on with it.
"He works really hard on all parts of his game and he has improved in that area.
"Today's incident was a little bit different because he was chasing a kick and trying to make a difference to his team. We hope the player he hit is okay."
Wasps head coach Lee Blacket said: "Charlie is up and talking," said "You know Owen, he is physical but he didn't mean it.
"You could see instantly afterwards and unfortunately Owen got that one wrong.
"We know Owen is not that type of player - he plays on the edge but genuinely never goes over that edge. He got that slightly wrong.