It's been a long road back for Dan Leavy.
There's been a Champions Cup final defeat for Leinster, a miserable Six Nations, a miserable World Cup and Covid-19 hiatus since the flanker hit the deck at Lansdowne Road over a year and a half ago. 
All the time Leavy has been looking on from the outside, working hard on his return to fitness after a horrific knee injury suffered at a ruck against Ulster in the Champions Cup quarter-final in March 2019.
It was reported the following month that Leavy had ruptured his anterior, posterior and both sides of his knee ligament. In addition, he tore his hamstring off the bone, tore his calf and broke a fibula. 
Following surgeries, described by the Ireland international as "both pretty complex," he was in good enough humour to laugh at it in the form of an Instagram post where, beside a picture of an artificially aged Leavy, he wrote "I remember back when I used to have an ACL".
We need your consent to load this Instagram contentWe use Instagram to manage extra content that can set cookies on your device and collect data about your activity. Please review their details and accept them to load the content.Manage Preferences
That was over a year ago.
And now the 26-year-old is firmly in the running to set foot back on the same turf he departed on a medical cart as he was brought to the treatment room in the Aviva. 
Leinster's Monday bulletin said he "will be further assessed this week before a final decision is made on his involvement for the Aviva Stadium showdown".
Munster, of course, provide the Guinness Pro14 semi-final opposition.
Professional athletes often talk about being one injury away from losing their careers. This easily could have been it for Leavy.
That it's not is a testament to his fortitude.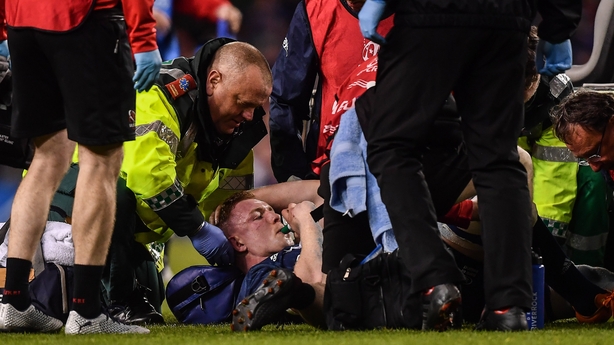 "It's remarkable really when you consider the complexity of the injury and the number of different operations he had to have, almost in sequential order in order to get back," Leinster senior coach Stuart Lancaster told RTÉ Sport.
"Credit goes to everyone from the surgeons and the way they did those [operations] to the medical team here at Leinster.
"How diligent they were in Dan's recovery from each operation that allowed him to make progress to the next stage.
"Obviously [credit] to Dan himself, the diligence that he has shown to make sure he has come back.
"It's phenomenal really.
"You look [to see] is he limping, is he struggling after training sessions, is he less agile, is he slower? 
"I see none of those things. He looks like the player that was there before he received the injury, which is incredible really. It's great to have him back, it's just reining him in now."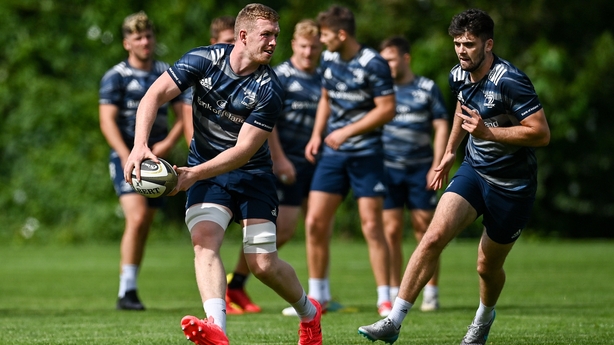 That's a picture that one of Leavy's rivals for a back row spot also paints. 
"He brings a good buzz to training," says Leinster number eight Caolan Doris, who won two Ireland caps earlier this year. 
"And he's pretty vocal in meetings and on the pitch so he's a good personality to have around and he brings a lot of energy 
"He's delighted to be back and it's great to have him, a bit of competition in the back row." 
Lancaster was eager to point out that the intensity and quality of players at Leinster training provides an ideal place for Leavy to test that knee but admits that the final step on his road to recovery is psychological and can only be taken once he crosses the whitewash, be it Friday night or in the next few weeks.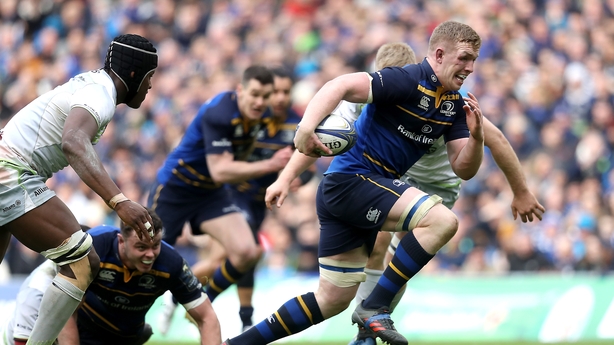 "Obviously there is [a mental step] but training is pretty competitive at Leinster," says Lancaster. 
"It's live maul, breakdown-wise and tackle contact, you tend to do those sessions at the start of the week and he's been involved last Tuesday and [yesterday] was reasonably competitive because obviously a lot of the lads didn't play at the weekend.
"From what I'm seeing he's not suffering any mental challenges.
"In some ways the game is...not easier but you just get on with it.
"When you are in a training session maybe you are a bit more tentative but he didn't seem like that today." 
Lancaster threw out a host of other names when asked how close Leavy was to a return.
That is the wont of coaches and there is no doubt that those listed by the former England boss, among them Doris, Ryan Baird, Josh Murphy, Max Deegan, Will Connors, Scott Penny, are excellent prospects with big futures ahead of them.
But a fully fit Leavy, a mainstay of Ireland's stellar 2018 Six Nations success, is on another level.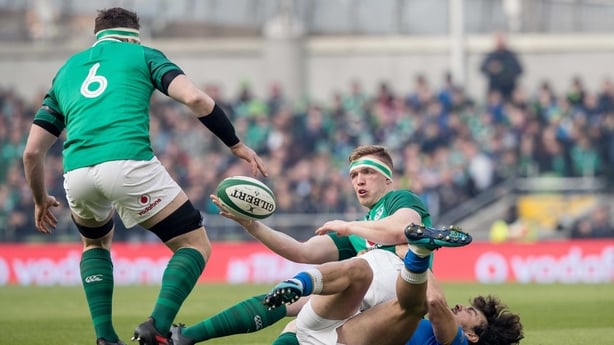 He brought a dynamic prowess to the Leinster and Ireland back rows that hasn't been replaced during his absence. 
"The challenge for Dan is that he gets back up to speed with the intensity of Leinster's training, which will enable him to put his hand up for selection," he said. 
"Last week he completed his first full week of training and I thought it was excellent.
"You could certainly see the old Dan Leavy. We've just finished today and again, very competitive in today's training session.
"Other than playing the game, he's done everything he can to force our hand.
"Whether he makes the step this week or the next few weeks, that's to be decided. He'll definitely figure for us in the near future." 
Leinster also revealed that Tadhg Furlong and James Ryan are also in the running for cameos on Friday night and while there will be no crowd to welcome the flanker back, if selected, you can expect the Leinster players to reserve their biggest cheer for Leavy.