Were we not in the midst of a global pandemic, Leinster v Munster, which was originally scheduled for 18 April, would have likely drawn close to a full house to the Aviva.
But this evening's Guinness Pro14 game, which marks the return of professional rugby on the island following the enforced hiatus, will be played in front of a grand total of zero fans in a stadium fit for 51,000.
Even before last Tuesday's diktat that banned all supporters from attending games there wouldn't have been much change out of 200.
That being the number that Government had decided can gather for outdoors events. As we all know by now, that includes players, management, officials, media and stadium staff.
I know I'm keen, but after temperature check etc I'm ready for ?@leinsterrugby? v ?@Munsterrugby? live ?@RTERadio1? from 730pm ?@PRO14Official? ???? ?@SatSportRTE? ?@RTEsport? pic.twitter.com/L5IP61Hn7f

— Michael Corcoran (@MichaelC_RTE) August 22, 2020
It's going to be quite a change for the professionals from the four provinces that run out at the Dublin 4 arena this weekend.
The Irish international players involved during tonight's derby (7.35pm) and tomorrow's Connacht v Ulster clash (4.30pm) were last in action in front of 81,476 at Twickenham, most of those fans revelling in Ireland's misery as England bullied their way to a comprehensive win at the end of February.
But all has changed and after the fireworks and the over-enthusiastic stadium announcer's job is done the players will hear Andrew Brace's whistle and the next sound will be the first crunching tackle on the first ball-carrier.
Eir Sport, who are showing the game live, will be providing the sound-effects with recorded crowd noises for TV viewers, but on the field it's just the raw collision soundtrack.
And that's something that former Leinster hooker Bryan Byrne got a taste of last weekend when Bristol Bears dug out a hard-fought 16-12 win over Saracens at Ashton Gate when Premiership rugby got under way again.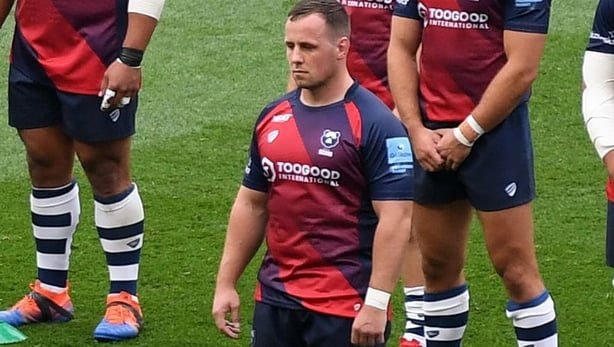 "It was definitely different," Byrne, who has played against Munster for Leinster at the Aviva, tells RTÉ Sport.
"We'd all love to have supporters in there to build an atmosphere, especially at home it makes a huge difference.
"But after about five or ten minutes, you are just getting into it, you are not worried about the empty stadium.
"In a normal game with a crowd there you are trying to block out distractions, like after a try when the crowd is there you really buzz off that but when you are setting up for line-outs or scrums, you are just going through your process.
"We spoke in advance about creating our own energy on the pitch and celebrating the small wins would be important because we needed to get energy from the group that was playing.
"We knew we weren't going to get the energy from the crowd so you wanted to make sure you were celebrating the small wins, like winning a penalty."
Leinster and Ulster have been training at their respective home venues, RDS and the Kinsgpan, and Byrne revealed that Bristol Bears, under former Connacht coach Pat Lam, went through full match-day procedure in advance.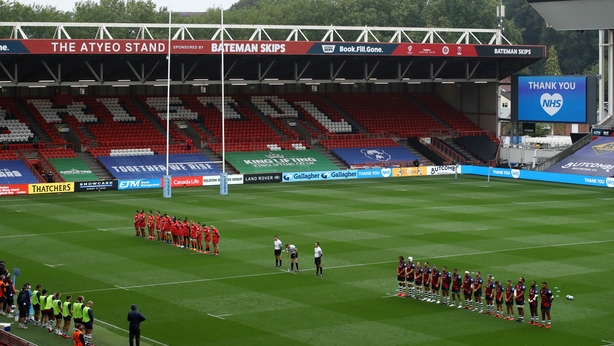 "The week before we had an internal game on the Thursday. It was just 40 minutes but we treated it like a proper game," said the 26-year-old.
"We got to the ground, had food there, walked through the moves, had a meeting, went down to Ashton Gate and treated it like a proper match. There was a referee, we went through all the protocols that we would have for the game and that set us up well.
"We waited around in the dressing room beforehand. It wasn't like a training session, where you just kind of tog out and go out.
"We used the new protocols, like the ref talking to the front row out on the pitch as opposed to the dressing room. Little things like that so we weren't second guessing anything on the match day."
It certainly worked out for Byrne, who was briefly on loan with Bristol before the shutdown, as he got to notch a win against the European champions on his belt, having left Leinster after six years and 47 appearances to get some more regular game-time.
"It was a great win," he said. "It was great to get back and really enjoyable and very nice to beat Saracens first up."
#BenchCam is BACK ??#BRIvSAR pic.twitter.com/6qaNeLSAEn

— Bristol Bears (@BristolBears) August 15, 2020
Asked what advice he would have for his former team-mates, among them brother Ed, Byrne, who played 46 minutes against Sarries, said: "It will be different and especially when it's echoing around the Aviva.
"It's about sticking to the process, that's huge. If you get a penalty make sure you enjoy it, then it's 'next job' mentality."
"When I came off it was different - you can actually hear everything that's being said and you can hear all the subs and the management shouting in and you normally wouldn't hear that at all.
"The last five or ten minutes was very intense. You would normally have the crowd going absolutely mental. It was so different to hear everything that was happening, people shouting on instructions.
"But when you are out there, you are just thinking 'process', then move on to what's in front of you."
Speaking on 2fm's Game On, former Leinster and Ireland centre Gordon D'Arcy echoed Byrne's sentiments about players generating their own atmosphere, citing previous examples where games seemingly turned on big moments as teams got spurred on by passionate supporters.
"In the games where you have a crowd, they can help swing the momentum back, like a big tackle or a really well-earned penalty steal at the breakdown and the crowd almost changes a small moment into something bigger than it should be," he said.
"You might see that over the top celebration from the players, trying to get in and create that little bit of atmosphere in around there.
"They should celebrate every win, whether it's a scrum, a penalty, a successful line-out, all those little things that you just try and ebb away at the opposition's confidence.
"We might get an interesting insight there with the microphones around the pitch what people say to each other in rugby games."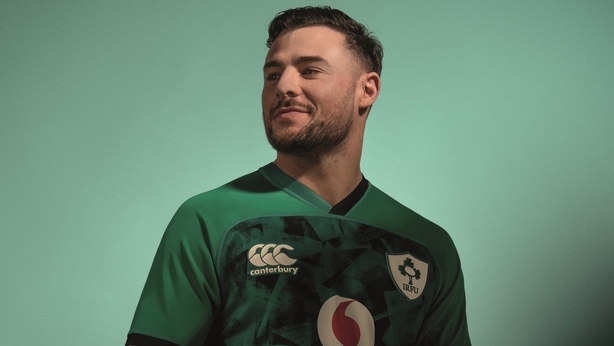 Ireland centre Robbie Henshaw is among the front-line players named in a strong Leinster side for the cross-conference clash.
Naturally enough the former Connacht man is keen to get back into the swing of things, after such a prolonged lay-off. He knows it's going to be different.
"Last time I played in an empty stadium? I'd say back with Buccaneers, down in Athlone, playing with the Under-20s," the 27-year-old told RTÉ Sport.
"It's going to be a challenge. We've all been talking about it.
"For us it's about getting mentally ready and repping it in training, getting to match intensity in training. We've been training in an empty stadium so it's about trying to create that atmosphere. We'll be ready to go."
Follow Leinster v Munster (7.35pm, Saturday) and Connacht v Ulster (4.30pm, Sunday) via our live blogs on RTÉ.ie/sport and the News Now app, or listen to live commentary on RTÉ Radio 1