When 2020 rolled around, Linda Djougang had two major targets in mind.
On the field, it was all about helping Ireland achieve a positive Six Nations and build momentum into the World Cup qualification phase.
Away from rugby, the tighthead prop was beginning a placement at Tallaght Hospital as a nurse.
Needless to say, a lot has changed since then on both fronts.
As her front row role for Ireland was paused with two Six Nations games left, Djougang found herself on the frontlines from the start of the Covid-19 pandemic back in March.
"It changed dramatically for me. I was in the middle of the Six Nations, I was still working and playing as I do," she tells RTÉ Sport.
"Just to stop that and work in the pandemic ward, that was completely different.
"But I think we worked really well. In Tallaght, where I work, we really do have to come together and I think we did that pretty well and have continued to do it. It was teamwork."
Due to the protocols in place, nurses have had to adjust the amount of time and the way they take care of patients.
"It's really sad because that's what we've been taught to do, to really be there for the patient," says Djougang.
"It was really hard on families not being able to come into the hospitals to spend time with their loved ones, so we had to play that part for the patients.
"We have to be everything for them at that time and still continue to do. That alone brought us closer to the patients so we had to adapt another skill."
While teamwork is something she is very much used to as a sportsperson, it was sport itself and keeping active that helped alleviate any stresses that came with her work as a nurse during this challenging time.
She says: "I was really lucky that I had the amazing opportunity that Trinity [College] gave me some gym equipment, so I did benefit from being able to do some exercise at home when I'm not working, to be able to switch off and concentrate and not constantly think about work. I think that was very important at that time."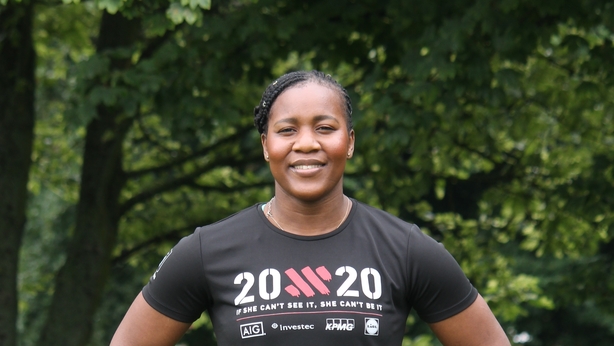 The advent of training together via Zoom meant connections within the Ireland squad could be maintained and allowed for even more video analysis than can normally be engineered.
"It was important as a team that we really stayed together. The things that we couldn't do on the pitch, we managed to do it via Zoom and video analysis," says Djougang.
"We really connected and we stayed in touch and that's important because we're going back to the Six Nations, so we're ready and haven't lost anything but we have gained a lot of things and gained a lot of rugby knowledge - things that we didn't feel we had the time back then to do.
"We couldn't really do strength work but we were able to do cardio and gym programmes adjusted to what we could do."
Ireland's remaining Six Nations games against Italy and France take place on the last two weekends of October respectively, followed by World Cup qualifying at the very end of the year. A busy period awaits for Djougang and her colleagues now.
And it will come off a period of progress when, a defeat away to Six Nations powerhouses England aside, Ireland enjoyed an upturn in results in the competition, earning home wins over Scotland and Wales.
Part of the emerging group of internationals - and just five years on from when she took up the sport for the first time - Djougang feels progress is being made collectively and also individually scored her first Six Nations try against Wales - not that she wants to take any credit for it.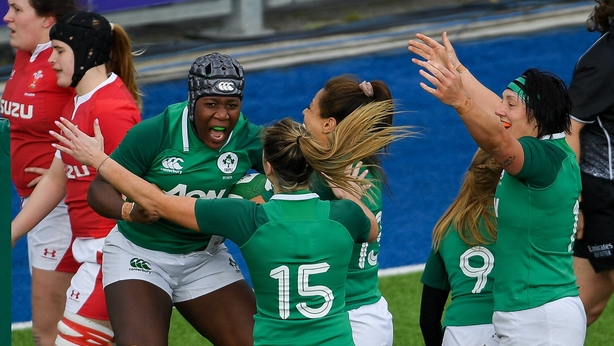 "It wasn't really my try. It was the try of the whole team," she says.
"Just when you look at that try, everybody put their hand on the ball, everybody worked together, so I just grounded the ball. It was the work of the whole team, so it's definitely not my try, it's the whole team's try. That's how I see it."
She also believes there is no reason why Ireland cannot pick up from where they started the competition when it resumes in two months time. And there is no resting on laurels after that with the qualifying for the next World Cup going ahead in December, including fixtures against Scotland and Italy.
"This year, before the World Cup qualification, hopefully I'll be qualified [as a nurse] and I'll be able to manage my time around it," says Djougang.
"But at the moment, it's not something I'm worrying about. We have a job to finish the Six Nations so we are focused on doing that and then we can think about the whole time management with work and rugby.
"Right now I'm just focusing on finishing the Six Nations on a high."
'No Proving. Just Moving.' is Chapter 4 of the 20x20 campaign, and is aimed at women of all ages and abilities. This unique campaign showcases the benefits of physical activity and highlights that being physically active is the biggest gift you can give yourself.