We are only a few days away from the eagerly anticipated return of Guinness Pro 14 rugby. Will it live up to the hype and expectation that is caused by a five-month absence?
Our expectations and the reality of what we should expect are going to be somewhat different in the first number of weeks if other competitions are anything to go by.
In our view, players will be keen and eager meaning that work rates will be through the roof and we should get some high octane passages of play with the summer weather and hard surfaces.
Players have had a chance to be fully fit, rid their bodies of any nasty niggles and they've been working on their fitness behind closed doors for the last number of months.
However, in reality it might be a good bit different. We have seen how rusty the players were coming back to Super Rugby in the middle of June. Handling errors were definitely increased and the timing of some passages of play were slightly out of kilter.
When we talk about skills, most people think of handling skills, offloads and kicking etc. A big area of a rugby players skillset is in contact area, tackles and in the breakdown. The players have had five months or so to hone in on their skills but a lot of this was spent on their own, not being able to pass a ball and even when they did get back to some skill work it was in smaller groups and without contact.
It has only been in the last couple of weeks that they could get back to proper live situations that you would see in a game so they haven't had all of that five months to practice rugby scenarios either.
That coupled with new law focuses means that there may be some rustiness in the contact area and quite some frustration for the viewers to endure for the first couple of weeks.
The emphasis on the attacking team coming in from side or going off feet at ruck time, while also rewarding quick poachers, is leading to confusion and some conservatism.
Premiership rugby was awfully stop start at the weekend because of the number of errors in the contact area and the referees interpretation of the game, possibly the most eager of all the participants on the pitch.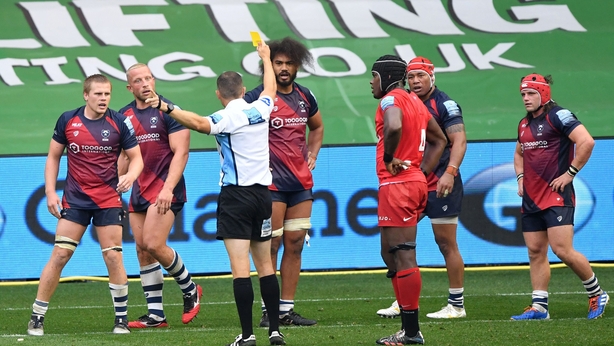 There was roughly 35 penalties given in the Saracens and Bristol game on Saturday. That's nearly too high for two games with teams of that quality! It didn't allow for any flow in the game and despite the close contest it wasn't much of a spectacle to watch.
Of course the referees aren't the only ones to blame for this. Players will have to manage the pace of the game again, which includes their reaction to rucks, poach opportunities, entry points to the contact area.
Rucks will happen a split second faster than what occurs in training and changing your line of support will have to be even faster than the last number of weeks. It's up to these teams to react and adapt to the new focuses.
Leicester shot themselves in the foot with their penalty count exceeding their points tally in the game. They conceded 14 penalties on the bounce at either side of half time. This is a criminal adjustment to the new law focuses.
The new laws surrounding poach opportunities and turnovers mean that players will have to be more accurate than ever before when getting their hands on the ball in a split second moment.
If they reach beyond the ball at all or don't hold their own body weight the referees have been given no choice but to blow for a penalty and make a mark early in the game.
As a result of these new law focuses you might see teams reluctant to play in their own half and rely on the kicking contest to get the ball back in the opposition half
Yeah, they are the best players in the country and have been trusted to make the best decisions with the most accuracy out of anyone but they are also up against the rest of the best in the country and when pressure is high and the pace is increased mistakes are bound to happen.
As a result of these new law focuses you might see teams reluctant to play in their own half and rely on the kicking contest to get the ball back in the opposition half. This is one area that made the Saracens tactics slightly boring for anybody looking on.
They kicked from their scrum-half a bit in their exit strategy, whereas Harlequins who were also up against a top Sale side, relied more on Marcus Smith to find space in the corners which is a kicking game that I can get behind a lot more.
They used a nice combination of crossfield kicks and a chip ahead to race 80 yards up the pitch where Mike Brown almost scored to finish a frenetic couple of phases but they came up just short. That style of kicking adds to the game a lot more than the slow, structured kicking from 9.
However, that is what those teams are trying to get out of the kicking strategy from their scrum-half. They want to slow the game down, organise their kick chase and pressure the opposition under the high ball in the hope that they can turn the ball over and attack more liberally in the opposition half.
From a coaching point of view I can't blame them at all. They are trying to win the territory battle without offering a counter-attacking opportunity but from a spectator's point of view, we want to see more counter attack and teams attacking into open spaces.
Restarting the league with local derbies and rivalries will add to the spectacle no doubt. We hope that the provinces in particular will be able to pick from a full selection but we already know some of that isn't possible already.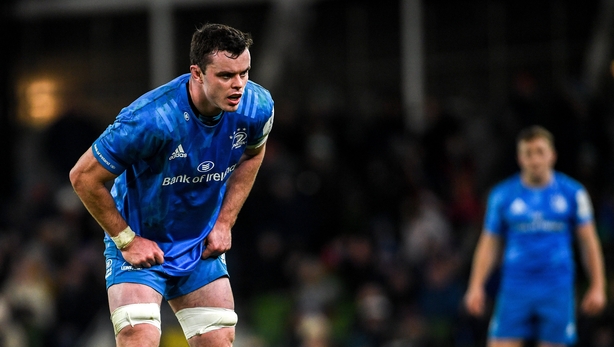 James Ryan (above) has had to go for surgery on his shoulder which is already a huge loss for Leinster. Fans are also keen to see the new signings run out for the first time but we don't know if the likes of Damian De Allende and RG Snyman are ready to go for Munster, two of the highest profile signings over the last few months.
Super Rugby improved rapidly as the weeks went on and players hit their stride early on. Referees also seemed to relax on the laws, which allowed the game to run more freely. We want them to be consistent and stick to their guns and not just forget about the adaptations completely but we do want to give the players a chance to get the pace up.
We will see more space open up with fatigue setting in if both referees and players can get their decisions right, which will make the spectacle more free flowing and enjoyable to watch.
Hopefully the Gallagher Premiership will improve on last week and the Pro 14 can learn from watching some of these sides struggle to adapt but sometimes these lessons aren't learned until players get to do it themselves.
There won't be much time for teams to feel their way into the game. The semi-finals are only a few weeks away. Whoever adapts quickest will have a good chance of going all the way in this competition.
It's only a short window of rugby so the pressure is on to show up and learn from mistakes in other leagues. The Pro 14 is back, finally!
Follow Leinster v Munster (7.35pm, Saturday) and Connacht v Ulster (4.30pm, Sunday) via our live blogs on RTÉ.ie/sport and the News Now app, or listen to live commentary on RTÉ Radio 1