Saturday week will see Leinster host old rivals Munster at an empty Aviva Stadium, a far cry from the normally raucous atmosphere served up by the two provinces.
"It's going to be really weird," says Jordan Larmour, but considering how fluid the Covid-19 landscape is, and how gloomy the prospect of the season resuming appeared just a couple of months ago, he will gladly take it.
With the beginning of the campaign coming on the back of the World Cup cycle, lockdown afforded the 23-year-old speed merchant the opportunity to let the body fully recover, the bumps and bruises given the time to heal outside of the rugby bubble.
A leaner Larmour has emerger courtesy of extra gym sessions squeezed in on top of the training programme, and one whose skills set has been sharpened.
During the downtime, a nearby field was used to work on his kicking, fielding and hand-eye coordination.
Memories of booting the ball into touch on the full against Wales in the Six Nations a timely reminder of where improvements can be achieved.
"My kicking skills need to get better," he admits.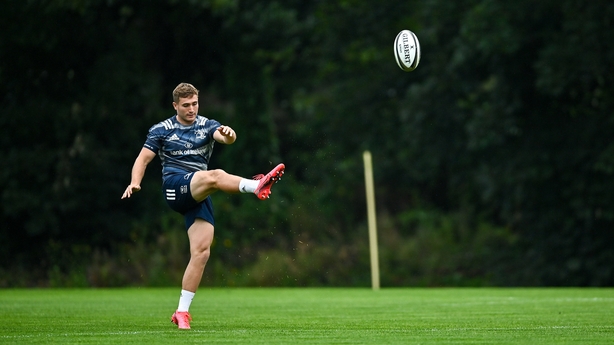 It's now more than two and a half years since Larmour burst onto the scene with a couple of outrageous individual tries.
The end of Joe Schmidt's reign – aside from the World Cup defeat to New Zealand – and the beginning of Andy Farrell's tenure have seen the versatile back very much in the starting XV - though curiously, his try scoring exploits have slowed down in a blue shirt at least, having not crossed the whitewash for Leinster since December 2018.
The pandemic halted Leinster's brilliant start to the season, unbeaten in Guinness Pro14 and Heineken Cup action, and all eyes will be on next Saturday's clash with Munster.
The behind-closed-doors scenario is familiar in other sports now, and Leinster have been put through their paces at the RDS to get a feel of what it will be like without a blue army in the stands.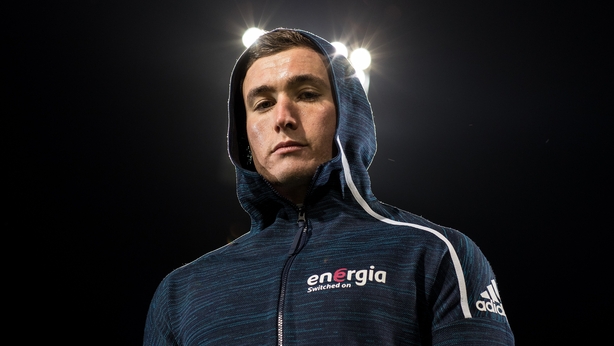 "The warm-up will be a bit weird, but as soon as we get into the game, I think both teams will get into their flow and just thinking about their job. I think everyone is excited to get back to playing rugby."
Larmour admits the fact it is their southern rivals that are first up will make things "spicy", and should ensure a quality spectacle.
The addition to the Munster ranks of World Cup winners Damien de Allende and RG Snyman should bolster the challenge posed by Johann van Graan's men, who are looking to adjust a poor record at the stadium against the hosts.
"They can probably bring a lot to the table, but we haven't really looked too much into that. We are focusing in on ourselves and what we are going to do, but obviously two quality players coming into their squad that will add a lot of value."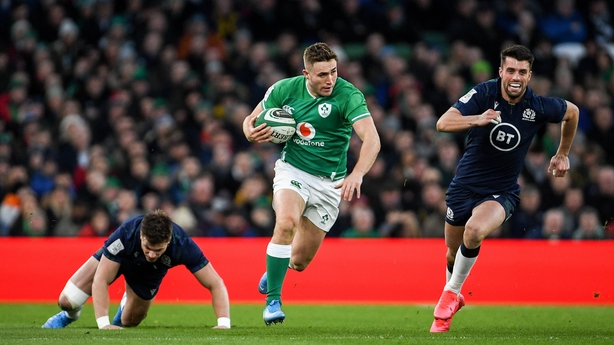 Looking further down the line, the Six Nations will come back into focus at an unusual time of the year with fixtures against Italy and France to be played in October with a title up for grabs, followed by the one-off Eight Nations tournament the following month.
One man who could come into the fold for the November fixtures in provincial team-mate James Lowe.
The 27-year-old is one of the last players who will become eligible for Test duties under the three-year residency rule, with World Rugby having changed the requirement to five years since the New Zealander's move to Dublin.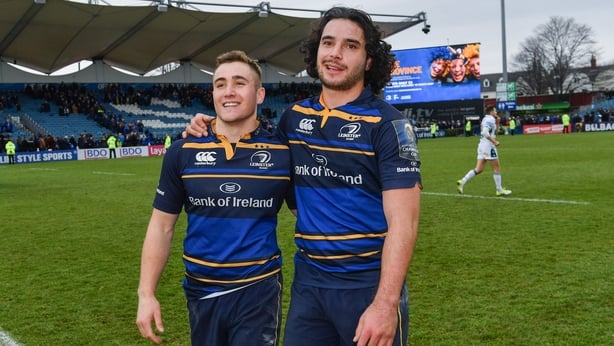 Larmour concedes he "didn't know much" about Lowe prior to his arrival on these shores, but has no doubt he could replicate his form in a green jersey if presented with the opportunity.
"He's had a huge impact in Leinster, both on and off the pitch. He's a big character. His rugby really does the talking and puts his best foot forward in every game.
"Even getting to learn off him and pick his brain on different things. He's been really good to work with. Any team he'd go to, he'd have a big impact on that team and how they are playing. It's exciting.
"We will wait and see what happens in the future."
It could be a timely boost for head coach Andy Farrell to introduce a genuine game-changer and line-breaker into a squad that has at times been accused of being strait-laced into set game plans.
Lowe has scored 28 tries in his three campaigns to date, and assisted many more in some electric performances on the wing.
While his presence would only add to the attacking options, Larmour rejects the idea that the national team has become too dependent on Johnny Sexton to provide the offensive answers.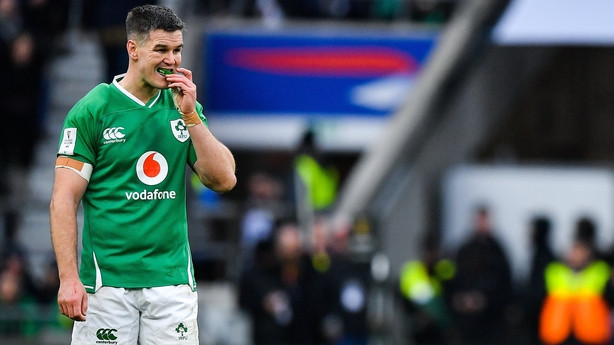 "Johnny is a class act and a class player," he says. "Sometimes it is on all of us as a backline to help out our 9s and 10s. I don't think that would be really fair to say. There are a lot of other things we can do better, but you learn that through games."
Like everywhere else, Covid-19 dominates the working environment.
Questionnaires for the players are a daily obligation before the temperature checks at training. Some players change in the cars, others use blocked off sections of the changing rooms.
The canteen experience means squad members are two metres apart, similar to the gym, while all equipment is cleaned down and sanitised after use.
Not that it is diluting the focus. The mantra of "only looking to the next game" is easier when interpro bragging rights are at stake.
"Everyone is rearing to go," he assures.
Players and fans alike.
Energia ambassador Jordan Larmour was speaking at the launch the first of a two-part social documentary giving insight into his rollercoaster season of rugby, available to watch here.