It was announced last week that the provinces had been given the green light to return to contact training following another clear round of tests for the coronavirus.
This was great news for players, staff and fans alike, but does everyone really want to return to contact training?
It's part of the game and one of those things that as a player you know you must front up to and get on with, but it is certainly situational.
In my experience, contact training as an out-half was one of the dreaded parts of the session - cue the jokes about 10s being afraid of a tackle!
I was comfortable with my tackle technique and my ability in the tackle area given my size, just not every week and not against guys that were much bigger than me.
The idea that contact training is allowed to resume means that rugby can return properly.
It's very hard to improve your rugby without playing rugby. It's like when younger athletes ask how they can become faster. You have to practice running faster.
---
Read more: Irish sport awaits decision on allowing crowds of up to 500
---
It's the same as trying to get fitter in a sport where you have to run but not being able to run because of an injury.
There's only so many bike, swimming and other conditioning sessions you can do but once you return to running you'll still be gasping for air.
The best way to get better at something is by doing that thing itself.
Therefore, to get better at rugby, you must play rugby in the situation that you're trying to improve.
Of course, you can break the game down into certain skills and components but eventually you can only see how good a team is or how effective a player really is when you put them in the live situation.
Forwards will be much happier that contact is back.
Not to disregard their speed or ability, but it levels the playing field when taking on other opponents in training.
Backs can step and dance around all day in non-contact training and the pace of the sessions is generally higher.
However, ask a back to run an inside line close to the ruck, back on the inside shoulders of the defence when the props are lined up and ready to drive you back several yards after a bone crunching collision. It certainly evens things up.
Forwards will also be keen to focus on what improves their game: scrummaging, mauling, tackle tech, breakdown skills etc.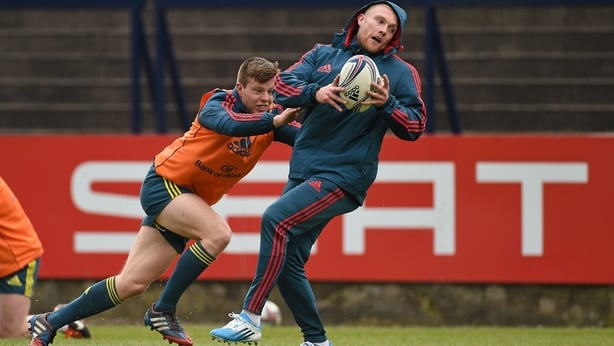 Not too many backs are keen on this side of the training drills but I suppose that's part of the game and they have to work on improving wide breakdown areas, contact skills and others.
Contact skills still don't account for as much of their game and they are generally smaller than the forwards, with the exceptions of some players like Peter Robb, Chris Farrell, Robbie Henshaw and crew.
Under different coaches the style of training is different. When Rob Penney was at Munster we did very little contact in training. It was a breath of fresh air.
Rob believed that if you fronted up in matches and the physicality is good at the weekend then you don't need to batter the bodies in the squad even more during the week.
Keep in mind that when a squad trains against each other you can end up with double the amount of casualties because more of your players are on the one pitch.
That all seemed like a good idea to me until I realised that I wasn't part of the team being selected at the weekend and what their physicality was like didn't reflect where mine was.
I had the worst defensive season of my career, at least subjectively, when I was going back to club level and not used to making tackles.
I feel like I missed more tackles in those seasons than any other.
It wouldn't really surprise you that your skills start to decline when you don't practice them. It makes total sense in hindsight.
As a result, I realised that I needed contact to be a part of the week to some degree, whether I liked it or not.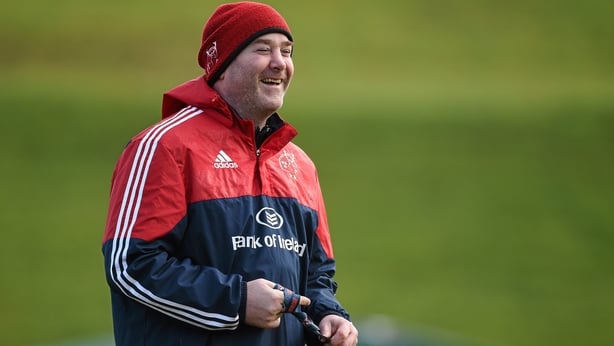 Under Anthony Foley (above) we had a controlled amount of contact but enough to show you where you were at.
Axel would do 10-minute breakdown drills that were ferociously competitive and you'd be thrown into a group with all different positions.
Obviously, the smaller backs would be looking around to get into a smaller sized group where they could give the nod of the gentleman's agreement and nobody would go too hard in the contact area.
Inevitably you'd get one lump of a second row that would spill over into your group and the agreement was over. You'd have to tackle the hip bones and hard edges of Donnacha Ryan instead.
Despite Axel's old-school, traditional style as a person, he was more progressive than that on the training pitch so it wasn't a case of 10x10 grids with 15 on 15.
He managed the contact area well to get enough stimulus to improve but not so much that you'd have contact-related injuries left, right and centre.
Rassie Erasmus came in with right-hand man Jacques Nienaber.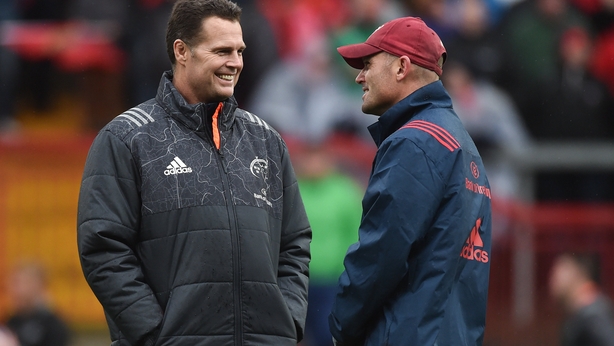 Jacques was the defence coach and was a big believer in the personal battle on the gain line.
You either won and crossed the advantage line or your opponent did, and you don't want to lose that one with Jacques on your side.
To instil that mindset he would have you do an 'attitude drill'.
Two rounds of four bag-hits as a lone man in the centre and you would have to drive each one outside the grid before you could move on to the next man.
Think of this 83kg (at best) out-half going up against the 120kg frame of Darren O'Shea (sorry Dazzler) or the 110kg attitude of Billy Holland.
They weren't going to let you drive them out because they felt sorry for you. This was their time to get you back for stepping around them in bigger spaces.
For me, contact was just one of those hard parts of training that you need to get done. You'll be better for it but it's tough.
The other side is that your body needs it. If you go into a game having done little contact you'll be sore for a long time afterwards, if you make it to the 80-minute mark!
Your body has to condition itself to taking hits. That's the biggest thing when becoming robust enough to play senior rugby as a younger player.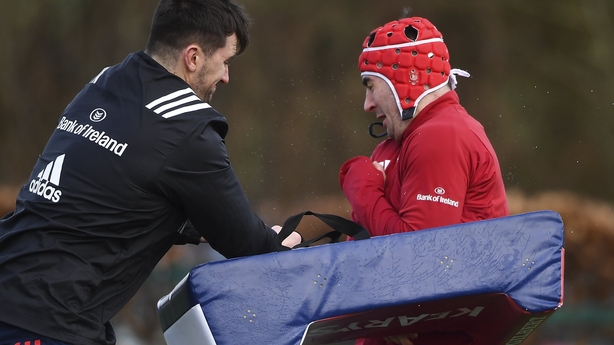 You will get shoulder bangs, knocks and bruises. You need to become conditioned to that level of physicality and intensity.
That is exactly what professional players will be going back to before they take centre stage at the Aviva towards the end of this month.
I wouldn't fancy being a prop and having to put my head back into a scrum; neck DOMS (delayed-onset muscle soreness) is imminent and the reality of the sport will be back with a bang.
That's part of the game, and we're glad to take another step forward on the return to play roadmap.