Munster CEO Ian Flanagan says the province is "actively investigating" the possibility of selling the naming rights to Thomond Park.
Flanagan acknowledged that the impact of the coronavirus pandemic on the overall business landscape made that prospect more challenging, but added that an exploration into the issue of naming rights to Munster's home stadium remains very much "on the table".
"It's undeniably going to be a tough commercial marketplace out there for the foreseeable future," he said.
"I don't think any company has been unaffected by this, but naming rights to Thomond Park is certainly one of the things on the table.
"It's one of the things we're exploring at the moment. We have a new head of commercial and marketing who has been in situ since the start of this year and yes, it's one of the things we're actively investigating. But there is nothing to report of significance in that space yet."
Flanagan added that Irish rugby, as a whole, is dealing with "significant financial challenges" across the board due to the current situation, but said that in his view, Munster are not "experiencing any financial pressure differently to the other provinces".
However, he admitted that Munster and other entities have been "overly reliant" on matchday revenues and that the province is aiming to diversify its income streams.
"We've identified clear areas where we hope to grow the commercial revenues and, more importantly, diversify the revenue streams of Munster," said Flanagan.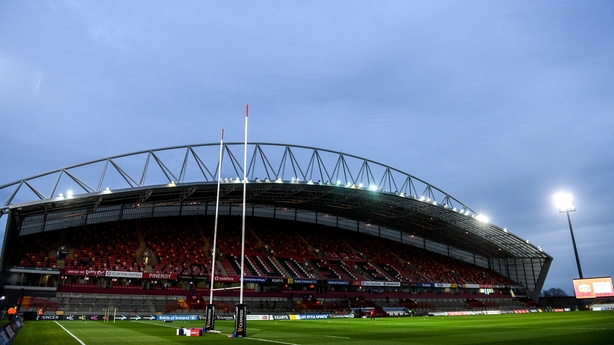 "I think we're overly reliant on matchday income and that probably is a common scenario at a number of other clubs.
"What this period has proven is that a reliance on matchday revenue in this time where you can't play games or get people in stadiums is extremely damaging to the revenues, and we have to as best we can find other ways of generating income and growing the revenue base."
He admitted that in light of the pandemic, some of the strategic plans set into place before that have been delayed, but with aims to "move on with them even in the midst of this".
In April, Munster prop James Cronin was banned for a period of one month for an "unintentional anti-doping violation" and Flanagan says he was satisfied by how the process was carried out.
"I think we carried out a very thorough process, as in EPCR carried out a thorough process and subsequently Munster Rugby and the IRFU carried out a review of our processes," he said.
"Then subsequently we had an additional review meeting with Sport Ireland, with John Treacy and with Dr Una May. I think we obviously feel we can always learn and improve.
"We've looked at additional safeguards that can be implemented. Ultimately, the responsibility will always fall on the player, so it's very much about reminding players about their own duties and responsibilities, in terms of taking any medications. So I think ultimately we're happy that the process reviewed the facts and that it was a comprehensive, thorough process."
On the pitch, the first set of competitive fixtures for Munster will come in late August as the Guinness Pro14 resumes in curtailed form and Flanagan welcomed the format.
"Obviously, we're ambitious and the chance of winning a trophy is a huge motivator for me and for Johann [van Graan] and for everyone at the club and we will do our best to put ourselves in a position to be successful," he said.
"It's a great motivator to come back and effectively have a shortened season with a chance of winning a trophy in September."