Former Munster out-half Tyler Bleyendaal says the reality of retirement hasn't yet fully hit home in the current lockdown.
The 30-year-old New Zealander was forced to retire in late May with a neck injury, the same problem which has plagued the Kiwi since he arrived in Limerick in 2014.
Bleyendaal, who played his last game for Munster against Ospreys in November, said he fought hard to recover from his latest injury but admitted that, in the end, it was something of a relief when the decision was taken out of his hands by the medical team.
"It's disappointing but I made the right decision once I had all the medical information," he told RTÉ 2fm's Game On.
"It's been a pretty tough period of adjustment. I'm not sure the reality has fully kicked in just yet because we're still pretty locked down and there's not much rugby I'm missing out on yet.
"But I'm excited to move on to the next part of my career I guess.
"There was plenty of internal discussions. Like I tried. I've already been through two neck injuries and I was adamant I was getting back. I had that attitude.
"I was successful in getting back and I made a really good go of it.
"I was trying my hardest to rehab this injury and get back this time as well. But once the extent of the injury came back and it was more serious than initially thought, long-term health and having a happy life with my family came to the forefront of discussion making."
"It'd be tough to call it with an inkling of hope. So, when the medical team get together, along with the specialists, and say it's probably not safe to continue, maybe there's a slight bit of relief there that the decision is not purely mine."
Though his signing was initially secured in May 2014, Bleyendaal was already afflicted with a neck injury when he arrived in Limerick and didn't play until April 2015.
He was dogged by injury during his first two years in the province, but he shone during the 2016-17 campaign, winning Munster's Player of the Year award in a season touched by tragedy.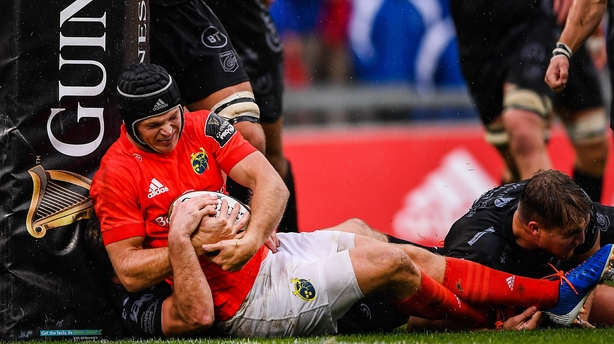 Bleyehndaal paid tribute to two late stalwarts of Munster, former player and head coach Anthony Foley and long-standing CEO Garrett Fitzgerald, for sticking by him during the difficult first two seasons.
"It was so appreciated because I was still pretty young back then. And I decided to leave my comfort zone of Christchurch and my home team the Crusaders and before I even leave the country, I've got a pretty serious injury.
"It wasn't the greatest position to be in but I always had the support of Axel and Garrett and Munster and that's what I've given absolutely everything I've had to the province both on and off the field."
"Munster supporters have been absolutely fantastic and I've really enjoyed their words of encouragement. We've been through a tough period. It hasn't been all plain sailting in my time here. We've had reasonably successful seasons without winning any silverware, which is our ultimate goal. But the supporters are great, I can't thank them enough."
At 30, Bleyendaal makes plain his coaching ambitions and praised the dynamic of the current Munster set-up, which he's seen at close quarters in recent times.
"I'm pretty passionate about coaching. It's definitely the career I'm looking to pursue at the moment. It's the way my mind has been switching even as I've been playing the last few seasons. I can't wait for an opportunity to come up.
"It's (a Munster role) definitely something that would interest me. The coaching staff there at the moment has some amazing experience and a great dynamic. They're really passionate about trying to grow and improve and win silverware for the province. If there's an opportunity to fit in there, I'd definitely be interested."